Southern Pinto Beans and Cornbread is a classic meal of creamy pinto beans cooked to tender smokey perfection with ham and bacon.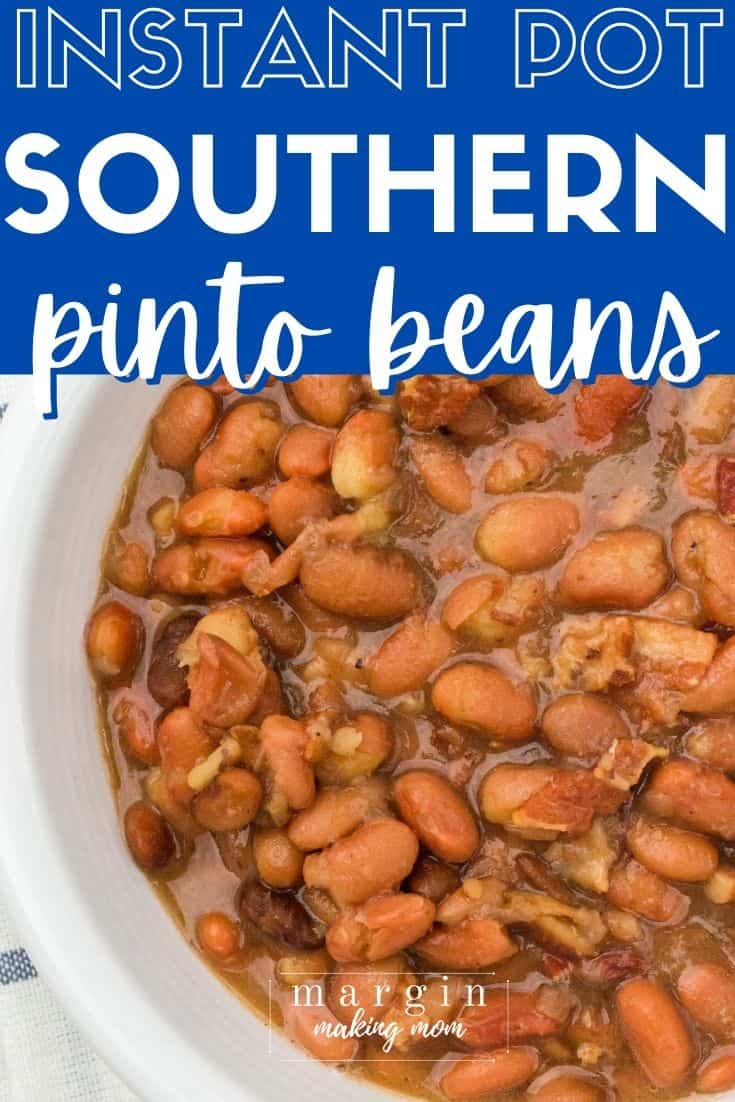 Instant Pot pinto beans are flavorful and economical and, when served with cornbread and fried potatoes, make a meal that will satisfy your soul in a way that only old-fashioned home cooking can do.
Note: This post may contain affiliate links for your convenience. If you make a purchase, this site may receive a small commission at no additional cost to you. You can read my full disclosure policy here.
As I've gotten older, it's been really fun to look more closely at the regional cuisines that have impacted my life, based on the different states we lived in when I was growing up, or the regions my parents grew up in.
What I've discovered is, food has a way of grounding you, of bringing you back to memories, places, and people–even if you're far from them now.
Most of us have recipes from our childhood or other seasons of life, perhaps made by our grandmothers or other important people in our lives, that are woven tightly into the fabric of our family.
For instance, I've shared about my years living in the Lowcountry of South Carolina and the northern part of Florida in my recipe for Instant Pot boiled peanuts, and it has been so much fun to read comments from others who have similar memories of enjoying boiled peanuts from a roadside stand.
One irrevocable part of my personal food heritage involves what is affectionately known as "mountain folk food."
My dad was born and raised in West Virginia (I was born there as well), which is home to part of the Appalachian Mountains. He grew up eating the classic Appalachian favorite meal of pinto beans and cornbread, making it the ultimate comfort food for him.
Pinto Beans and Cornbread
My research around this frugal and hearty dish revealed that some people call it "Appalachian soup beans," and others call it "ham and brown beans," but my family always simply referred to the meal as "pinto beans and cornbread."
Often served with a side of fried potatoes, this was, without question, one of my dad's favorite dinners. He loved to top his beans with raw diced onions, too!
As a child, I remember my mom cooking her pinto beans in a stove top pressure cooker, with a wobbly pressure regulator on top that hissed during the loud cooking process and scared me out of the kitchen.
Since my dad passed away six years ago, and now that my mom can no longer cook, I set out to recreate this dish from my childhood using my Instant Pot.
And of course, I served it with cornbread and fried potatoes, because that's the way my dad would've wanted it. 🙂
It's one of my favorite Instant Pot bean soup recipes!
More Old-Fashioned Favorites You'll Love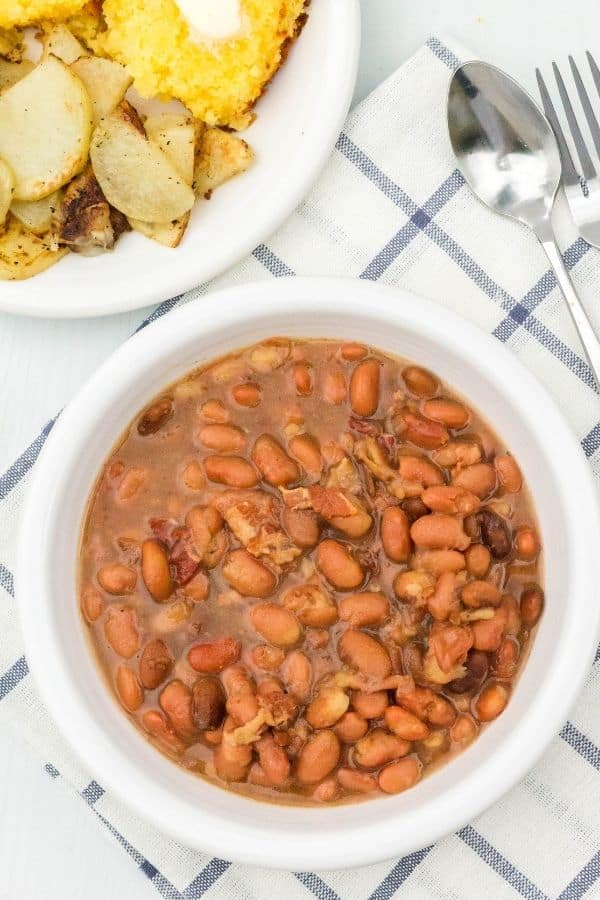 Tips for Perfect Southern Pinto Beans
Appalachian soup beans have been a homestead mainstay for over a century because of their simplicity and the flavorful use of staple ingredients that everyone had access to.
Whether slow simmered all day or quickly pressure cooked as my mom did, West Virginia pinto beans and cornbread is a hearty, soul-warming meal.
Look Over the Beans – When beans are processed, it's possible that a small rock or twig could end up in the bag. I always check over the beans, rinsing them and removing these and any misshaped or deformed beans.
Soak or No Soak? – I don't soak my beans for this recipe, and I find that they come out perfectly every single time. The cooking time is close to an hour, so if you want to do an overnight soak, you can reduce the cooking time to 25 minutes. Either way, they taste great.
Don't Add Salt – At least not until the very end. Bacon and ham bouillon are both salty, so the amount of salt needed will vary. Taste your beans after cooking and add salt as needed.
Add Toppings – My dad kept it simple and topped his beans with diced raw onions. You can also add green onion, diced tomatoes, jalapeno or a little sprinkle of cilantro.
How to Make Appalacian Soup Beans in the Pressure Cooker
It's really easy to make tender and flavorful Instant Pot Pinto Beans, just like my dad loved!
Ingredients You'll Need:
Bacon
Onion
Garlic
Dried Pinto Beans
Smoked Ham Hock
Water
Ham Bouillon
Black Pepper
Salt and Pepper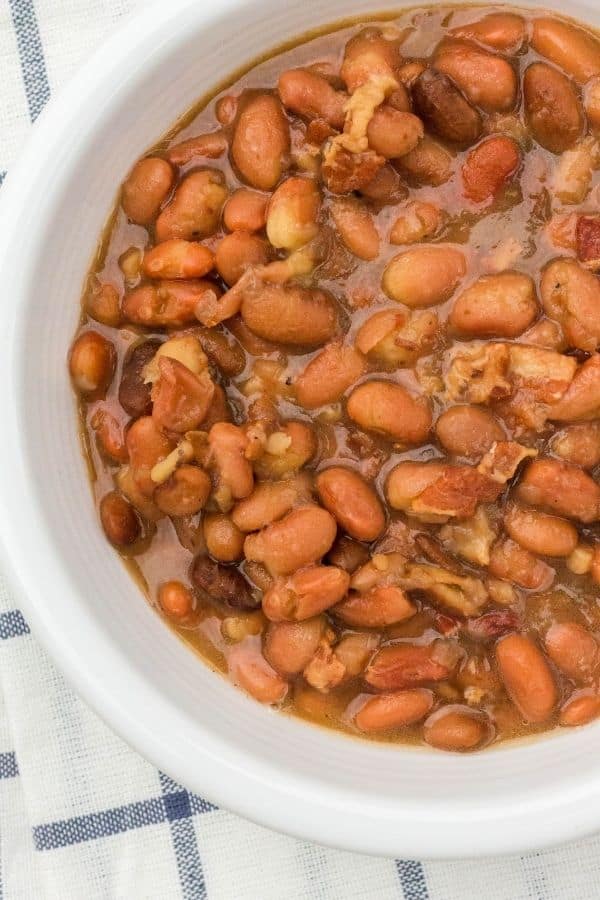 How to Make It:
(Full printable recipe is available below)
Crisp the Bacon. First, you'll press sauté and cook the bacon until crisp. Remove to a plate for later.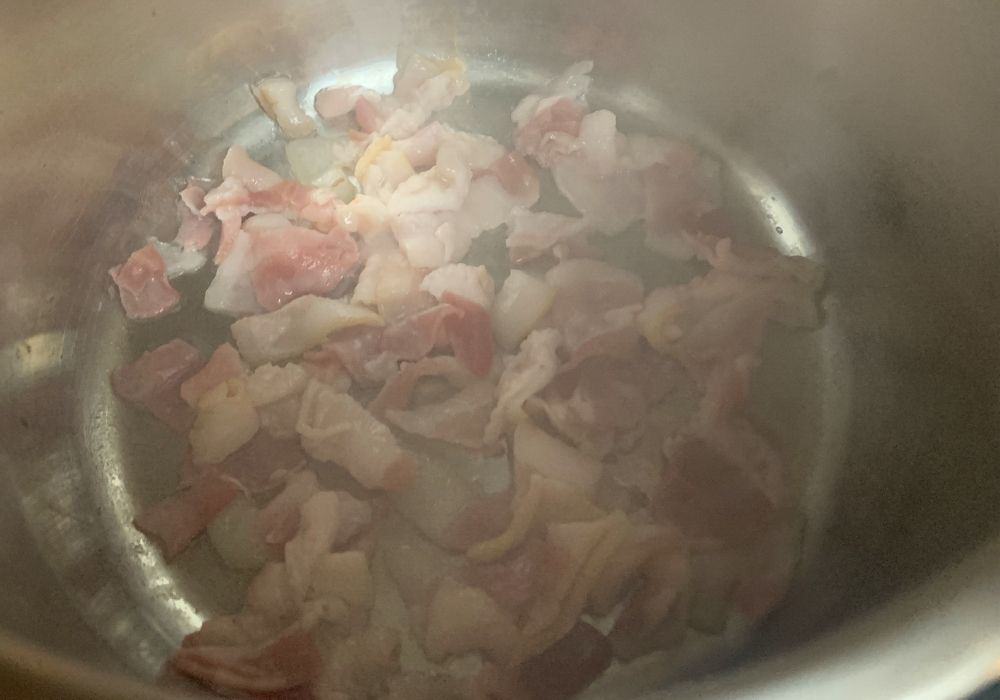 Soften the Onions. Next, you'll sauté the onions in the bacon grease until soft, scraping the bottom of the pot as they cook.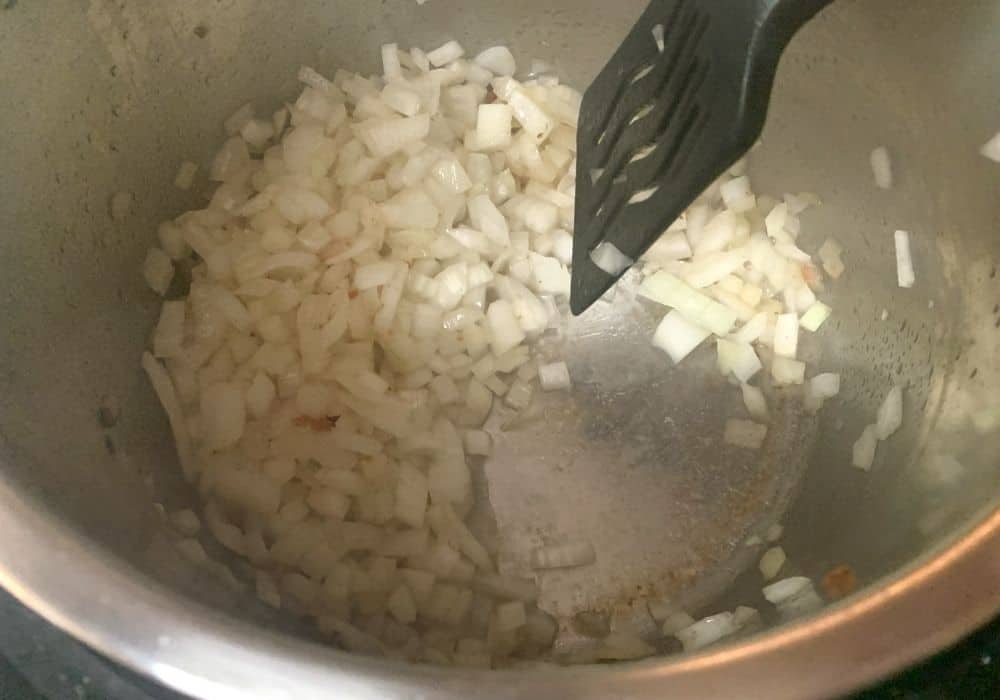 Add Remaining Ingredients. Next, you'll return the bacon to the pot and add garlic, beans, ham hock, water, bouillon, and black pepper.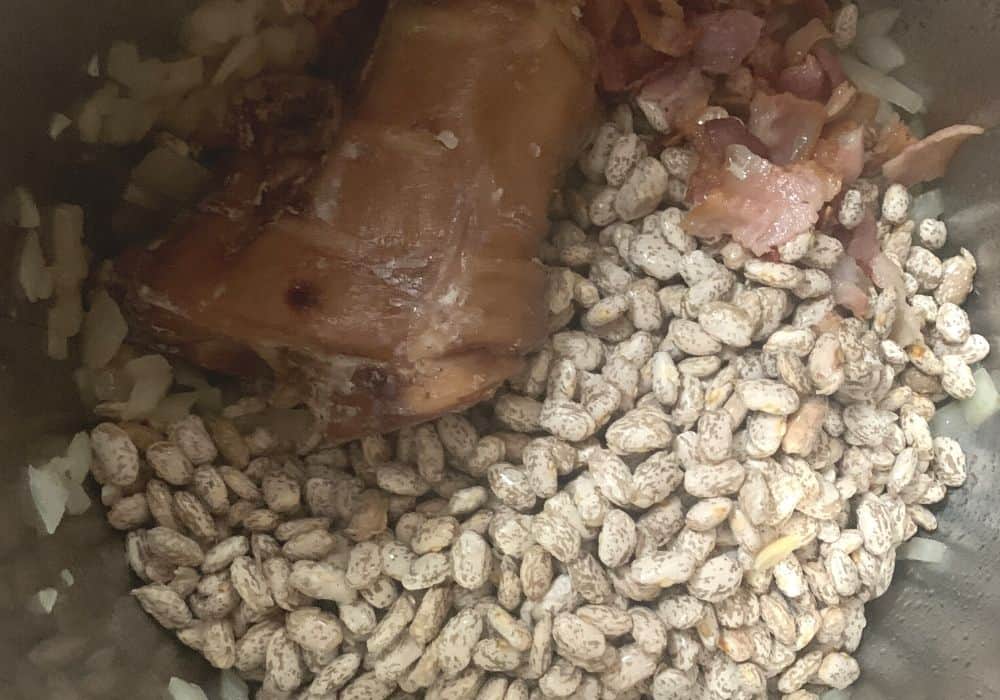 Cook. Last, you'll seal the Instant Pot and cook the Appalachian soup beans at high pressure for 50 minutes, followed by a natural pressure release.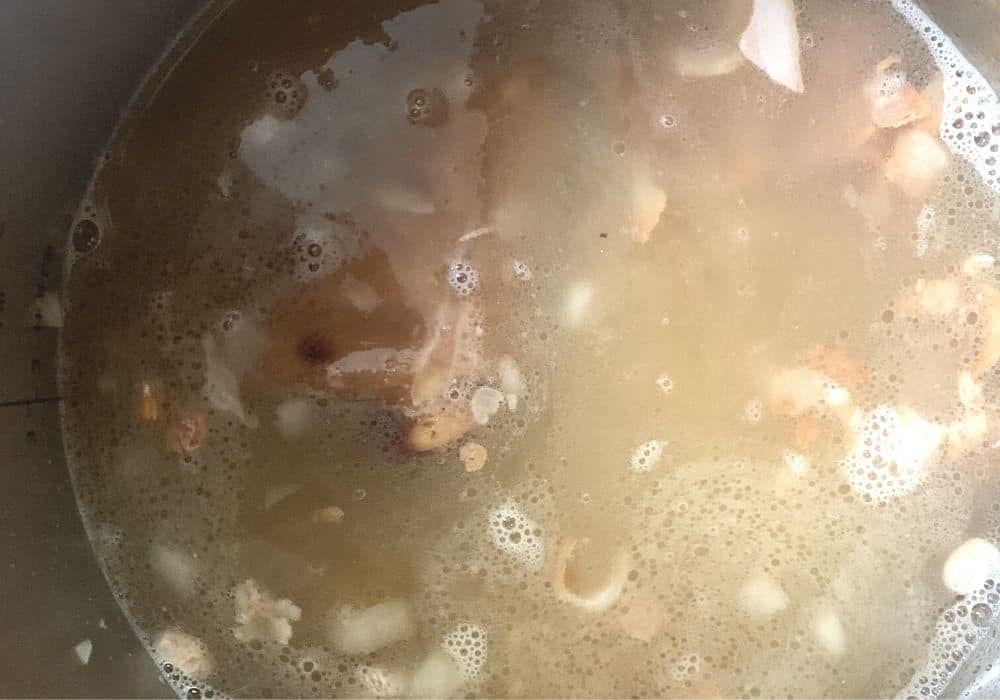 After cooking, go ahead and add some salt to your liking. You can serve the beans right away, or let them cool for a while. The liquid will thicken up over time–so it's up to you!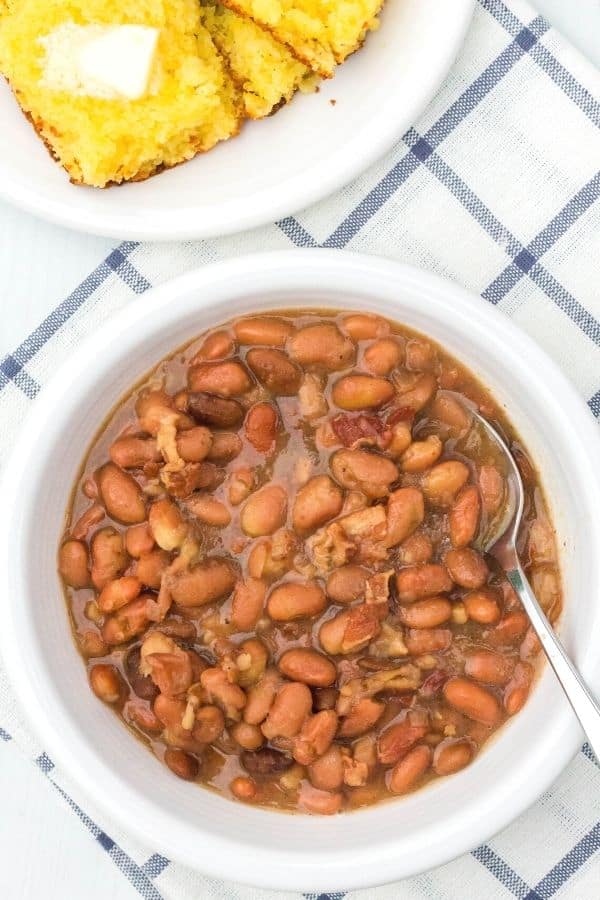 Notes and Adaptations:
I don't soak my beans before cooking. It really isn't necessary with a pressure cooker, as the beans still cook just fine. However, some people prefer to soak their beans overnight to help with digestion. If you are using soaked beans, you can decrease the cooking time to 25 minutes.
I like this recipe for fried potatoes if you want to make some to go along with your brown beans.
Don't Forget the Cornbread! My Homemade Cast Iron Skillet Cornbread is always a big hit. It's slightly sweet and so easy to make. If Jiffy cornbread is more your style, check out my tips for how to make Jiffy Cornbread taste amazing. Both are great options, but you must serve one with this meal! 🙂 And if you're short on time or just need a small serving, you can make microwave cornbread in a mug!
Yes, you can freeze cornbread! This is a great way to make it ahead of time and have it on hand whenever you need it.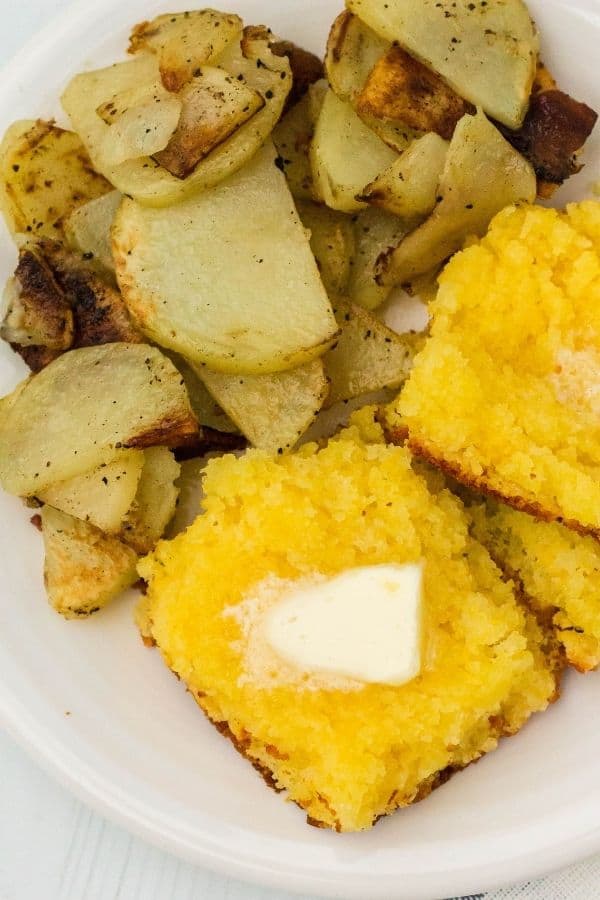 Yield: 8 Servings
Instant Pot Pinto Beans and Cornbread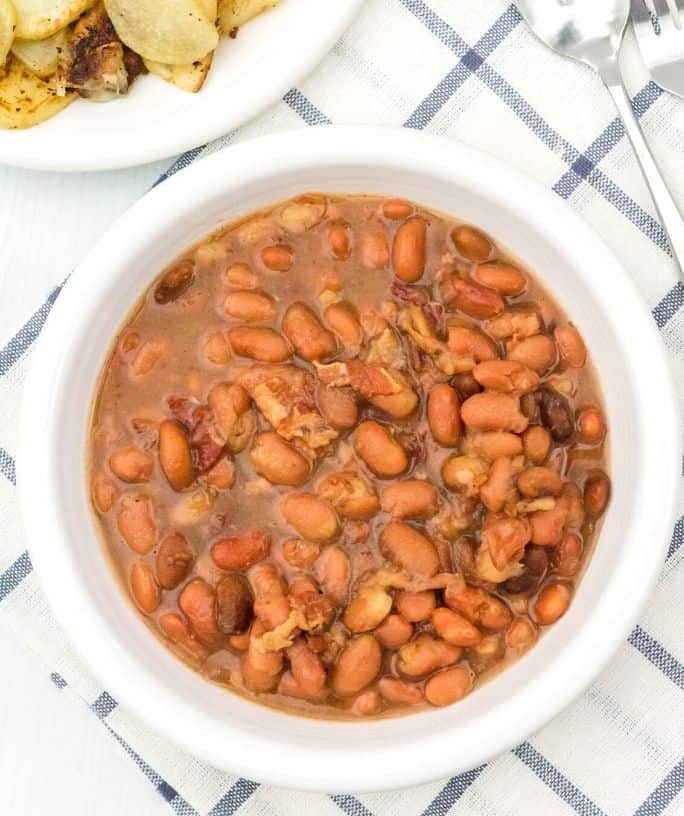 Appalachian Soup Beans, or pinto beans and cornbread, is a simple but filling meal you can easily make with your Instant Pot!
Additional Time
25 minutes
Total Time
1 hour
20 minutes
Ingredients
3 strips bacon, diced
1 large onion, diced
2 tsp minced garlic
1 lb dried pinto beans, rinsed and picked through
1 smoked ham hock
4 cups water
4 tsp ham bouillon
1/2 tsp black pepper
Salt and pepper to taste
Instructions
Press Saute button to heat up the insert pot of the Instant Pot. Add diced bacon and cook until crispy, stirring occasionally. Remove to a plate.
Add onions to the bacon grease and cook until soft, stirring occasionally. As the onions release liquid, deglaze the pot by scraping up any browned bits from the bottom of the pot. This will help prevent a burn warning during pressure cooking.
Once onions are soft, press Cancel to turn off the Saute function.
Add garlic, beans, ham hock, water, bouillon, and black pepper. Stir to combine.
Close lid and set vent to the sealed position. Select a cook time of 50 minutes at high pressure.
Once cook time is complete, allow a natural release of pressure. After the pressure has released and the valve has dropped, carefully remove the lid.
Stir contents well and add salt and additional pepper to taste. Serve with cornbread and fried potatoes, if desired.
Notes
I don't soak my beans before cooking--it really isn't necessary with a pressure cooker, as the beans still cook just fine. However, some people prefer to soak their beans overnight to help with digestion--if you are using soaked beans, you can decrease the cook time to 25 minutes.
I don't add salt to my beans before cooking, because I know there is salt in the ham hock, bacon, and bouillon. Instead, I wait until after cooking to add salt according to my taste.
This pairs perfectly with some skillet fried potatoes and some cornbread--try my homemade skillet cornbread or my tips for making Jiffy cornbread taste better.
My dad loved to top his beans with raw diced onions--feel free to do the same if you'd like! 🙂
Nutrition Information:
Yield:
8
Serving Size:
1
Amount Per Serving:
Calories:

116
Total Fat:

2g
Saturated Fat:

1g
Trans Fat:

0g
Unsaturated Fat:

1g
Cholesterol:

5mg
Sodium:

407mg
Carbohydrates:

17g
Fiber:

5g
Sugar:

1g
Protein:

8g
Nutrition information is automatically calculated and is not guaranteed for accuracy.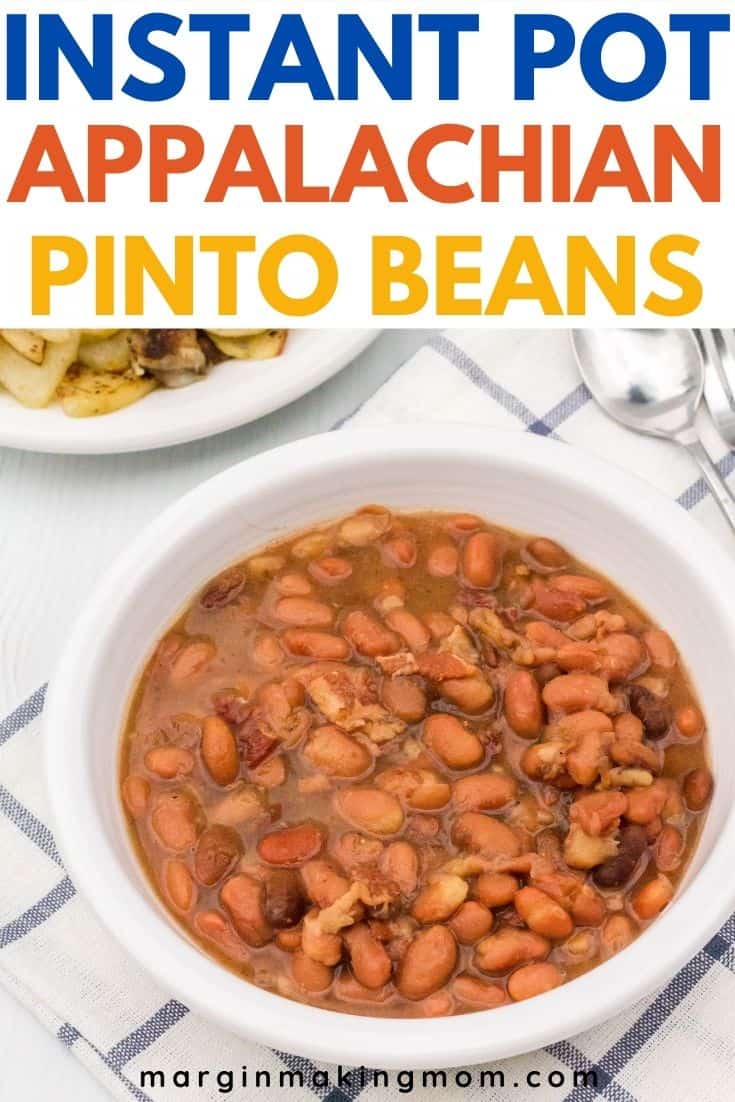 Get the Instant Pot Meal Plan Jumpstart
Join the free community and you'll learn simple ways to easily create tasty food for your family, as well as immediate access to the FREE Instant Pot Meal Plan Jumpstart to help you get a tasty dinner on the table in a flash!
"Thanks for sharing your knowledge and experience in such a friendly and delightful way!!! So far, I'm very impressed with the results...thanks again for your guidance into this new realm of cooking!" -Margaret
Free Resource Library
Enter my
free resource library
for my latest printables and resources! Password is 'IHEARTMARGIN' -- please copy and paste that in at the link above. Thanks for being a subscriber!!