Get a hearty and healthy dinner on the table fast when you make any of these bean soups in your pressure cooker.
Make tasty, incredible Instant Pot bean soups in a fraction of the time it normally takes on the stovew. It's so easy to cook filling bean soups at home–without having to soak the beans.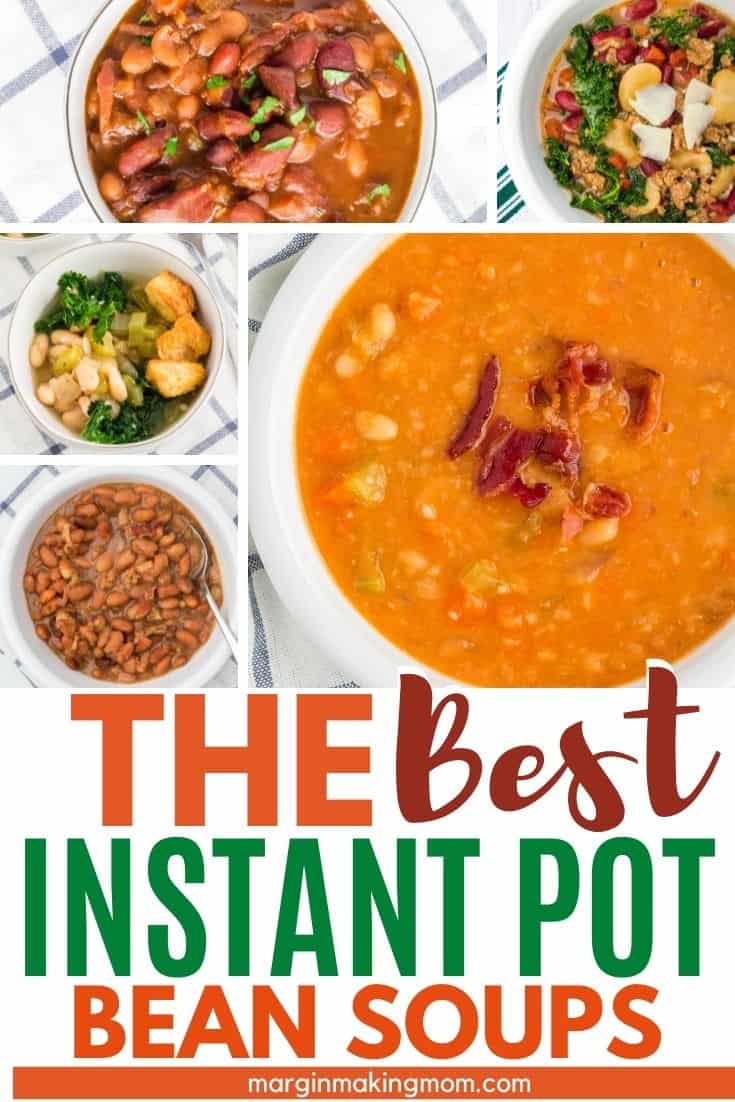 Note: This post may contain affiliate links for your convenience. If you make a purchase, this site may receive a small commission at no additional cost to you. You can read my full disclosure policy here.
There are so many benefits to eating soup. It's economical, it's an easy way to use up leftovers, and it can be stretched to feed a crowd.
Beyond those reasons, soup is also quite comforting and often loaded with nutritious ingredients, like veggies and broth.
Bean soups are especially nutritious, packed with fiber and protein. This makes it a filling meal, plus the beans provide lots of nutritional and health benefits.
While nutrition is important, I love bean soups because they taste great!
Some of my favorite soups are loaded with beans and the flavors are so versatile depending on what other ingredients you add.
Ham, sausage, and bacon are popular additions, but there are also some delicious vegetarian bean soup options.
I used to avoid making bean soups because they were so time consuming. The beans had to be soaked in advance and then the soup had to cook for a long time in order for the beans to get tender.
The Instant Pot changes all of that! Thanks to the high pressure cooking, it's possible to cook Instant Pot bean soups using dried beans in just an hour or so–no soaking required!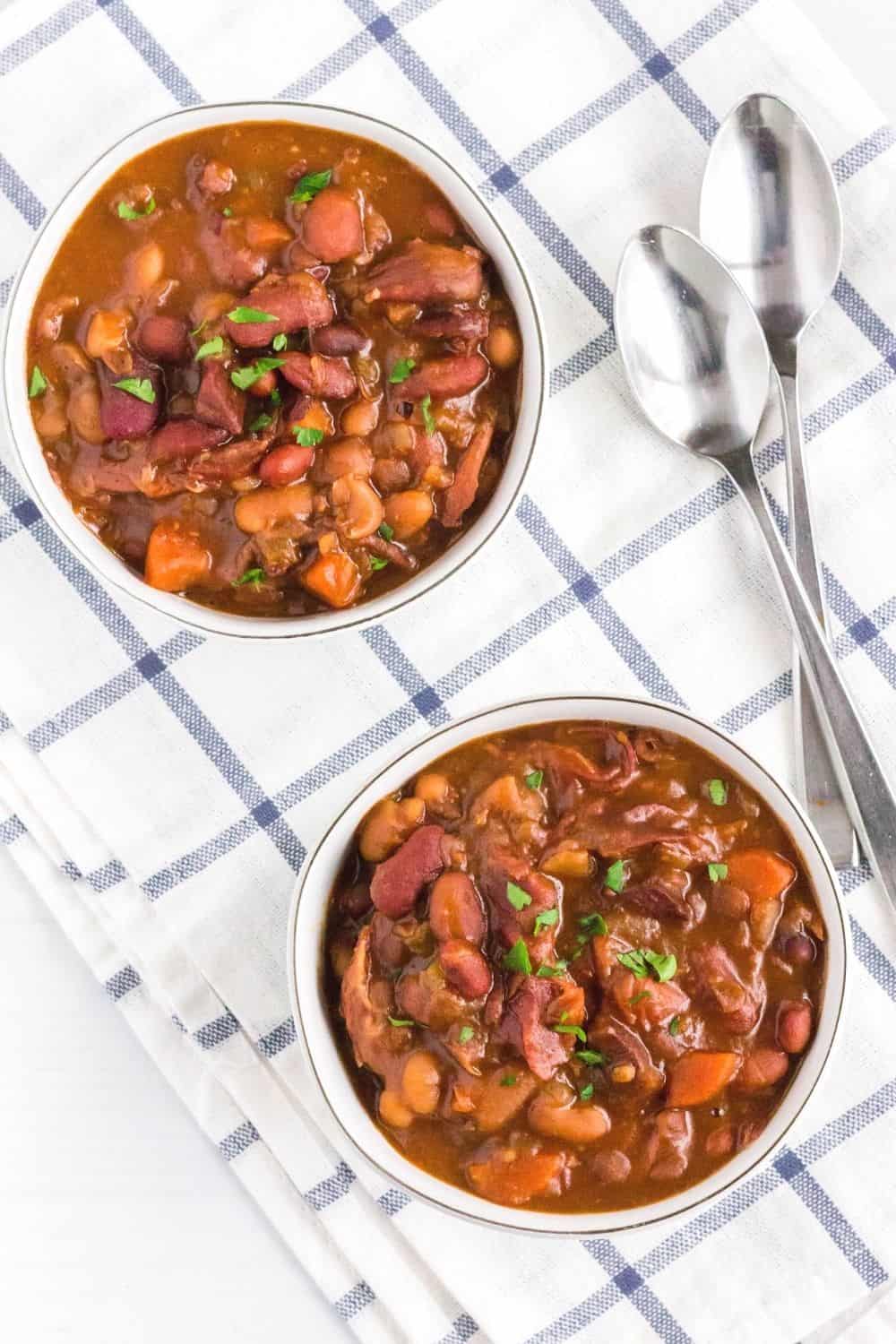 Do You Need to Soak Beans Before Pressure Cooking?
The best part about making pressure cooker bean soup recipes is that the beans do NOT have to be soaked ahead of time.
You should still sort through your beans (sometimes stems or stones can end up in the bag) and rinse the beans before proceeding with the recipe.
Instant Pot Bean Soups with Canned Beans
You may prefer to cook bean soups even faster, and you can significantly cut down the cooking time in many recipes by substituting canned beans.
When using canned beans instead of dry beans in the Instant Pot, you will want to reduce the cooking time.
In most cases 5-8 minutes at high pressure followed by a 10-minute natural pressure release will be enough to cook the other ingredients without turning the beans to mush.
If you're substituting canned beans in a recipe that calls for dry beans, you'll also need to decrease the amount of liquid.
Pressure Cooker Bean Soup Recipes
Making Instant Pot bean soup is fast and flavorful. We've gathered up some of our favorite bean soup recipes for you to try.
You'll love them!
Instant Pot Bean Soup Recipes
Frugal and filling, these flavorful Instant Pot bean soup recipes are sure to satisfy!
Why is Lemon Juice or Vinegar Added to Bean Soups?
Some bean soup recipes include lemon juice or vinegar as an ingredient, which may seem strange to you.
Adding lemon juice or vinegar comes down to flavor. A touch of acidity really brightens and enhances the flavors, but it's not absolutely necessary.
If you don't have it on hand, you can leave it out.
What to Serve with Bean Soup
One of my favorite things to serve with bean soup is cornbread!
Try my doctored-up Jiffy cornbread recipe, my from-scratch skillet cornbread, or a smaller serving of microwave cornbread in a mug.
Homemade dinner rolls are also always a good choice, and a simple side salad pairs nicely with these soup recipes, too.
More Easy Instant Pot Recipe Resources:
Need some more easy meal ideas? Here are some of our favorites.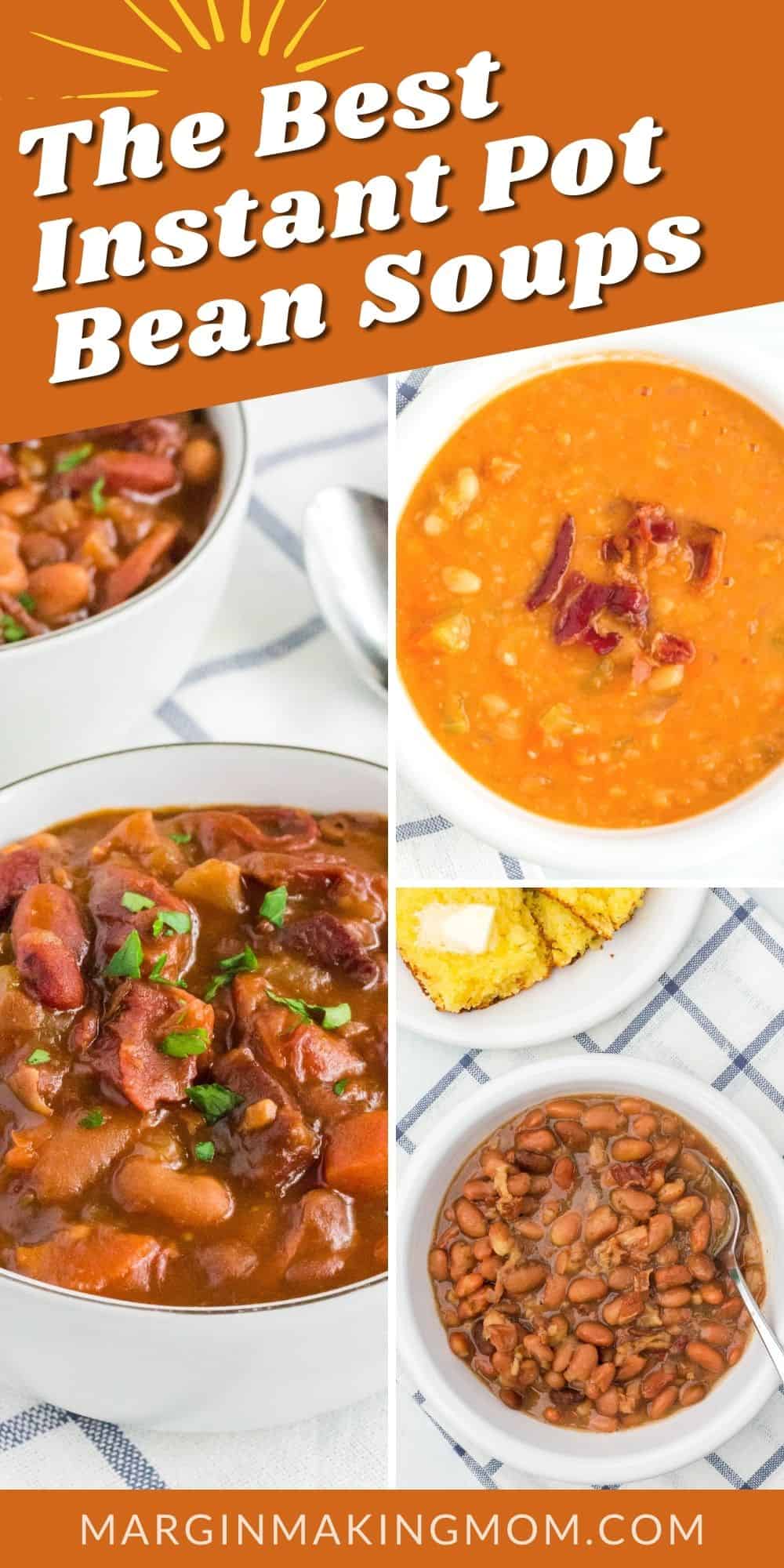 Get the Instant Pot Meal Plan Jumpstart
Join the free community and you'll learn simple ways to easily create tasty food for your family, as well as immediate access to the FREE Instant Pot Meal Plan Jumpstart to help you get a tasty dinner on the table in a flash!
"Thanks for sharing your knowledge and experience in such a friendly and delightful way!!! So far, I'm very impressed with the results...thanks again for your guidance into this new realm of cooking!" -Margaret
Free Resource Library
Enter my
free resource library
for my latest printables and resources! Password is 'IHEARTMARGIN' -- please copy and paste that in at the link above. Thanks for being a subscriber!!