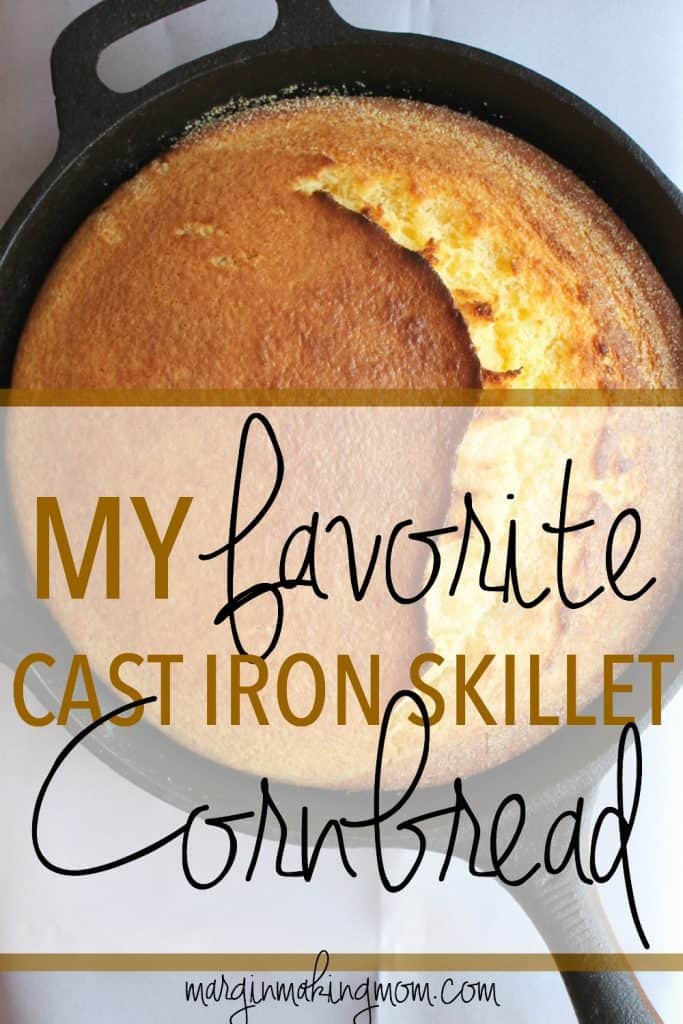 My favorite cast iron skillet cornbread is the perfect accompaniment to soup or chili. It's slightly sweet and tender, with a delicious crusty edge!
Disclaimer: This post may contain affiliate links for your convenience.  You can read my full disclosure policy here.
There's a bit of a debate about types of cornbread…should it be sweet or savory?  Crumbly or cake-like?  Should it have cheese, peppers or corn kernels added in?  I've had (and made) several different varieties, and honestly, I've liked most of them.  They've all been a little different, and I've enjoyed them for their uniqueness.  But when it comes to cornbread that I will eat on a regular basis, this is THE ONE.  My favorite cast iron skillet cornbread.  I've adapted it over the years to be just right, and it's always been a hit with my family and with dinner guests alike.  In my opinion, it is the perfect consistency–tender and not-too-crumbly; moist but not cake-like.   It has just the right amount of sweetness.  And baked in a cast iron skillet?  You will have the most perfect "crust" around the edges.  It's absolutely delightful.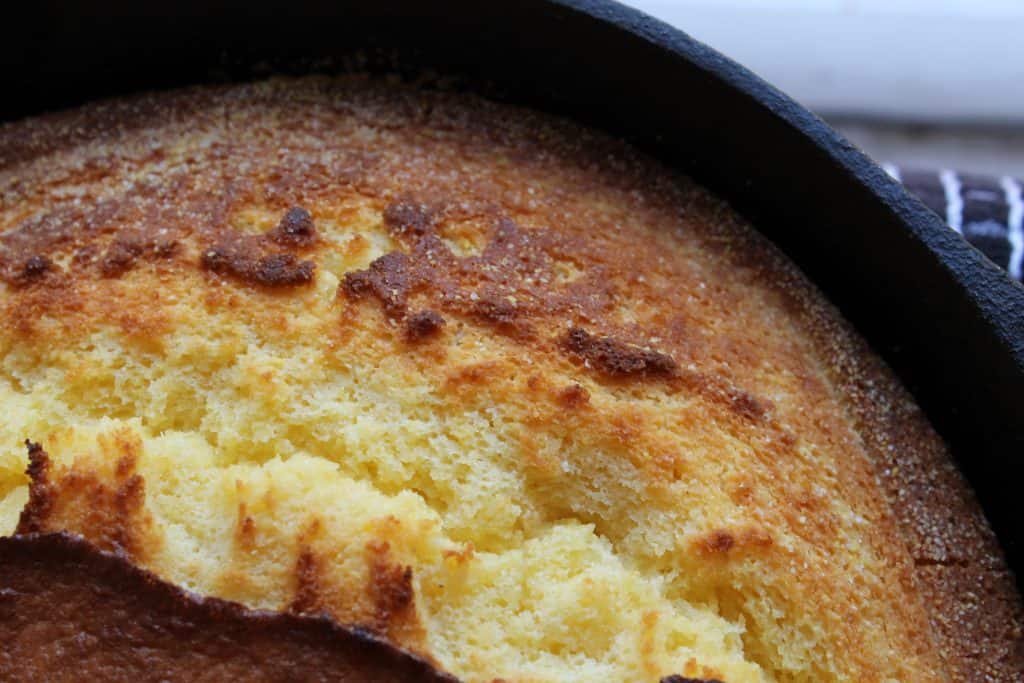 I frequently make this cast iron skillet cornbread to accompany soups and chilis, such as my Instant Pot BBQ Chicken Chili.  It is delicious smeared with soft butter and even a drizzle of honey if you want a bit more sweetness.  You can also crumble it into your chili as a topping.  I've also been known to slice open a piece of this cornbread and top it with a fried egg and melted cheese.  Really, you can't go wrong!
Recommended Equipment:
While the recipe does call for buttermilk, don't sweat it if you don't have any.  You can make your own by adding a splash of vinegar or a spoonful or sour cream to a cup of milk. Easy peasy!
Add this to your meal plan this week and enjoy!
To learn how to easily create a weekly meal plan, including a FREE meal plan printable, click here!
My Favorite Cast Iron Skillet Cornbread
Ingredients
2 Tbs vegetable oil
1 1/2 cups self-rising corn meal mix
1/2 cup self-rising flour
1/2 cup sugar
2 eggs
1 2/3 cups buttermilk
6 Tbs vegetable oil
1-2 tsp corn meal mix for dusting
Instructions
Preheat oven to 450.
Add 2 Tbs vegetable oil to cast iron skillet and place it in the oven to heat up.
In a large mixing bowl, combine corn meal mix, flour, and sugar.
In a small bowl, add eggs, buttermilk, and 6 Tbs vegetable oil, whisking to combine.
Add liquid ingredients to dry ingredients. Whisk until fully incorporated.
Remove skillet from oven. Sprinkle a dusting of corn meal mix into skillet.
Pour batter into skillet and return to oven.
Bake for 22-24 minutes, until golden brown.
https://marginmakingmom.com/my-favorite-cast-iron-skillet-cornbread/
Copyright MarginMakingMom.com
Save
Save
Save
Save
Save
Save