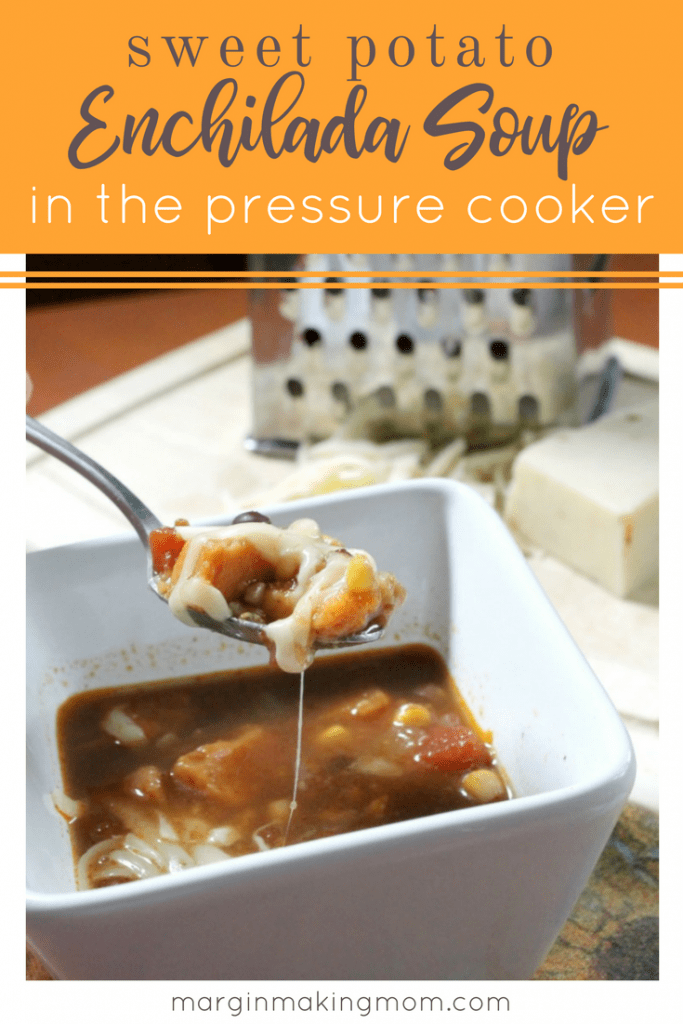 This pressure cooker sweet potato enchilada soup cooks in just minutes! It's a frugal vegetarian meal that's full of flavor, and one you're sure to love.
Note: This post may contain affiliate links for your convenience.  You can read my full disclosure policy here.
When it comes to planning our meals, I always try to use what I have on hand.  Sometimes I do a better job than others.  But lately I've been trying to be even more conscious about making sure that we actually use the food we buy.  It's been a good strategy for not only reducing waste, but also reducing our grocery expenses.
I've had a package of frozen sweet potatoes hanging out in my freezer since I tried the Whole30 a couple of months ago.  I've been debating what to do with them.  Since they were frozen, it's not like I had to use them right now, but I figured I'd try to come up with a meal based on what I had handy.
I love different types of chili and Mexican-inspired soups.  One of my favorites is simple white chicken chili.  But I was out of chicken.  So I thought about my favorite sweet potato chili recipe that I make from time to time, but it requires some other ingredients that I didn't have on hand.  However, I pretty much always have beans, tomatoes, corn, and spices handy.
So I decided to adapt this recipe from Budget Bytes to one I could make in my beloved Instant Pot.  I tweaked some of the ingredients to suit our tastes, then prepared it in my Instant Pot, where it cooked up in a jif. The soup is sort of a deconstructed sweet potato enchilada.  Tender sweet potatoes, sweet corn and black beans are cooked in a broth of tomatoes and warm cumin and chili powder.  Stirring in a bit of cornmeal at the end thickens it just slightly and provides an additional layer of flavor.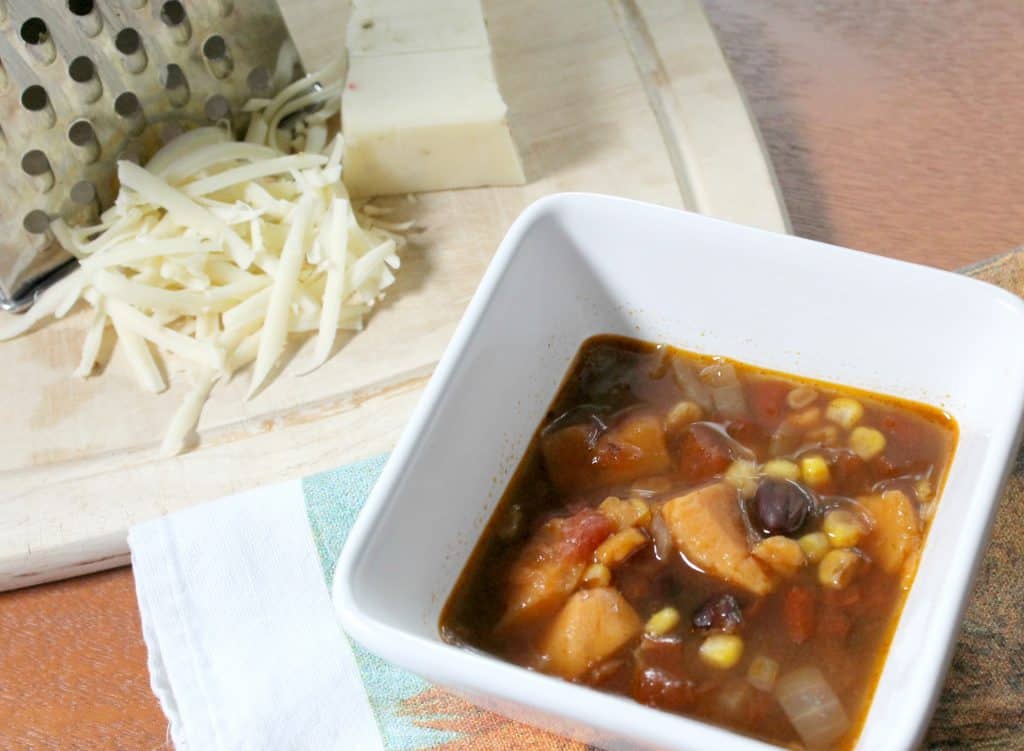 This pressure cooker sweet potato enchilada soup is hearty and filling, and it's a great vegetarian (or vegan if you use vegetable broth) meal that's packed with nutrients.  Not only that, but it uses inexpensive ingredients, so it's an ideal frugal meal.  It also comes together quickly and easily, which is a huge bonus in my book.
A Few Notes to Consider:
A 6 minute cook time is great for smaller diced sweet potatoes.  If your chunks are larger, you may need to increase the time to 7 or 8 minutes.  I used frozen sweet potatoes because that's what I had on hand (I left them frozen, so no need to thaw!), but you could absolutely peel and dice fresh sweet potatoes if you prefer.
A note on spice: 2 tablespoons of chili powder yields a fairly spicy soup.  If you want yours less spicy, I recommend cutting down to 1 tablespoon instead.
This pressure cooker sweet potato enchilada soup pairs well with a variety of sides–a quesadilla, cheese biscuits, grilled cheese sandwich, or skillet cornbread.  You can top it with whatever strikes your fancy–shredded cheese (I used pepperjack), avocado, sour cream, tortilla strips–so many possibilities!
Add this to your meal plan for a quick and easy dinner that your family is sure to enjoy!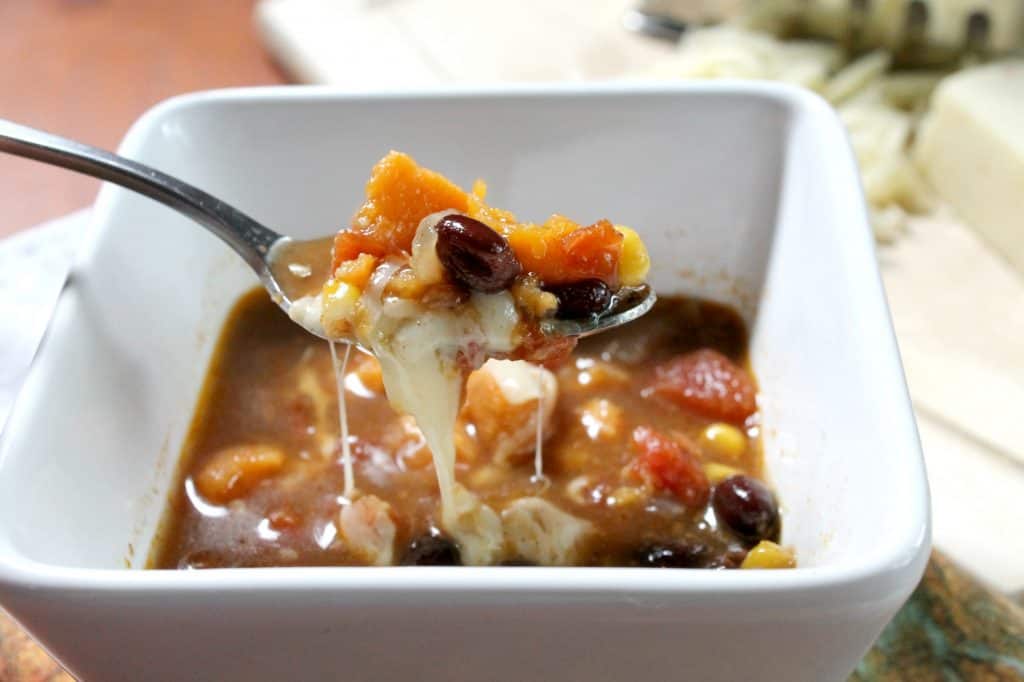 Recommended Equipment:
You can find more of my favorite easy pressure cooker recipes here!  I've also compiled some helpful pressure cooking resources here.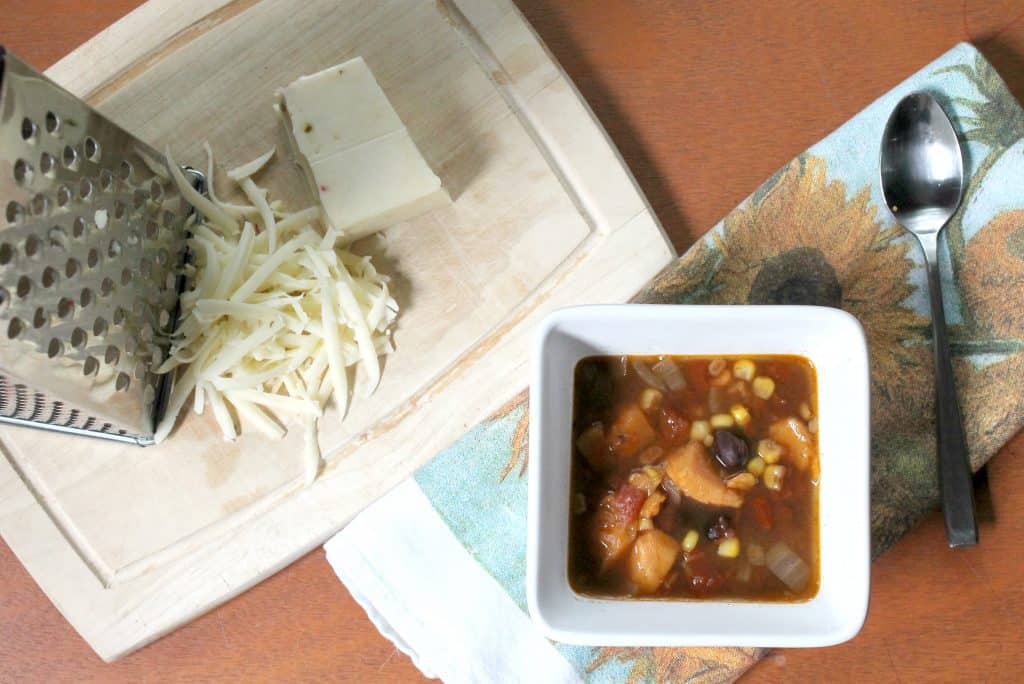 How to Make Pressure Cooker Sweet Potato Enchilada Soup
Ingredients
2 Tbsp olive oil
1 medium onion, diced
2 cloves garlic, minced
2 Tbsp chili powder (decrease to 1 Tbsp if you prefer less spice)
1.5 tsp cumin
5 cups chicken broth or vegetable broth
1 15-oz can diced tomatoes
1 15-oz can black beans, undrained
10 oz package frozen chopped sweet potatoes (or 1 medium-large sweet potato peeled and cut into 1-inch chunks)
1 cup frozen corn
1/4 cup cornmeal
Instructions
In the insert pot of an Instant Pot, add olive oil and onions. Using the saute function, cook until onions begin to turn translucent, about 2-4 minutes.
Add garlic and stir to combine, sauteing for another minute.
Turn off Instant Pot and stir in spices, broth, tomatoes, beans,sweet potatoes, and corn.
Secure lid onto the Instant Pot and set the vent to "sealed."
Using the manual setting, select a 7 minute cook time.
Once cook time has completed, turn unit off and allow a natural pressure release.
Once pressure has released and valve has dropped, carefully remove lid and stir in cornmeal.
Serve with desired toppings, such as shredded cheese (I used pepperjack), sour cream, tortilla strips, avocado, etc.!
Yields 8 servings
https://marginmakingmom.com/pressure-cooker-sweet-potato-enchilada-soup/
Copyright MarginMakingMom.com
Save
Save