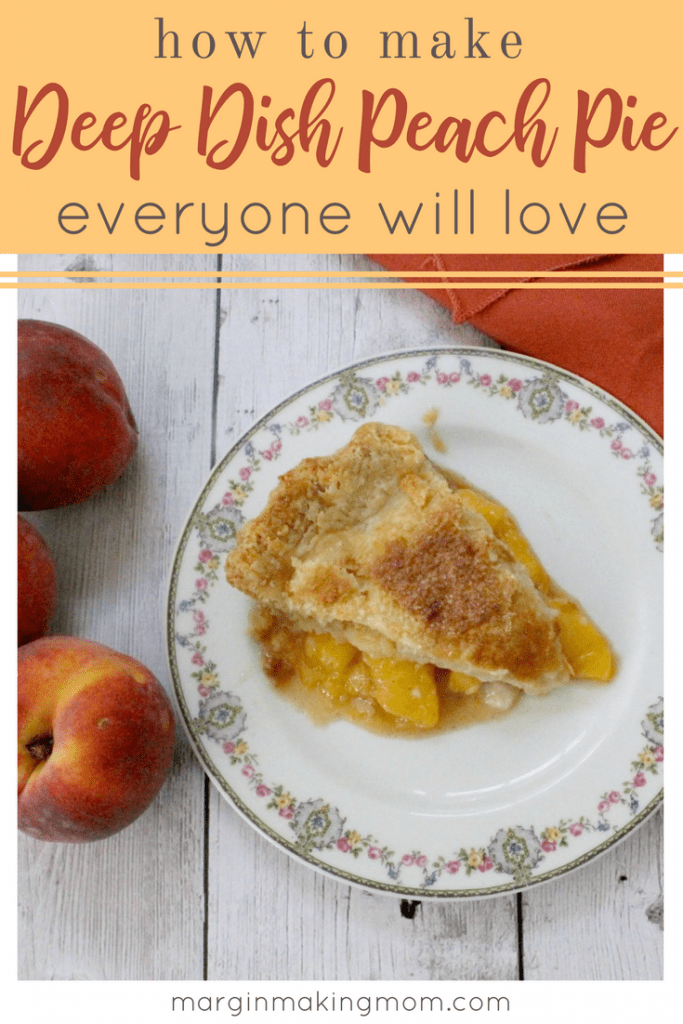 This deep dish peach pie showcases the natural sweetness of perfectly ripe, delicately spiced juicy peaches wrapped in a tender, flaky crust.
Note: This post may contain affiliate links for your convenience. You can read my full disclosure policy here.
I'll never forget the first peach I ate while living in Tennessee.
After a routine trip to the grocery store, I brought my peaches home and prepared to enjoy a sweet, juicy delight.
I might as well have received a lump of coal on Christmas.
You see, I spent the majority of my growing up years in South Carolina and Florida. One of the hallmarks of summer involved eating peaches so juicy that their sweet nectar dripped in a steady stream down my arm and off my elbow. Peaches that resembled the summer sunsets, with marigold orange and dusty blushed rouge beautifully blended throughout their delicate skin.
Those are the peaches I knew and loved.
Not the blandly dry, mealy peaches I'd found at the grocery store.
"It's just a fluke," I told myself. Only it wasn't. I tried different stores throughout the summer and eventually just decided to stop buying less-than-stellar peaches.
Summers were a little sad after that disappointment. That is, until my saving grace arrived in Nashville.
A small, family-owned company known as The Peach Truck began operating in my home city. The owners of The Peach Truck are transplanted Georgians living in Nashville, who also found the peach offerings in our town to be a major letdown. They began trucking peaches from Georgia to Nashville and selling them to the locals.
The first time I bought these peaches, I knew they were legit. As soon as I opened their signature brown paper bag, I inhaled the familiar aroma of sweet peaches reminiscent of my childhood.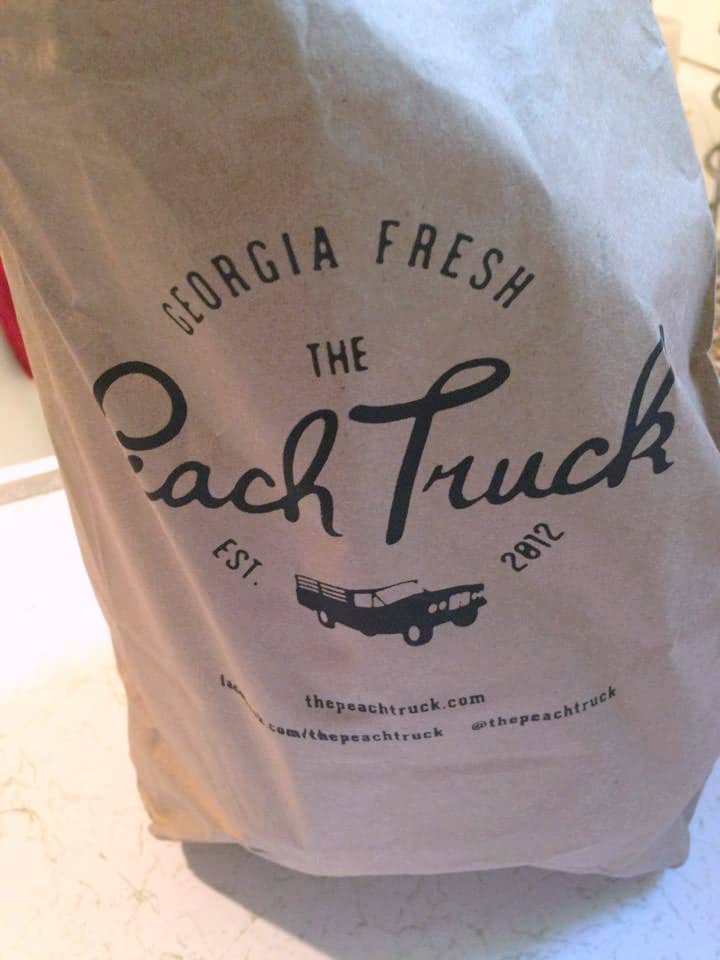 Simply put, they are perfect. Each and every time I purchase from The Peach Truck, the peaches are exactly as they should be.
The Peach Truck's season lasts for just a couple of months each summer, and I've made it a tradition to buy a bag or two each week of their season, followed by a half-bushel box during the final week.
Now, a half-bushel box is A LOT of peaches. But they are so good that we have no problem gobbling them up before they go bad. We can eat the majority of the peaches straight out of the box, dripping juice and all.
We make sure to create some of our favorite peach goodies, too–peach sorbet, Instant Pot peach jam, easy peach bread, peach sour cream pound cake, canned peaches, peach cobbler, and this deep dish peach pie.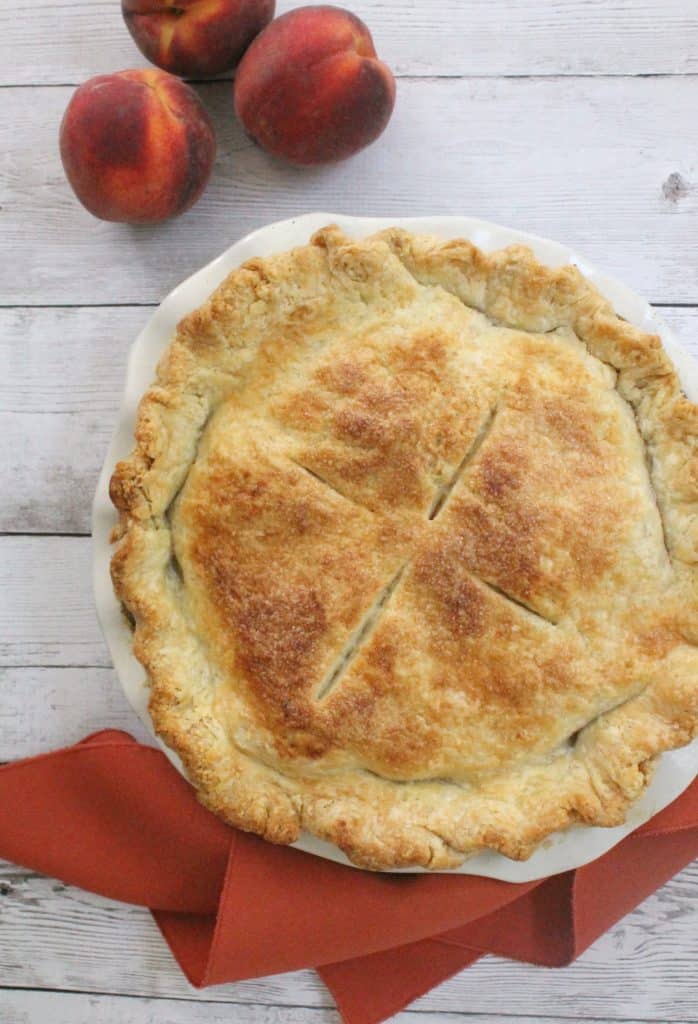 This recipe is a variation of my favorite deep dish blackberry pie recipe, using a flaky, tender homemade crust that's chock full of filling.
Don't get scared at the mention of a homemade pie. You don't need a lot of effort to make a good pie. Remember, I'm a busy mom who can't spend all day in the kitchen. So I avoid super labor-intensive foods. But when it comes to pies, if you're going to make one, you should make it right.
So with that said, if you decide to make this pie, I highly recommend making a homemade pie crust. Seriously. I know storebought crusts are quicker. But you know what? They don't hold a candle to a homemade crust. It really only takes about 10-15 minutes to whip up your own crusts. The process isn't difficult at all. Promise.
I use the Pioneer Woman's pie crust recipe because it is super easy and turns out perfect every time. Feel free to use whatever crust recipe you prefer.
To make it easier to roll out the pie crust, I use a marked silicone pastry mat (it helps prevent sticking and also gives a guide for how large to roll it out). This rolling pin cover is my absolute favorite tool for rolling pie crust. Having a rolling pin cover decreases the amount of flour needed to prevent the crust from sticking to the rolling pin. Talk about a game-changer.
I adapted the filling for this deep dish peach pie from Mark Bittman's How to Cook Everything, a cookbook you should definitely have in your kitchen library.
More Delicious Pie Recipes: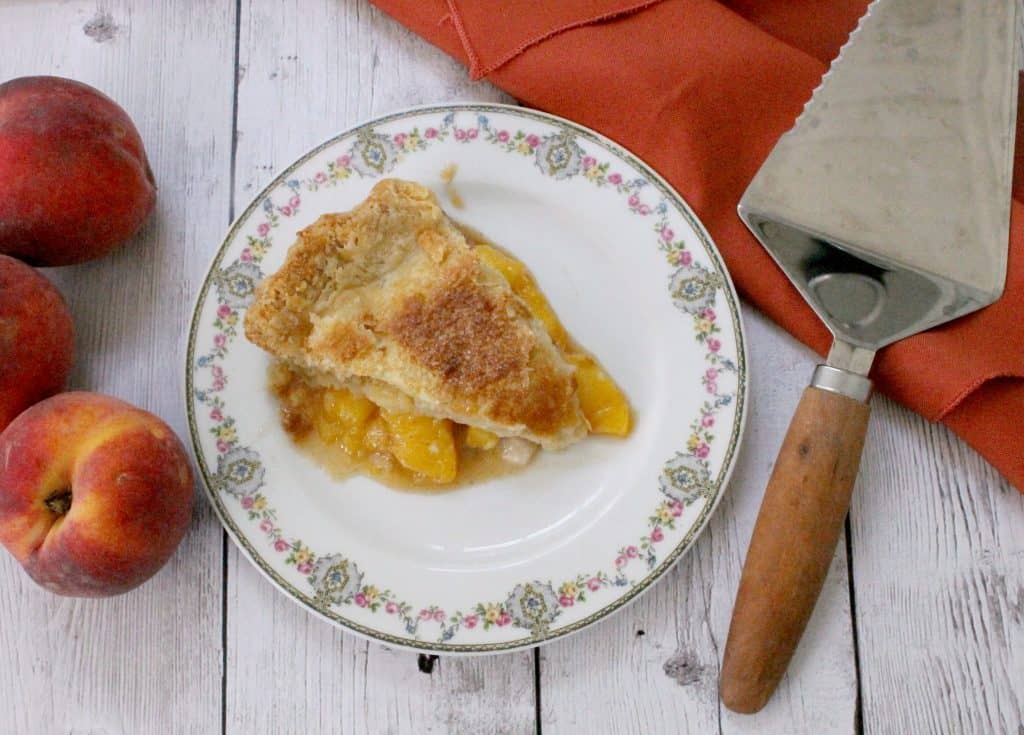 While photographing this pie, I grew a little impatient and didn't allow it to cool as much as I should, so you'll notice the filling spilling out a bit. The pie still tasted ahhh-mazing, but if you want the filling to set up a bit more, just let it cool longer. Or you can be impatient like me and just dive right in. 🙂
The filling is delicately spiced and really showcases the wonder of perfectly ripe peaches. And of course, feel free to top it with a dollop of whipped cream or a scoop of vanilla ice cream.
Life's too short to let mealy peaches disappoint us. Find yourself some yummy peaches and enjoy the tastes of summer with this treat. You won't be disappointed. 🙂
Note: You can also freeze the filling for later. Whenever you want to use it, simply thaw it out and pour it into the prepared pie crust and bake as usual. I totally made myself a peach pie for my birthday in March, thanks to some frozen pie filling I'd put up the previous summer!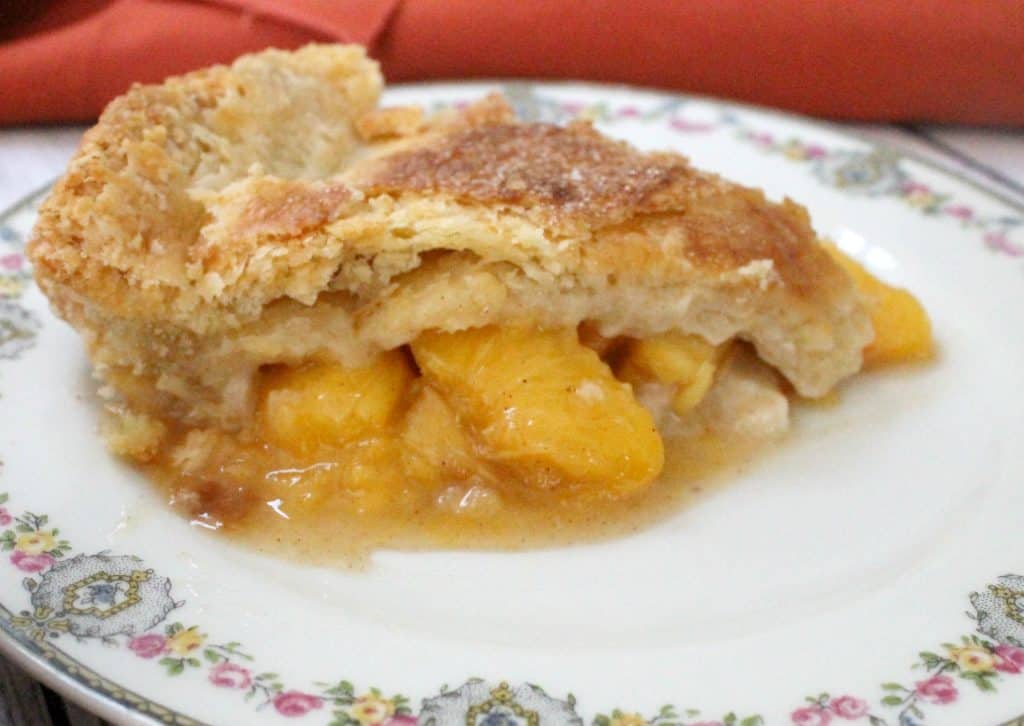 Recommended Equipment:
Yield: 8 servings
Deep Dish Peach Pie that Everyone Will Love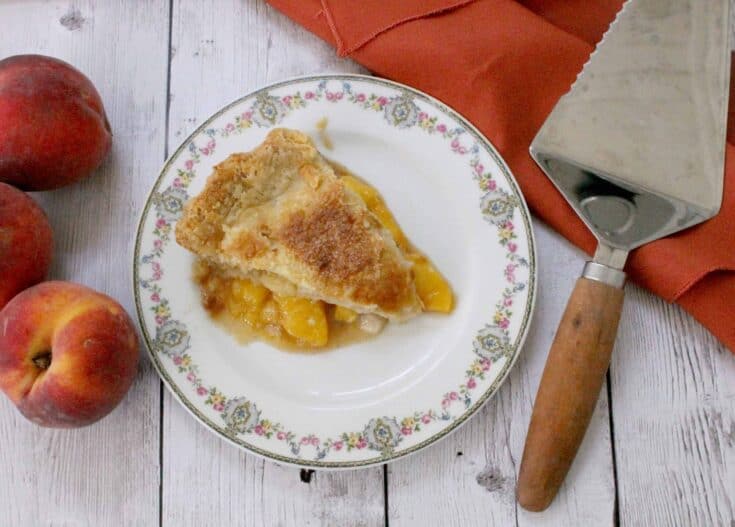 This deep dish peach pie is full of tender peach slices, sugar and spice, making for a delicious summer dessert!
Ingredients
2 prepared (but unbaked) pie crusts
About 3.5 lbs of peaches (about 10-12 peaches), peeled and sliced
1 Tbs fresh lemon juice
1 cup sugar, plus more for sprinkling crust
5 Tbs instant tapioca
1/4 tsp cinnamon
¼ tsp allspice
milk for brushing crust
Instructions
Preheat oven to 450F.
Fit one round of pie crust dough into a deep dish pie pan.
In a large bowl, combine peaches, 1 cup sugar, instant tapioca, cinnamon, and allspice, gently tossing together.
Pile mixture into the prepared crust, making the mound slightly higher in the center.
Cover with remaining round of pie crust dough. Use your fingers to press the top dough together with the bottom dough, fluting the edges.
Use a knife to create four 2-3" vent slits in the top crust.
Brush the top crust with milk, then sprinkle with additional sugar.
Bake for 10 minutes. Then reduce heat to 350F and bake for another 40-50 minutes, or until the crust is golden-brown.
Allow to cool on a rack before serving.
Notes
Filling adapted from How to Cook Everything by Mark Bittman
Nutrition Information:
Yield:
8
Serving Size:
1
Amount Per Serving:
Calories:

212
Total Fat:

1g
Saturated Fat:

0g
Trans Fat:

0g
Unsaturated Fat:

1g
Cholesterol:

2mg
Sodium:

16mg
Carbohydrates:

51g
Fiber:

3g
Sugar:

42g
Protein:

3g
Nutrition information is automatically calculated and is not guaranteed for accuracy.
Save
Save
Save
Get the Instant Pot Meal Plan Jumpstart
Join the free community and you'll learn simple ways to easily create tasty food for your family, as well as immediate access to the FREE Instant Pot Meal Plan Jumpstart to help you get a tasty dinner on the table in a flash!
"Thanks for sharing your knowledge and experience in such a friendly and delightful way!!! So far, I'm very impressed with the results...thanks again for your guidance into this new realm of cooking!" -Margaret
Free Resource Library
Enter my
free resource library
for my latest printables and resources! Password is 'IHEARTMARGIN' -- please copy and paste that in at the link above. Thanks for being a subscriber!!