Making jam in a pressure cooker is a great way to use the bounty of fruit that is available in the summer months plus it's easy to make and tastes great.
This collection of Instant Pot jam recipes will help you make delicious homemade jam in minutes to use for toast, biscuits or in desserts.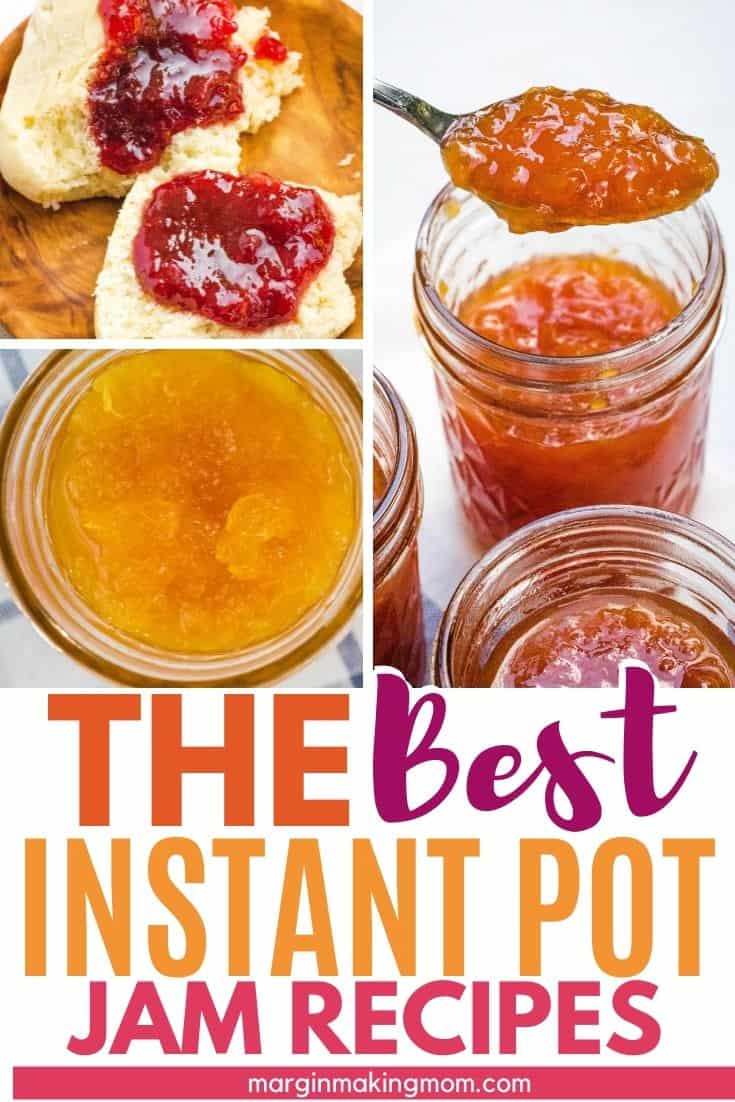 Note: This post may contain affiliate links for your convenience. If you make a purchase, this site may receive a small commission at no additional cost to you. You can read my full disclosure policy here.
Spring is ushered in by an abundance of fresh fruit that continues well into the fall.
Farmers markets, roadside stands and perhaps your own backyard are overflowing with strawberries, blueberries, cherries, apples, peaches, etc.
Homemade jam is the perfect way to utilize fresh fruit so you can enjoy it throughout the year.
And while there are many methods you can use to make jam, one of my favorites is cooking jam in the Instant Pot.
It might seem a little daunting at first, but you'll be glad to know that making your own jams in a pressure cooker is quick and simple.
Making Jam in the Instant Pot
Cooking the fruit with sugar under high pressure helps to bring out the flavors in mere minutes.
Then, you'll simmer it to perfection, let it cool to room temperature, and store it in the fridge or freezer (or follow canning instructions).
The sweet, tasty jam can be used on my favorite homemade biscuits, atop english muffins, stirred into some Instant Pot oatmeal or Instant Pot yogurt, or spooned over ice cream or cheesecake.
It's so easy to make a variety of Instant Pot jam recipes.
Most only contain a few simple ingredients (no pectin!) and can be stored in a mason jar or another airtight container the fridge for up to 2 weeks or frozen to keep them longer.
You can even make some of these recipes with frozen fruit, so it's easy to have homemade jam that's made in minutes all year long.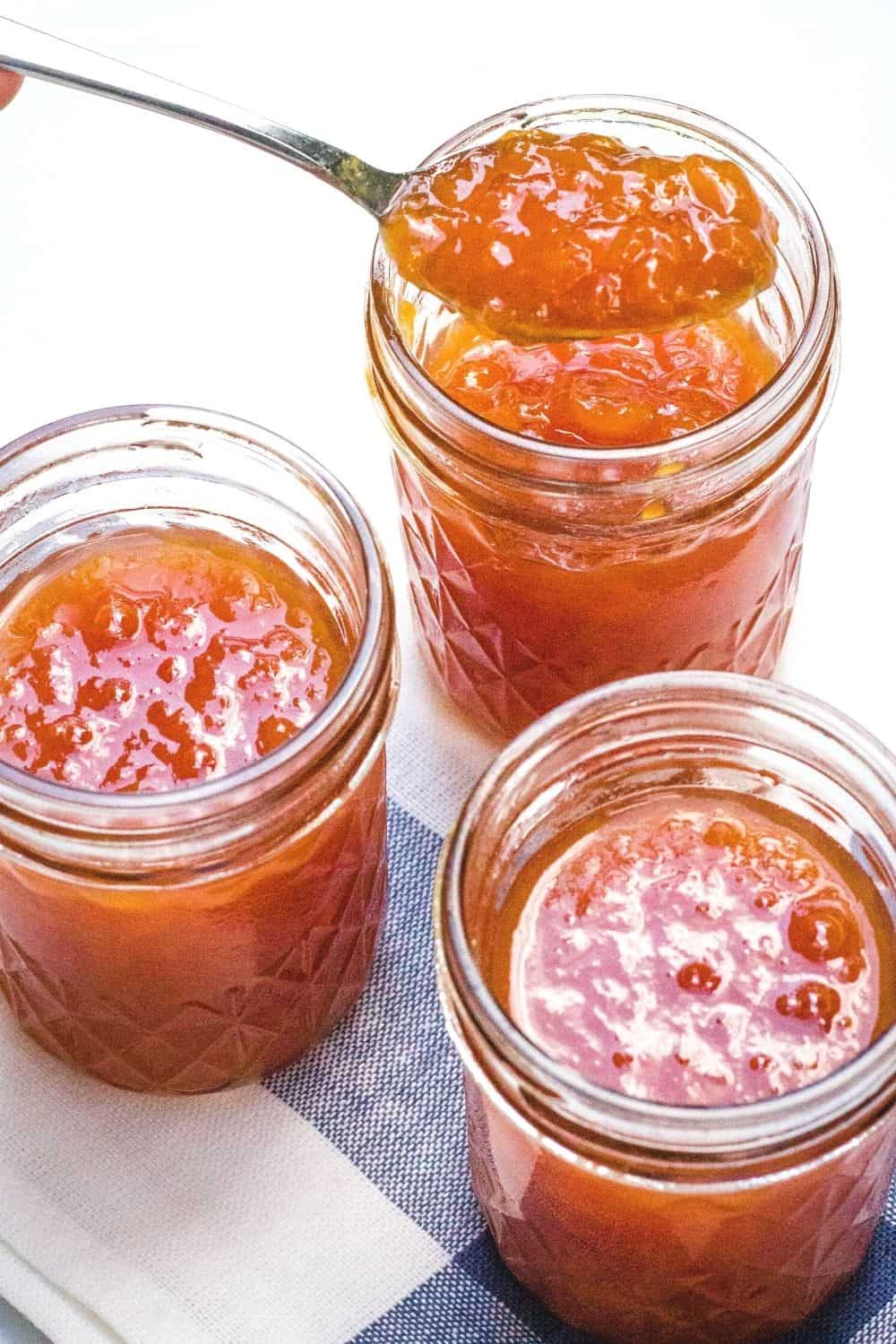 Making Jam without Pectin
Many jam recipes call for pectin, which is what helps give it a gel-like consistency after cooking.
I don't always have store-bought pectin on hand, but that's not a problem with these recipes.
That's because lemons are actually naturally high in fruit pectin, so lemon juice can be a great way to thicken your jams.
Just look how perfect this homemade strawberry jam is–such a great way to use up fresh strawberries!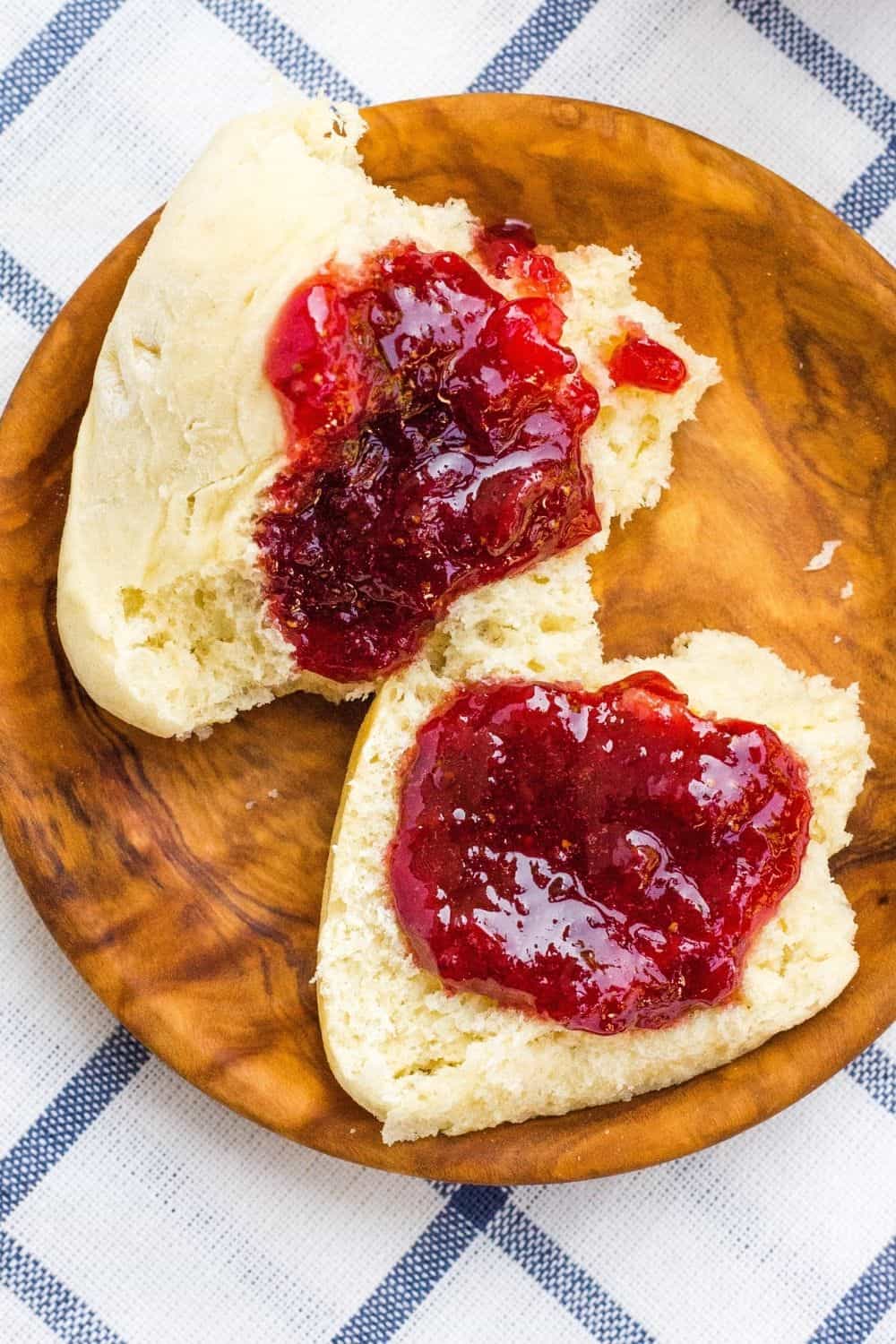 Is it Possible to Can Jars of Jam in the Instant Pot?
The Instant Pot and most other electric pressure cookers are not designed for canning foods for preservation.
While you can purchase pressure canners, they aren't necessary for high-acid foods, such as jams. Typically, jams are canned with a water bath method.
These Instant Pot jam recipes are suitable for refrigerating or freezing.
If you want to properly and safely can your jam to be shelf stable, you should follow instructions for proper preservation (your county's extension office is a good resource, too).
You can also read more guidelines about preserving jam made without pectin.
Recommended Equipment for Instant Pot Jam:
Instant Pot Jam Recipes
They say practice makes perfect and if practice includes testing out jam recipes, I'm game!
The best way to learn how to make fruit jams in the Instant Pot is to jump right in, and these easy Instant Pot jam recipes will help you get off to a great start.
We've included varieties for all of your favorite fruits–apple, strawberry, cherry, peach, pineapple, blueberry, blackberry, plum, apricot, and more!
So choose an easy recipe and give it a try!
Instant Pot Jam Recipes
Savor the sweetness of summer with these delicious Instant Pot jam recipes!
How to Do a Spoon Test for Jam
Instant Pot jam will thicken and become more gel-like as it cools, so it can be a little tricky to know how long to simmer it with the saute mode, since it's going to thicken more after we stop simmering it.
This is where knowing how to do the spoon test can be helpful!
While the jam is simmering, put a couple of metal spoons in the freezer to get nice and cold.
As the jam starts to thicken, quickly dip a cold spoon into the jam and pull it back out, watching to see if the jam starts to gel up on the spoon as it rapidly cools. If so, it's done!
If the jam is still fairly runny and doesn't gel, you'll know it needs to cook a bit more.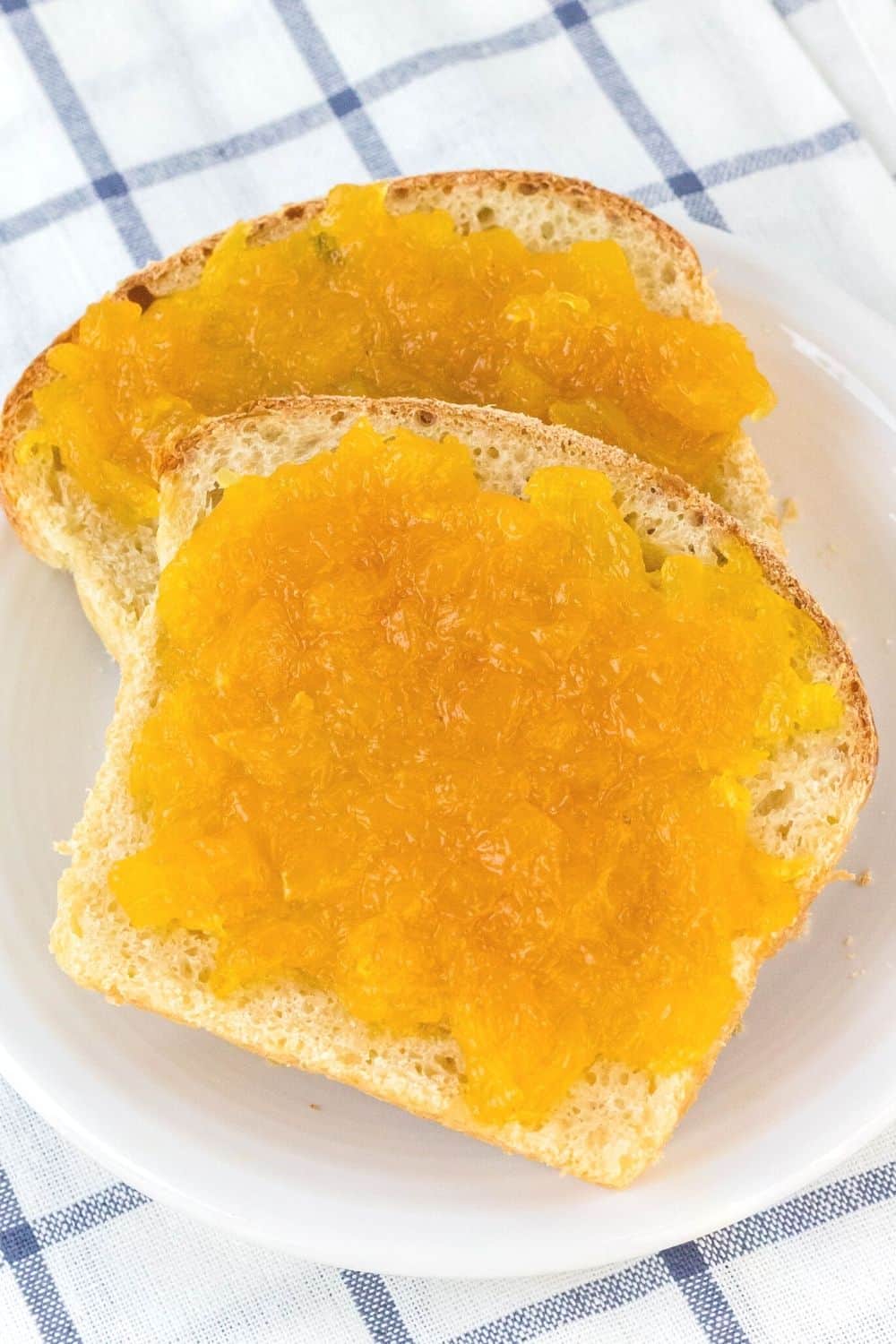 Tips For Making Instant Pot Jam
When it comes to using the Instant Pot method of making jam, you really only need three ingredients: fruit, sugar and fresh lemon juice.
If you want to enhance the flavors you can stir in a bit of vanilla extract or cinnamon, depending on the fruit.
The fruit can be fresh or frozen and you don't need any store-bought pectin, which means you probably have everything you need on hand for making some delicious jam.
Here are a few tips for making jam in a pressure cooker as easy as possible:
Prep fresh fruit by washing, removing hulls or seeds and peeling if necessary.
Frozen fruit can be added as-is, but you may want to add 1 minute to the cooking time.
For larger fruits and whole berries, you can use a potato masher to help break down large pieces after cooking.
Double or triple the recipe if desired, just stay below the max fill line.
These recipes have not been tested for canning and should be consumed within two weeks or frozen for long term storage.
The jam will continue to set up as it cools, but if it is very runny you can cook it for another minute or two. Just follow the spoon test!
Keep a few mason jars on hand to store your jam in the fridge.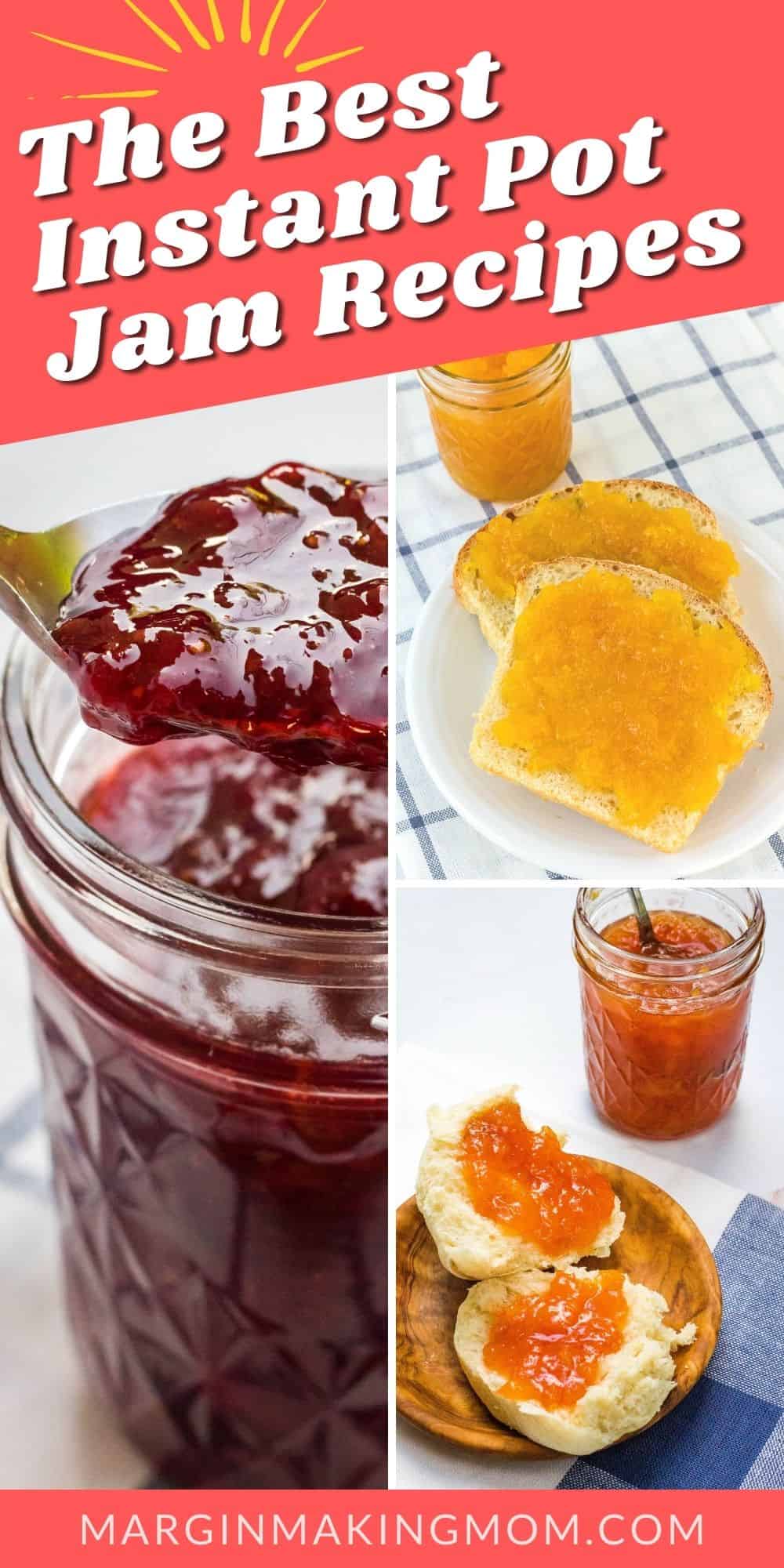 Get the Instant Pot Meal Plan Jumpstart
Join the free community and you'll learn simple ways to easily create tasty food for your family, as well as immediate access to the FREE Instant Pot Meal Plan Jumpstart to help you get a tasty dinner on the table in a flash!
"Thanks for sharing your knowledge and experience in such a friendly and delightful way!!! So far, I'm very impressed with the results...thanks again for your guidance into this new realm of cooking!" -Margaret
Free Resource Library
Enter my
free resource library
for my latest printables and resources! Password is 'IHEARTMARGIN' -- please copy and paste that in at the link above. Thanks for being a subscriber!!