You won't believe how easy it is to make these no-churn ice cream recipes!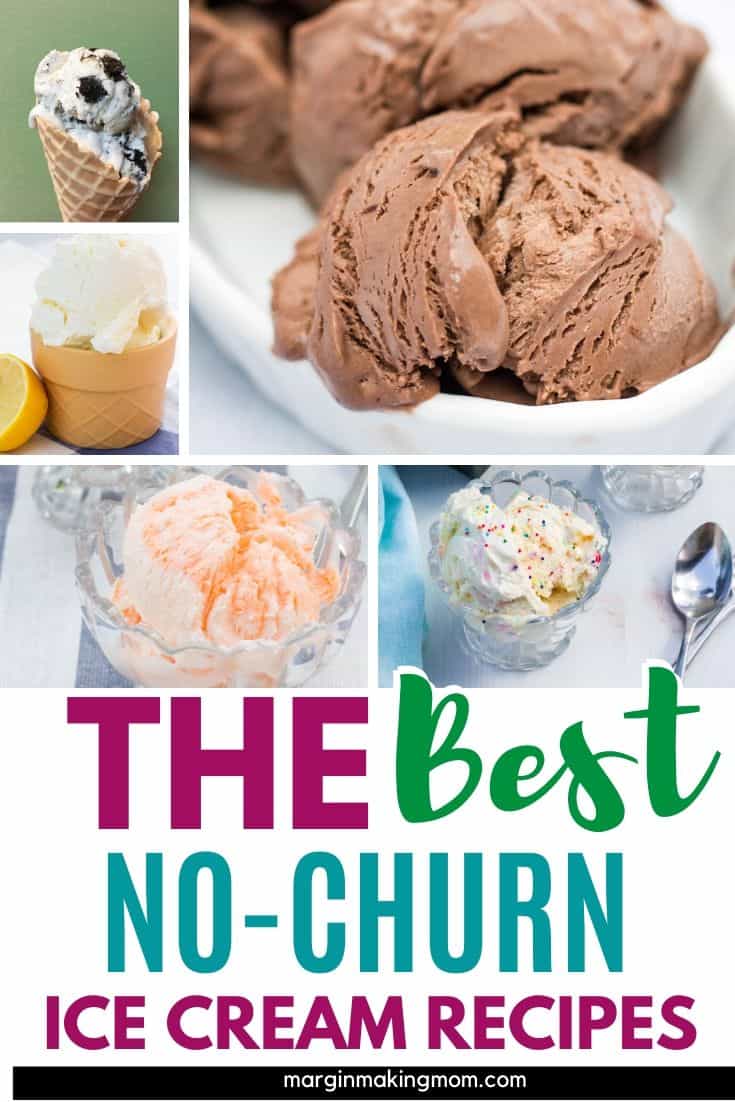 Homemade ice cream is one of those things that often seems intimidating for many people.
On the one hand, you have people who are surprised to learn you can even make ice cream t home.
On the other hand, you have people who grew up using snow to make ice cream, or who used the old-fashioned crank-driven ice cream machines that really made you work for your frozen treats!
Although there are many new-generation ice cream machines on the market today, it's actually entirely possible to make ice cream without one of these gadgets.
I know you're going to want to give this a try–that's why I'm sharing our favorite no-churn ice cream recipes with you!
How Do You Make Ice Cream without an Ice Cream Maker?
Let's start off by talking about how traditional ice cream is often made, then I'll share how I achieve the same results without an ice cream maker!
Many of us are familiar with ice cream that's made with a custard-style base. These ice cream bases are typically made with eggs, sugar, and milk, and cooked on the stove top.
Then after the base cools in the fridge for a while, it's churned in an ice cream maker. This churning not only helps it freeze, but also aerates it and breaks up ice crystals, so it ends up nice and smooth.
But with no-churn ice cream, the sweetness is provided by sweetened condensed milk, and the creaminess is provided by fluffy whipped cream, so it is an easy way to make eggless ice cream that doesn't require any cooking!
The Best No-Churn Ice Cream Recipes
No matter what flavor your family prefers, you'll be amazed at how easy it is to whip up a batch (or two!) of homemade ice cream with these simple recipes!
Best No-Churn Ice Cream Recipes
Enjoy one of these homemade frozen treats, each easily made with just a few simple ingredients!
Helpful Tools for Making Ice Cream at Home
When you're making a no-churn ice cream at home, you'll probably want an electric mixer.
Yes, you can whip cream by hand, but it's MUCH easier with a mixer. You can use a handheld electric mixer or a stand mixer.
I absolutely LOVE this insulated ice cream storage container–it's the perfect size and shape for scooping and it's ideal for bringing your ice cream to a summer BBQ or potluck).
And of course, a good ice cream scoop is a necessity!
You might also want some fun little ice cream sundae cups to serve the scoops in.
Enjoy!
Do you have a Ninja Creami ice cream machine? If so, check out our list of the best Ninja Creami recipes!
Get the Instant Pot Meal Plan Jumpstart
Join the free community and you'll learn simple ways to easily create tasty food for your family, as well as immediate access to the FREE Instant Pot Meal Plan Jumpstart to help you get a tasty dinner on the table in a flash!
"Thanks for sharing your knowledge and experience in such a friendly and delightful way!!! So far, I'm very impressed with the results...thanks again for your guidance into this new realm of cooking!" -Margaret
Free Resource Library
Enter my
free resource library
for my latest printables and resources! Password is 'IHEARTMARGIN' -- please copy and paste that in at the link above. Thanks for being a subscriber!!