This homemade pistachio ice cream is so easy to make, and doesn't even require an ice cream maker!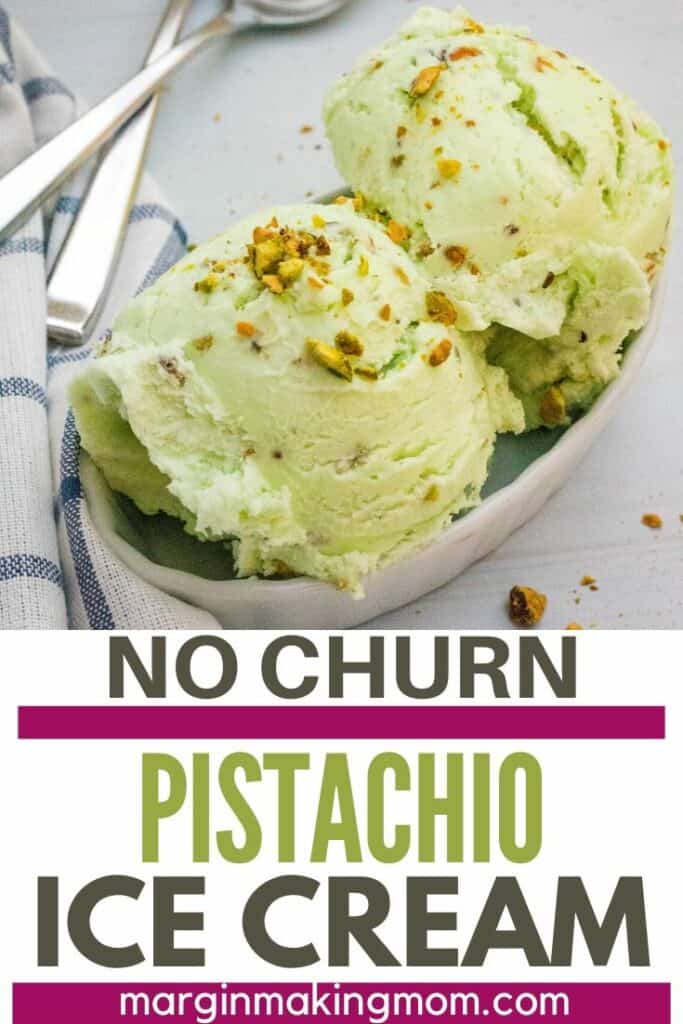 This no-churn pistachio ice cream is rich and creamy, just like what you'd get from your favorite gelato shop!
Note: This post may contain affiliate links for your convenience. If you make a purchase, this site may receive a small commission at no additional cost to you. You can read my full disclosure policy here.
Have you ever made homemade ice cream? It's easier than most people think!
I used to think all ice cream makers involved a bunch of salt and a hand crank, so I was a little intimidated.
I eventually bought an ice cream maker and realized it can actually be super simple to make homemade ice cream.
Then, things got even easier when I discovered how to make no-churn ice creams that don't even require an ice cream maker!
That's how I make my cookies and cream ice cream, cake batter ice cream, lemon ice cream, orange creamsicle ice cream, and decadent chocolate peanut butter ice cream.
I wanted to try some new flavors recently, and since I adore pistachio pudding desserts so much, I decided to make pistachio ice cream!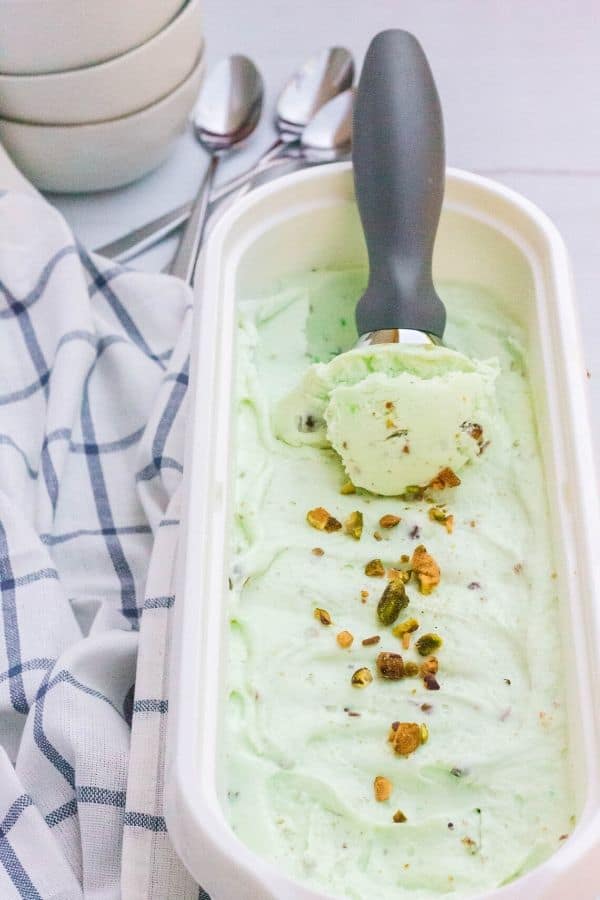 Homemade Pistachio Ice Cream without Eggs
Many ice cream bases start out with a sweet custard, made with eggs and cooked on the stove top. The base is then churned as it freezes, which aerates it and breaks up ice crystals, so it ends up nice and smooth.
But with no-churn ice cream, the sweetness is provided by sweetened condensed milk, and the creaminess is provided by fluffy whipped cream, so it is an easy eggless recipe!
This base can be endlessly customized, just as it is here in this pistachio ice cream!
More Delicious Pistachio Pudding Recipes: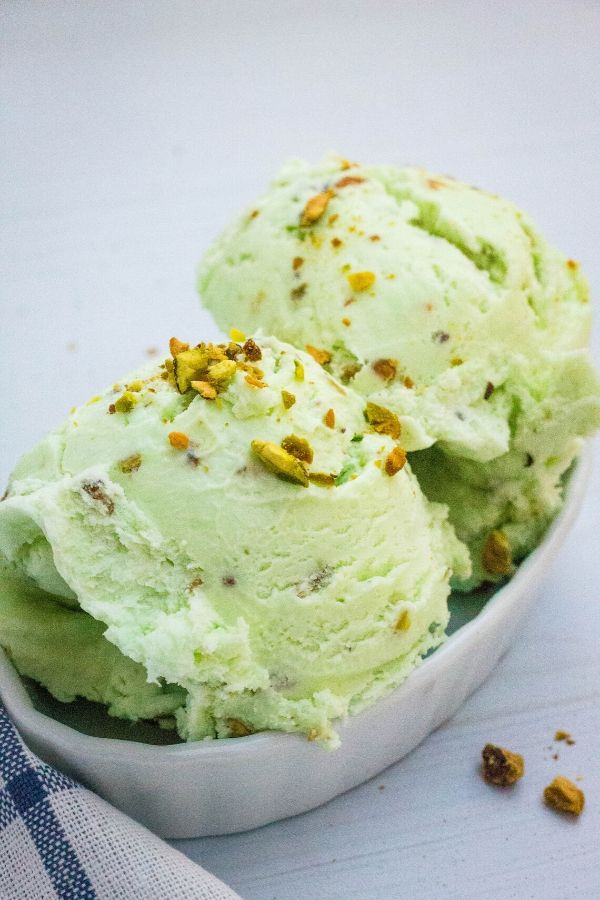 I used pistachio pudding mix to add the pistachio flavor and pretty pale green color.
I also added chopped pistachios, which you can leave out if you prefer, but I like the contrast of the slightly salty crunch with the sweet creamy base.
If you decide to add the pistachios, I recommend buying some that are already shelled, because that will save you and your fingers a lot of grief!
I just used my food processor to chop them up, but you could also do it with a knife.
How to Make the Best Pistachio Ice Cream without an Ice Cream Maker
It's really easy to make this simple 4-ingredient recipe!
Ingredients You'll Need:
Heavy Whipping Cream
Sweetened Condensed Milk
Pistachio Pudding Mix
Chopped Shelled Pistachios (optional)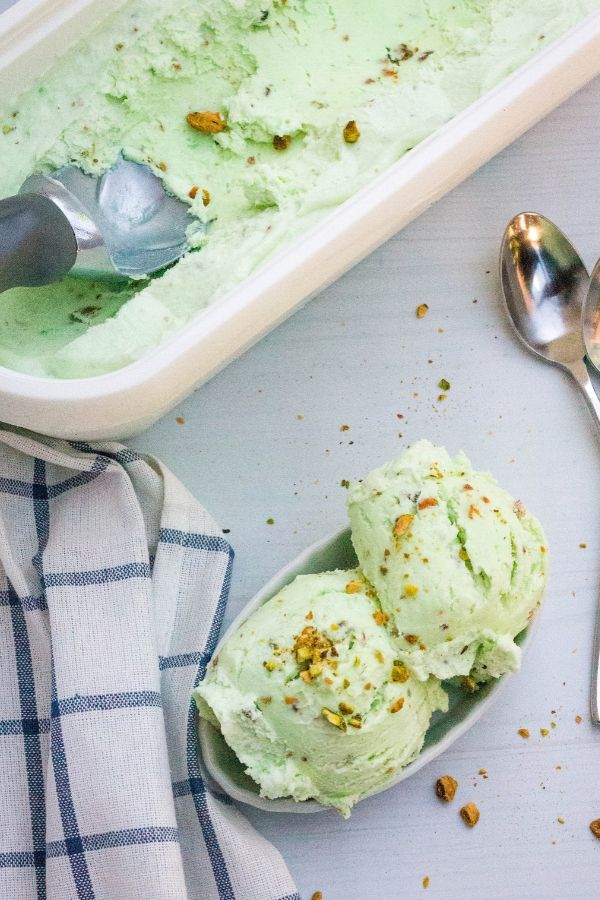 How to Make It:
(Full printable recipe is available below)
Create the sweet base. First, you'll whisk together the dry pudding mix, sweetened condensed milk, and a little bit of the cream. This will form a thick but smooth base of sweetness.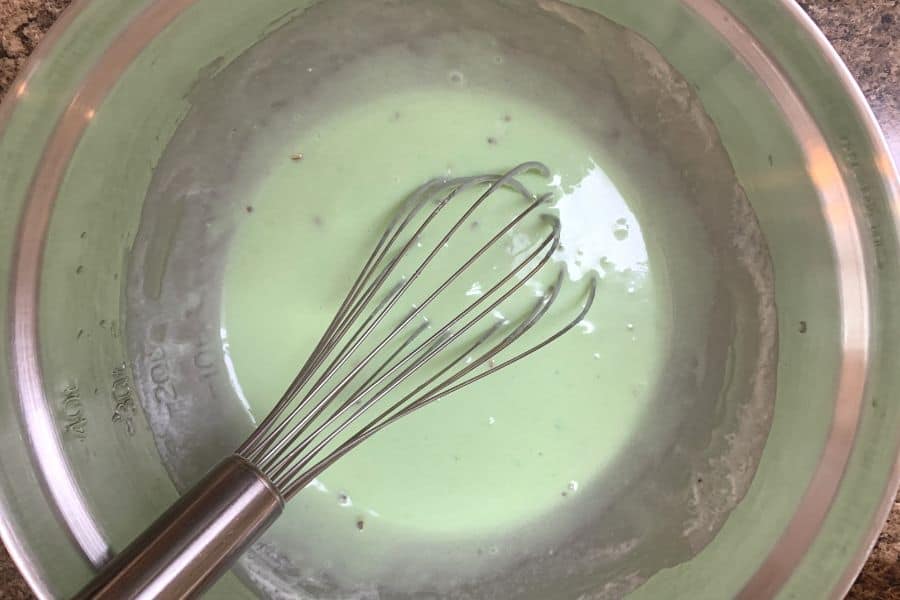 Whip the cream. Next, using an electric mixer, you'll whip up the cream until stiff peaks form.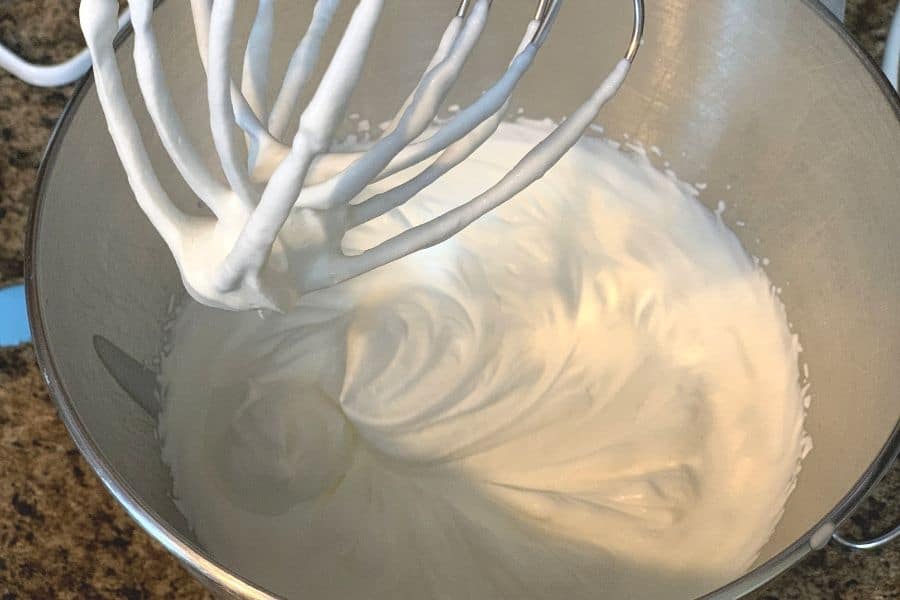 Fold together. Last, you'll gently fold the sweet pudding base into the whipped cream until fully incorporated. If you're using some chopped pistachios, fold those in now as well.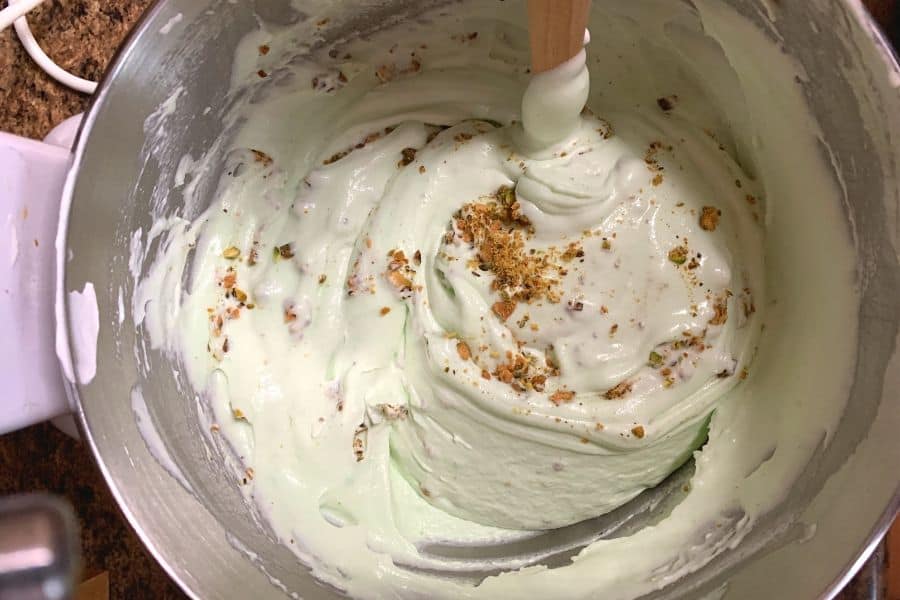 Freeze. Pour into a freezer-safe container (I absolutely LOVE this insulated ice cream storage container–it's the perfect size and shape for scooping and it's ideal for bringing your ice cream to a summer BBQ or potluck).
Freeze until firm, at least 6-8 hours. Then, scoop (this is my favorite ice cream scoop) and serve!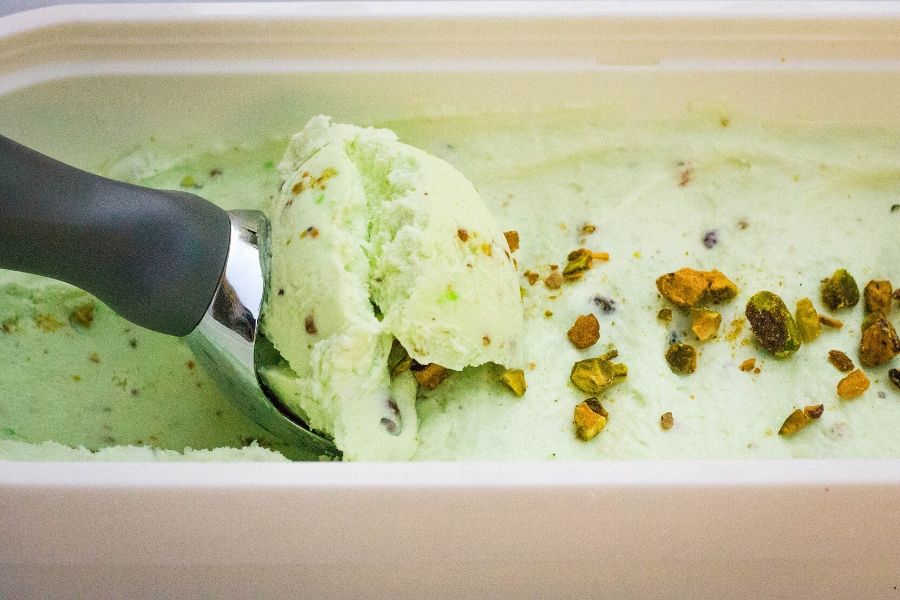 Notes and Adaptations for Making No Churn Pistachio Ice Cream:
If you want a pistachio ice cream without nuts, feel free to leave out the chopped pistachios.
You can add green food coloring if you want a more pronounced green hue.
Recommended Equipment: