This sweet strawberry jam is cooked in the Instant Pot, with no added pectin needed!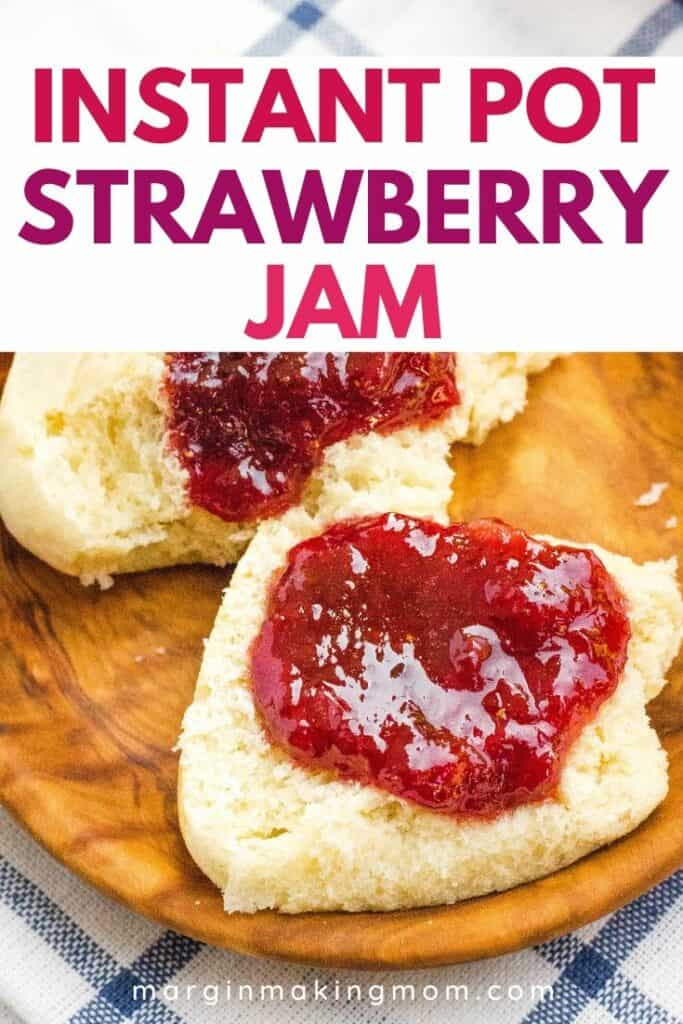 If you're looking for an easy Instant Pot strawberry jam recipe, this is the perfect way to preserve a little bit of spring and summer!
Note: This post may contain affiliate links for your convenience. If you make a purchase, this site may receive a small commission at no additional cost to you. You can read my full disclosure policy here.
One of my favorite parts about spending so much of my childhood in Florida was the Florida Strawberry Festival in Plant City every March.
Even though we never actually went to the festival, its ruby red bounty trickled to other parts of the state.
Whether it's the sticky sweet juices running over a piece of shortcake, or the simple snack of a mound of whipped cream with deep rouge berries, strawberries will forever signal springtime in my mind.
When the prices start dropping during strawberry season, I buy larger quantities of the sweet morsels and find various ways to enjoy them! We also try to get out to a local strawberry patch to pick some ourselves from time to time.
Fun fact: Strawberries aren't actually berries! Do you know if strawberries are a fruit or vegetable?
A couple of our favorite ways to use up strawberries are to make homemade strawberry popsicles, strawberry banana bread, honey lime fruit salad, or this delicious Instant Pot strawberry jam!
Yes, that's right, you can use your Instant Pot to make jam! In fact, I make pineapple jam and peach jam in the Instant Pot, too!
This is the perfect small batch strawberry jam recipe, which you can double if you'd like.
It's delicious served with homemade dinner rolls or biscuits, or on top of homemade fluffy pancakes, or even swirled into Instant Pot yogurt or single-serve oatmeal!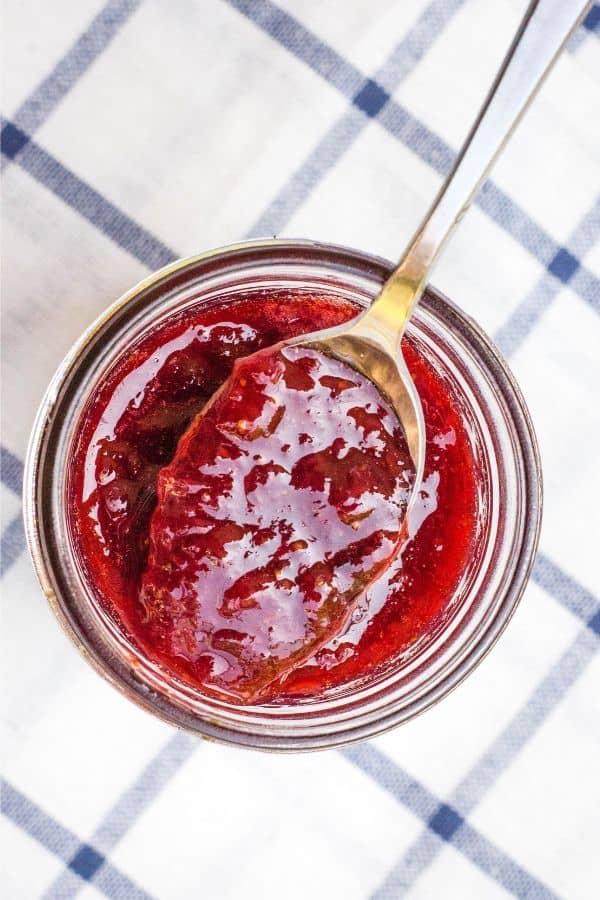 Making Strawberry Jam without Pectin
Many jam recipes call for pectin, which is what gives the jam a gel-like consistency. In fact, I often make strawberry freezer jam with uncooked strawberries and store-bought pectin.
But I don't always have pectin on hand. That's okay, because lemons are actually naturally high in pectin!
Adding the lemon juice not only helps to brighten the flavor of the strawberries, but it also helps the consistency.
How to Make Strawberry Jam in the Instant Pot
It's really easy to make your strawberry jam in the pressure cooker! There's no need for store-bought pectin!
Ingredients You'll Need:
Strawberries
Sugar
Lemon Juice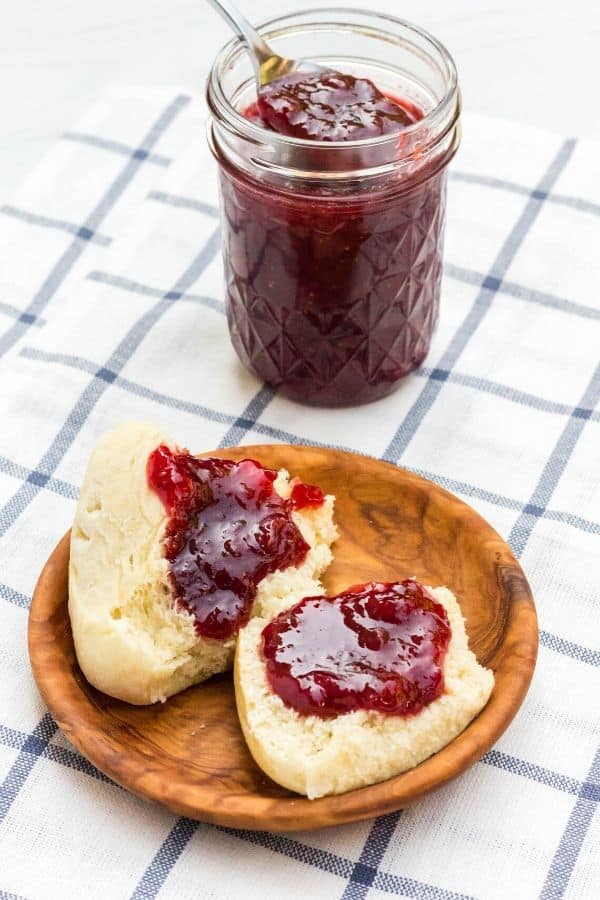 How to Make It:
(Full printable recipe is available below)
Prepare the strawberries. First, you'll cut off the stems of the strawberries and quarter the berries.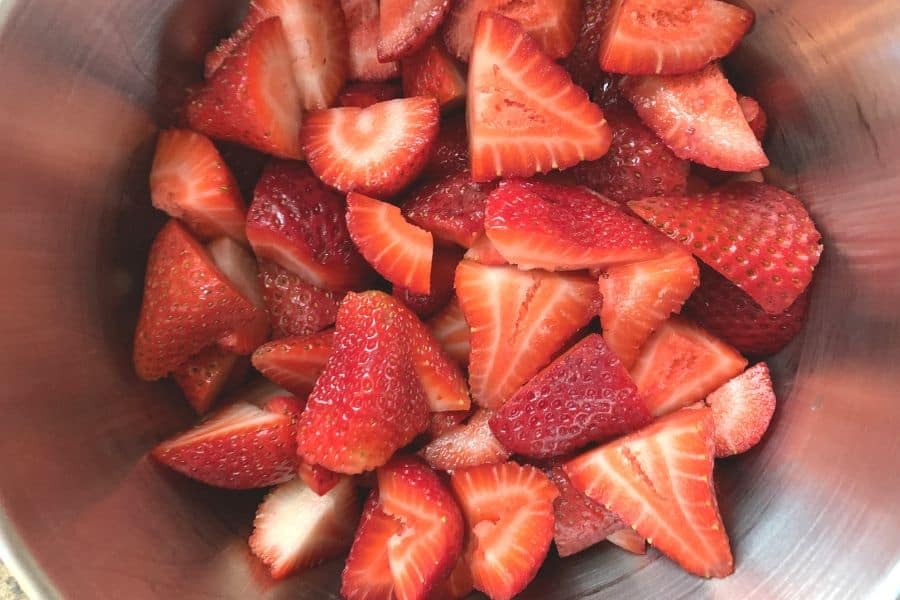 Add them to a food processor and pulse a few times, just to get them finely chopped up. You don't want to puree them!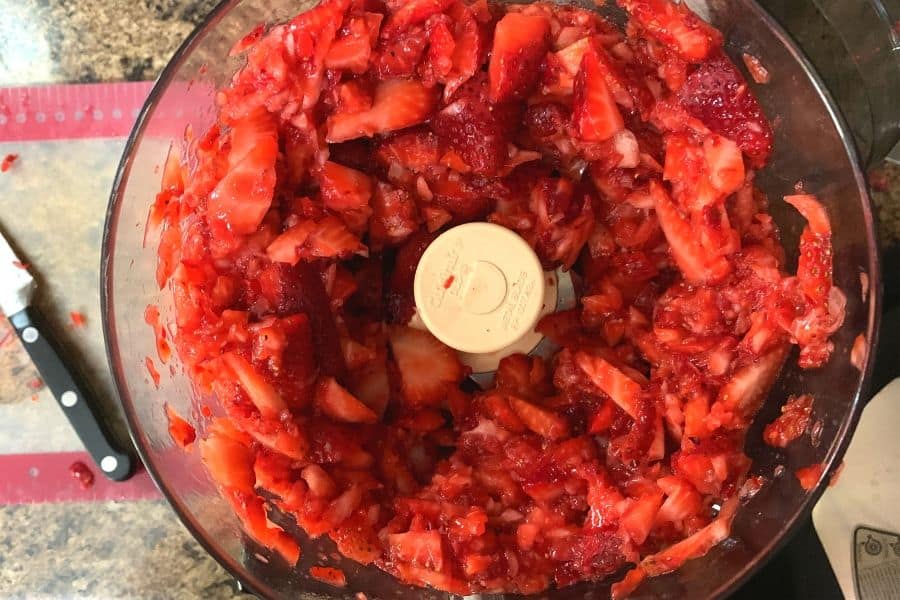 If you don't have a food processor, you can simply chop them up finely by hand or use a potato masher to mash them up a bit.
Put the strawberries into the insert pot of the Instant Pot.
Add sugar and lemon juice. Next, you'll add the sugar and lemon juice and give everything a good stir to combine. Let this mixture sit for about 5-10 minutes, so the sugar can macerate the berries and allow their juices to release.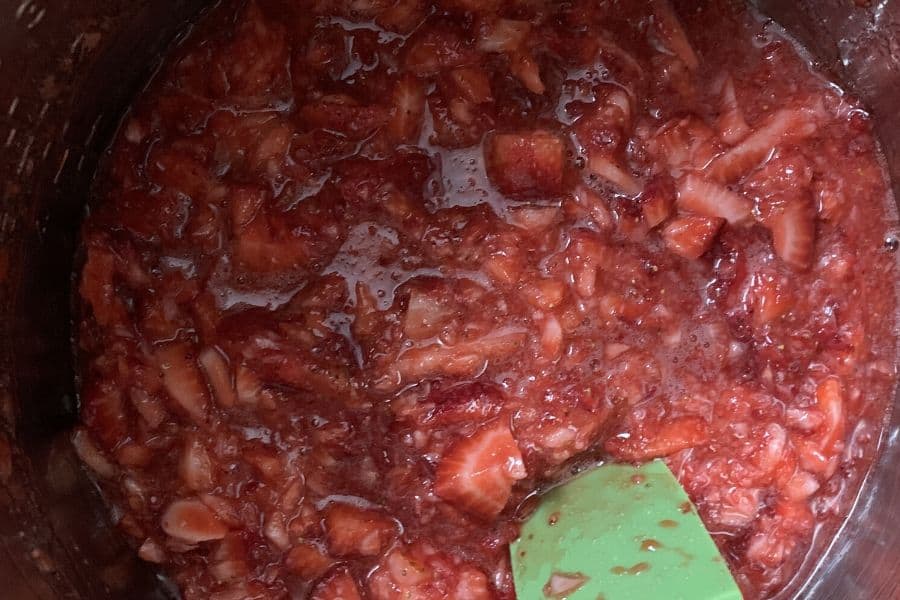 Pressure cook. Set a cook time of one minute at high pressure. After the cook time is complete, allow a 15-minute natural release of pressure, followed by a quick release of remaining pressure.
Simmer. When you first open the pressure cooker, the ingredients will be kind of soupy. That's normal!
Use the Saute function to simmer the contents, stirring often, until the mixture thickens and passes a spoon test (see below for instructions). This usually takes about 10-15 minutes.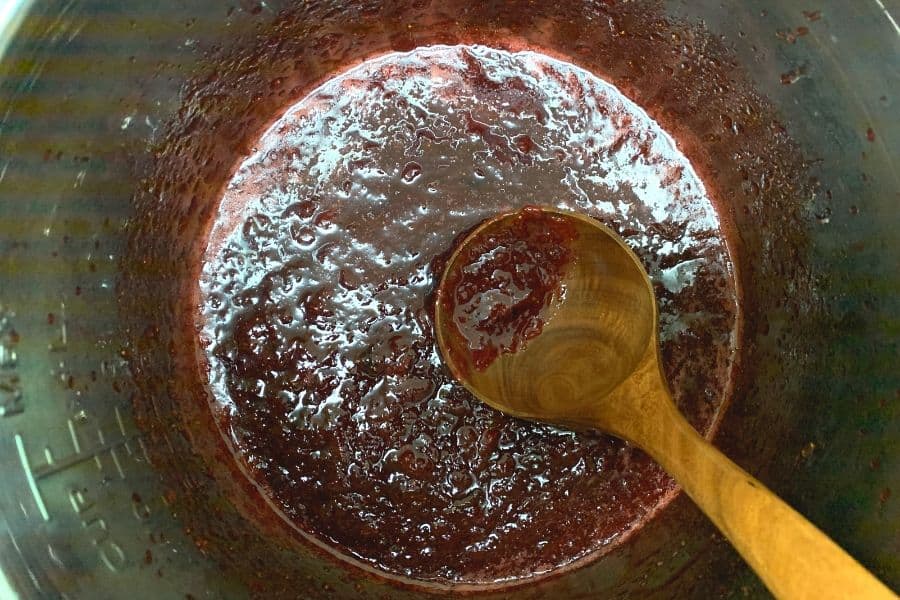 Just be sure you are stirring frequently while simmering, otherwise your strawberries will scorch at the bottom of the insert pot (ask me how I know)!
Ladle into jars and cool. Transfer the jam into clean jars and allow it to cool to room temperature before putting them in the fridge or freezer.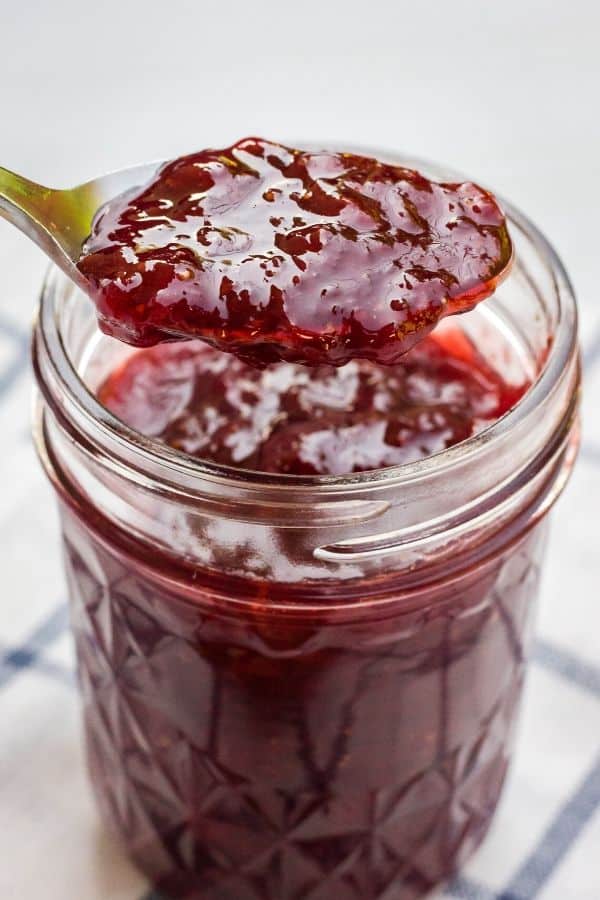 How to Do a Spoon Test for Strawberry Jam
Jam thickens and gels more as it cools, so it can be a little tricky to know how long to simmer it, since it's going to thicken more after we stop simmering it.
This is where the spoon test can be helpful!
While the jam is simmering, put a couple of spoons in the freezer to get nice and cold.
As the jam starts to thicken, quickly dip a cold spoon into the jam and pull it back out, watching to see if the jam starts to gel up on the spoon. If so, it's done! If the jam is still pretty runny and doesn't gel, it needs to cook a bit more.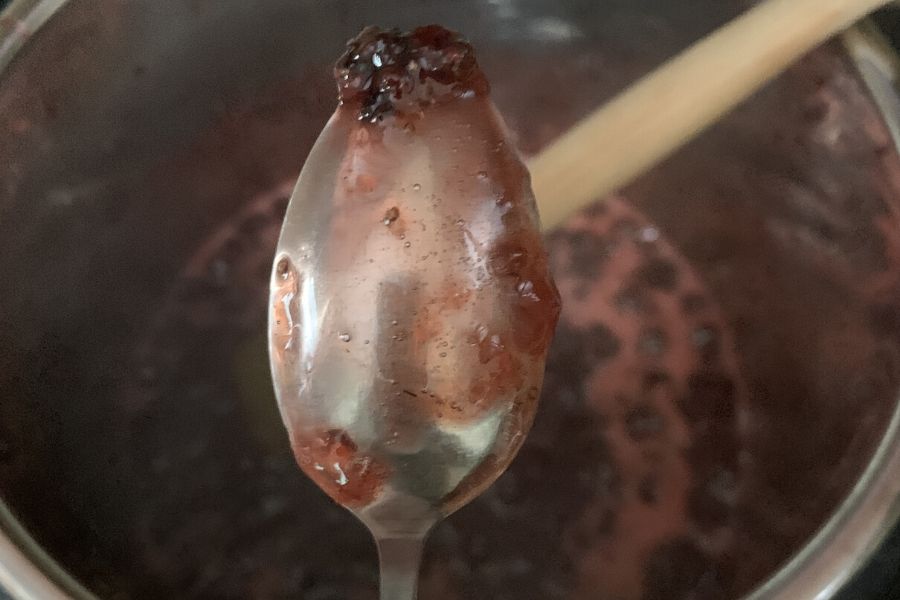 Notes and Adaptations:
This recipe is for jam suitable for refrigerating or freezing. If you want to properly and safely can your jam to be shelf stable, you should follow instructions for proper preservation.
I have not tested this recipe with frozen strawberries. If you want to try using frozen berries, I'd recommend thawing them first and draining off the extra liquid.
Jam foams while cooking, which is why we use a 15 minute natural release to allow the foam to subside before opening the vent. However, if when you open the vent you still have foam spewing out, quickly close the vent and wait a couple of minutes before attempting to open the vent again.
Recommended Equipment: