These quick and easy baked homemade meatballs are a fabulous addition to your favorite pasta dish! Homemade meatballs are not as complicated as you think!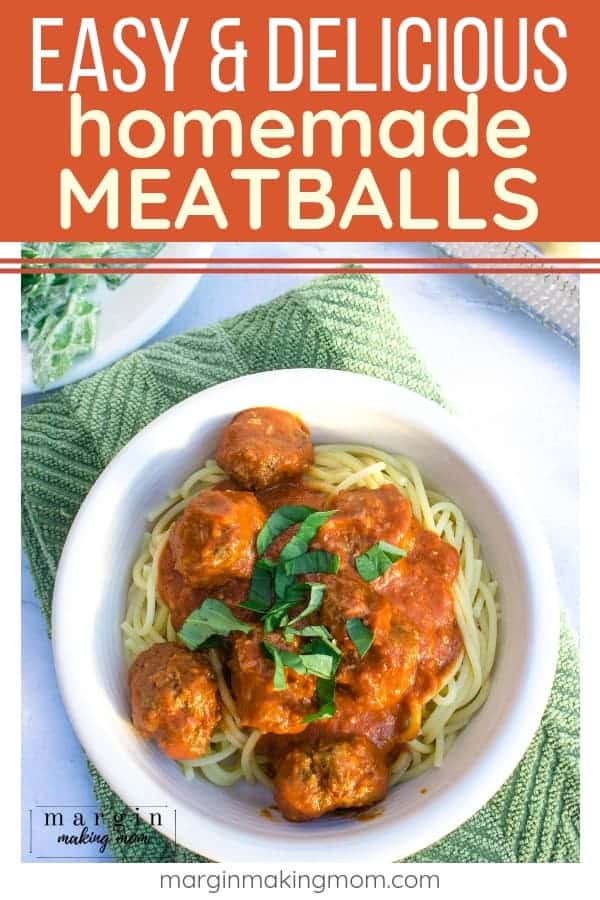 Note: This post may contain affiliate links for your convenience. You can read my full disclosure policy here.
Growing up, spaghetti was a very common meal in our house. My dad loved meat sauce, so that's how we typically ate our spaghetti. In fact, that's how I most often serve spaghetti to this day (and I even figured out how to make spaghetti with meat sauce in the pressure cooker!).
So meatballs really weren't something I ate very often in my younger years, unless I ordered them from an Italian restaurant when we went out to eat.
Then, as a young 20-something, when I was really starting to learn how to cook, my friend Gianna shared her mom's Italian meatball recipe with me.
I made a big pot of homemade sauce and meatballs, and it was so good! As someone who had only used jarred sauces up until that point, I was surprised by how simple it was to make my own sauce. But not only that, it was amazing that something as intimidating as making homemade meatballs was actually very easy!
Over the years, I tried a few more meatball recipes, taking bits and pieces of each and finally settling on these easy baked homemade meatballs as my go-to on those days when I need a hearty homemade meal.
In these pictures, I added the meatballs to a homemade roasted pepper and cherry tomato sauce. It was a great way to use up my surplus tomatoes and peppers from my garden!
While these meatballs pair perfectly with pasta, you can also use them for Instant Pot albondigas soup, Instant Pot Swedish meatballs, or Instant Pot Italian meatballs and rice!
Having a batch stored in the freezer is also a great way to get dinner on the table quickly using one of these Instant Pot frozen meatballs dinner ideas!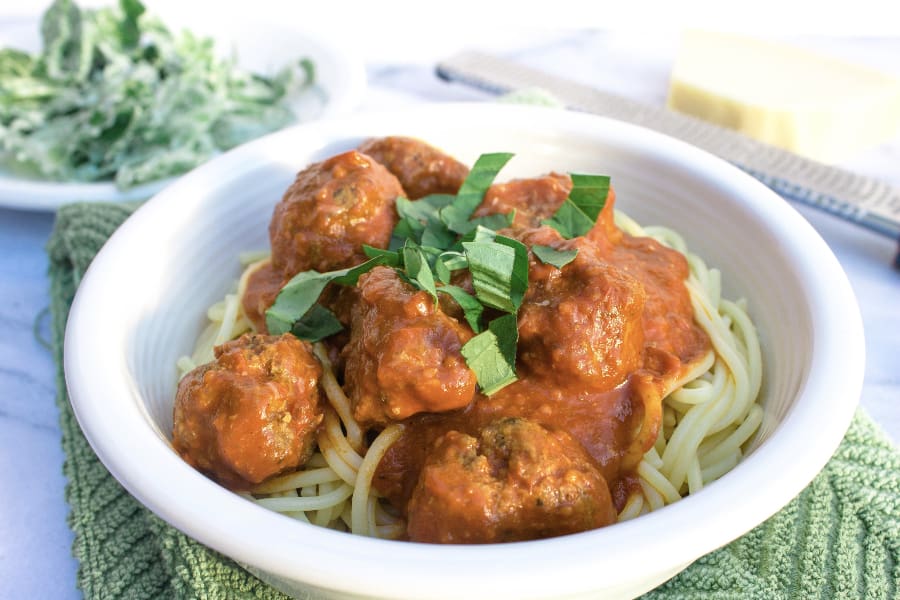 How to Make Quick and Easy Baked Homemade Meatballs
The process for making these is ridiculously easy. First, you'll combine some ground beef, beaten eggs, bread crumbs, parmesan cheese, and some herbs and spices. You'll want to mix that together so everything is evenly combined (I just use my hands).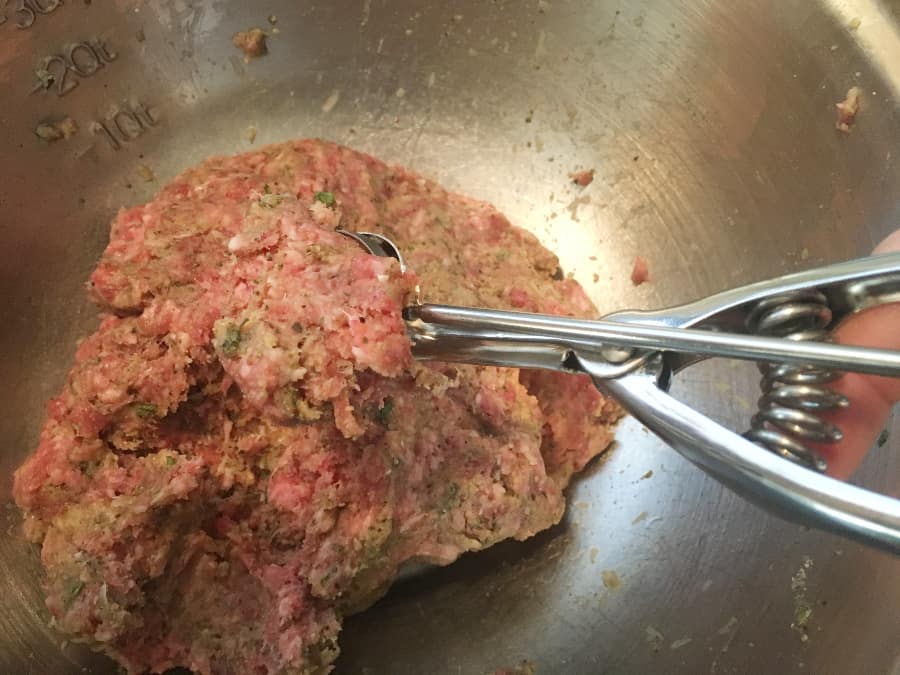 Then, use a cookie scoop to portion it out into balls that are pretty uniform in size. Line them up on a foil-lined baking sheet and pop into the oven. Broil them until they're cooked browned, then transfer them to the sauce to finish cooking through while the sauce simmers.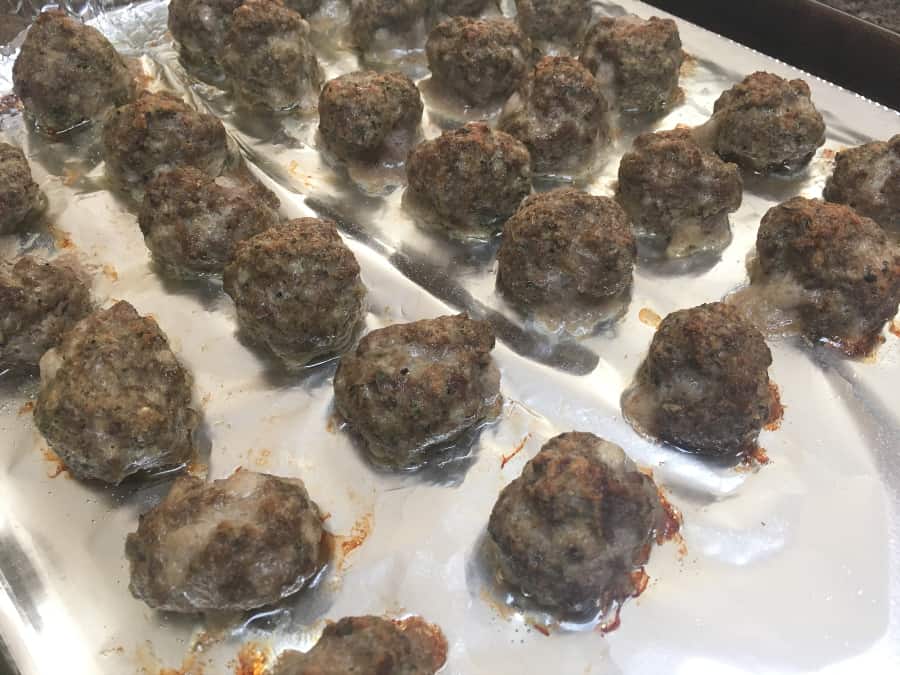 Notes and Alterations for Homemade Meatballs
I use 80/20 ground beef, but you can use leaner beef or ground turkey if you prefer. You can also use half beef and half Italian sausage if desired.
If you are planning to simmer your sauce for a while, I'd recommend only broiling until browned on the outside, so they'll hold their shape, then transfer them to your sauce. They can finish cooking through in the sauce, and the flavors will meld together a bit more. If you're in a hurry and won't be simmering sauce for a while, go ahead and keep them under the broiler until they're cooked all the way through, about 5-7 minutes.
These meatballs freeze great! After cooking, allow them to cool and then transfer to a freezer bag or container and freeze until you're ready to use. You can also add them to extra sauce and freeze them in the sauce. I've done this before and then put the frozen block of sauce and meatballs into a slow cooker to thaw and reheat during the day.
Feel free to use these with a sauce and pasta, or over spaghetti squash or spiralized zucchini noodles, or on a hoagie with some sliced provolone for a tasty sandwich.
Recommended Equipment:
More Italian Themed Meals You'll Love:
Yield: Approx. 30 Meatballs (about 6 servings)
Quick and Easy Baked Homemade Meatballs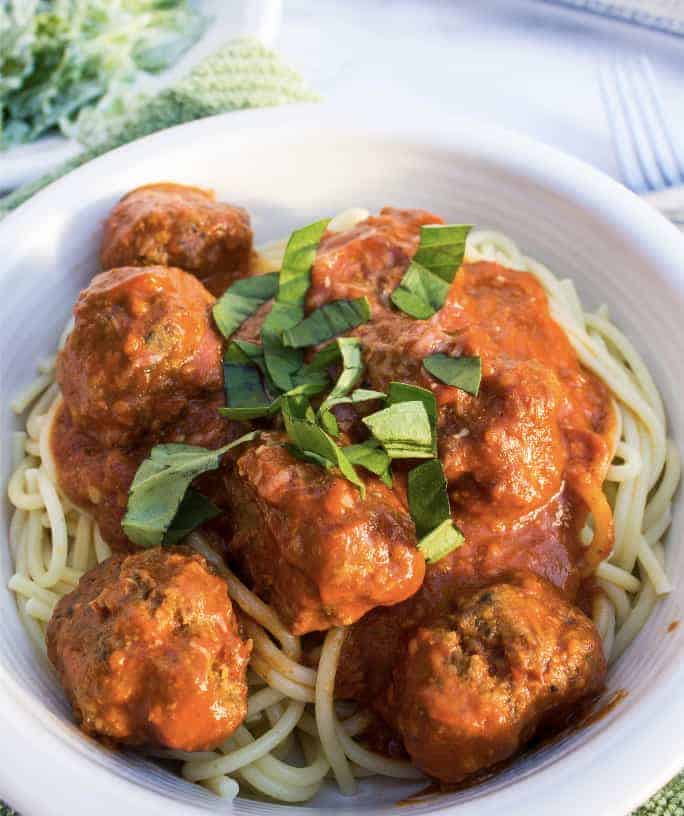 These baked homemade meatballs are a simply delicious addition to your favorite pasta and sauce. They're full of flavor but easy to make, so they are perfect for a weeknight meal!
Ingredients
1 lb ground beef
2 eggs, beaten
1/4 cup Italian bread crumbs
2 Tbs grated Parmesan cheese
2 tsp basil
1 tsp parsley
2 tsp onion powder
1 tsp garlic powder
1/2 tsp salt
1/2 tsp black pepper
Instructions
Turn on the broiler of your oven. Line a baking sheet with aluminum foil.
Combine all ingredients together until fully incorporated (I use my hands to do this, but you can use a spoon or a stand mixer if desired).
Using a cookie scoop or tablespoon, scoop mixture out, rolling into balls.
Place meatballs onto prepared baking sheet. Transfer to oven.
If you're planning to simmer them in a sauce after baking, just bake until they're browned and transfer them to the sauce to finish cooking through. If you won't be simmering them very long, bake until they are cooked through, about 5-7 minutes.
Serve with your favorite sauce and pasta dish, or on sub rolls with cheese.
Recommended Products
As an Amazon Associate and member of other affiliate programs, I earn from qualifying purchases.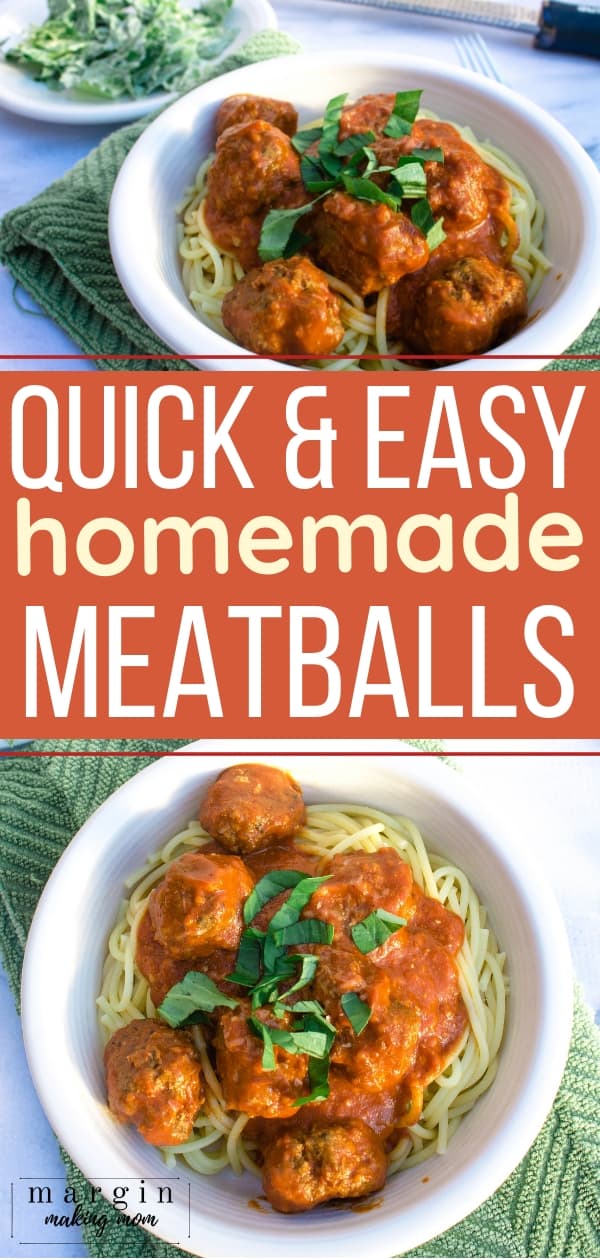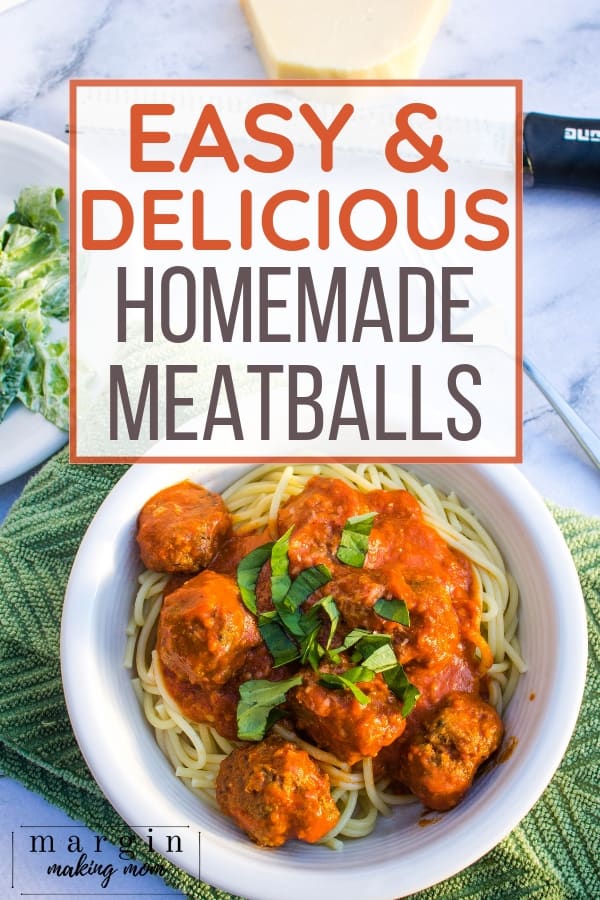 Get the Instant Pot Meal Plan Jumpstart
Join the free community and you'll learn simple ways to easily create tasty food for your family, as well as immediate access to the FREE Instant Pot Meal Plan Jumpstart to help you get a tasty dinner on the table in a flash!
"Thanks for sharing your knowledge and experience in such a friendly and delightful way!!! So far, I'm very impressed with the results...thanks again for your guidance into this new realm of cooking!" -Margaret
Free Resource Library
Enter my
free resource library
for my latest printables and resources! Password is 'IHEARTMARGIN' -- please copy and paste that in at the link above. Thanks for being a subscriber!!