This simple recipe for bola de carne creates a hearty "meat bread" that feeds a crowd.
A traditional dish from Portuguese cuisine, bola de carne is an easy dinner idea, and a great way to use up leftovers.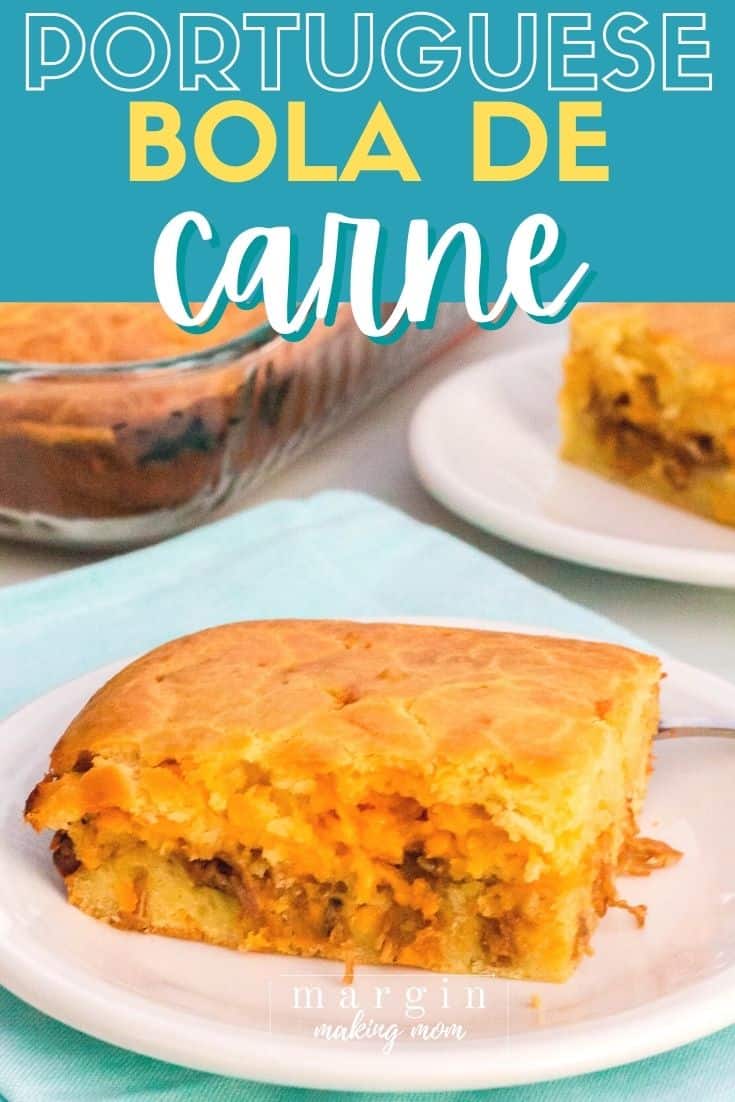 Note: This post may contain affiliate links for your convenience. If you make a purchase, this site may receive a small commission at no additional cost to you. You can read my full disclosure policy here.
If you aren't familiar with bola de carne, you're in for a treat!
A dish hailing from Portuguese origins, it's a combination of bread, meat, and cheese that feeds a crowd with minimal effort, making it perfect for your holiday celebrations and get-togethers.
Not only that, but it's a great way to use up leftovers!
In researching the history of this dish, I've also seen bola de carne called a Portuguese "meat bread" or "meat cake."
No matter what you call it, it's delicious!
More Tasty, Hearty Main Dish Recipes: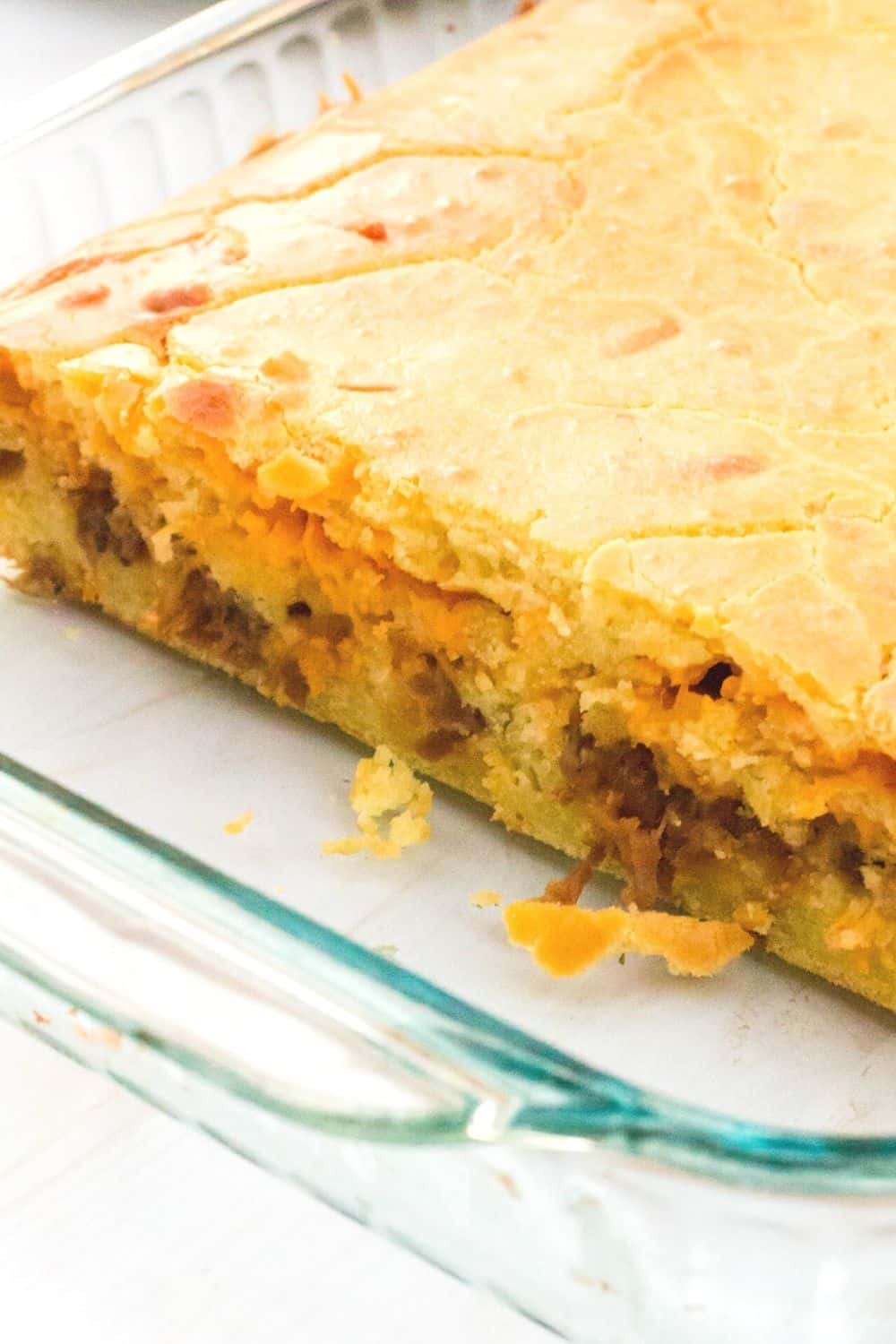 How Do You Make Bola de Carne?
As with many traditional cuisines, it appears there are several versions of bola de carne, many of which have likely been passed down through families over the course of multiple generations.
In all versions I've seen, a bread is filled or stuffed with a meat of some sort.
Some people use sliced charcuterie-type or deli-style meats as the filling, while others use pulled or shredded meats.
Some recipes use cheese in the dish, and some don't.
I've seen versions made with thicker layers of bread, and other versions made with a rolled dough, similar to an Italian stromboli.
And although I have seen recipes that use a dough made with leaveners other than yeast, most of the traditional recipes I've found use yeast, so that's what I've used in this recipe. I wanted to stay as close to the authentic mode of preparation as possible.
The result is a soft bread with a crispy outside, filled with shredded pork or beef (this is a fabulous way to use up leftover roast beef or BBQ pork!) and melted cheese.
Since one batch yields quite a few servings, and since it's so easy to make, bola de carne is a delicious meal to serve around the holidays!
Although my family is not Portuguese, as a homeschooling mom, I love to expose my kids to the wide range of cultures throughout the world, through relationships, art, books, music, and cuisine!
Related: How to Reheat Leftover Pulled Pork in the Instant Pot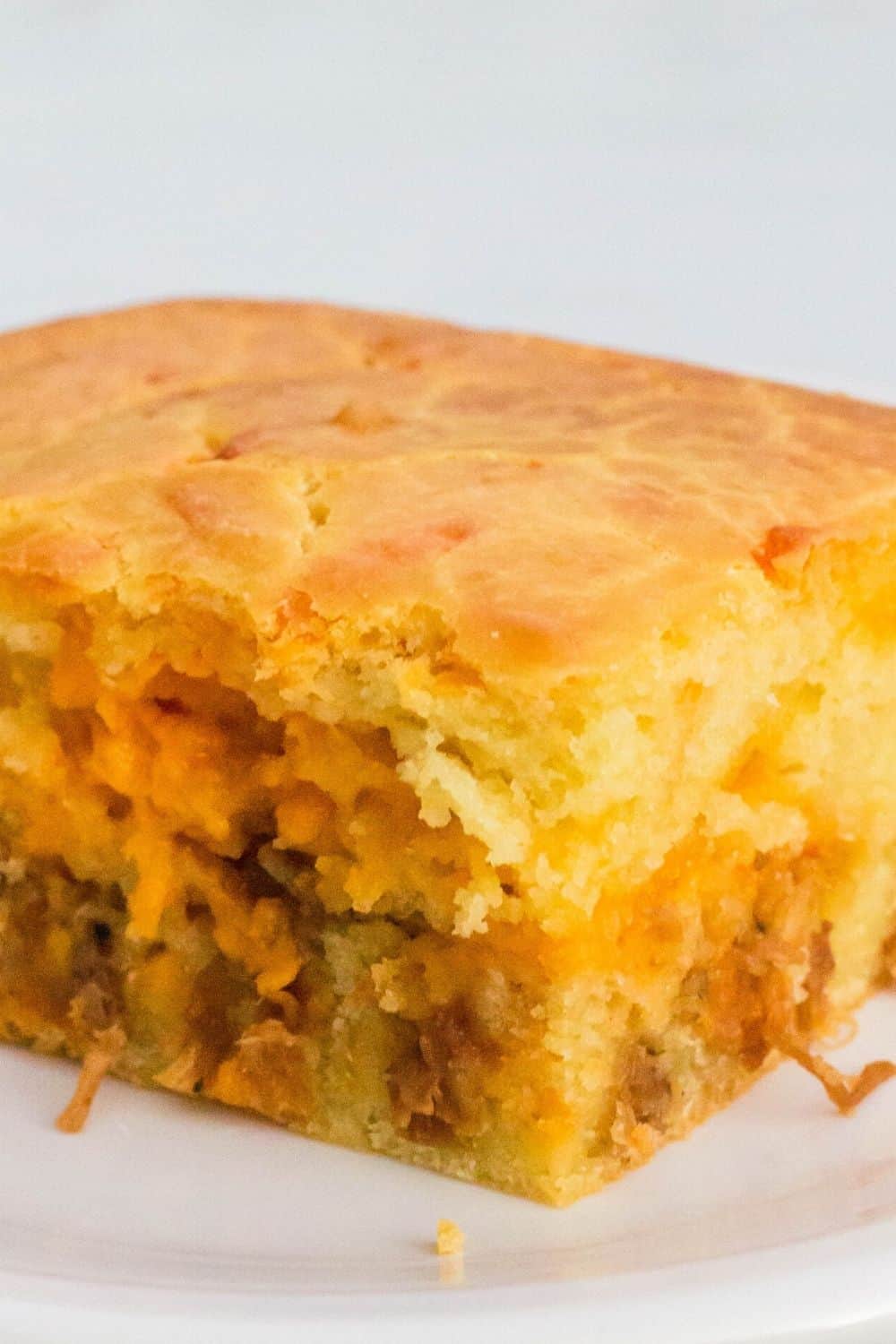 How to Make Bola de Carne
It's really easy to make this simple dish!
Ingredients You'll Need:
Milk
Olive oil
Eggs
All-purpose flour
Yeast
Salt
Cheese
Shredded beef or pork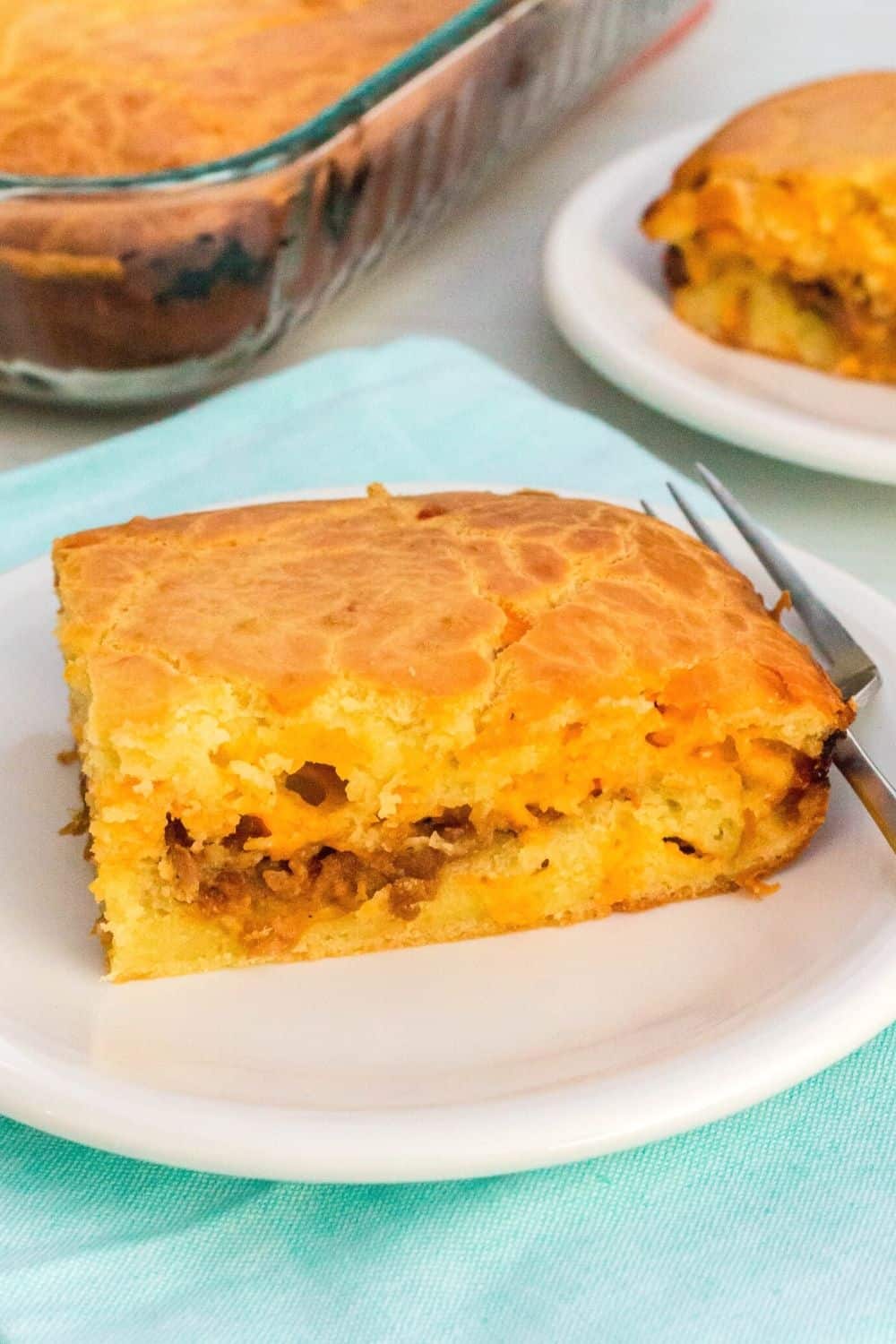 How to Make It:
Combine wet ingredients. First, you'll combine milk, olive oil (yes, it seems like a lot of olive oil, but it's crucial to giving the bread a flavorful and crispy crust), eggs, and yeast in the bowl of a stand mixer. Mix on low or medium speed briefly, just to combine.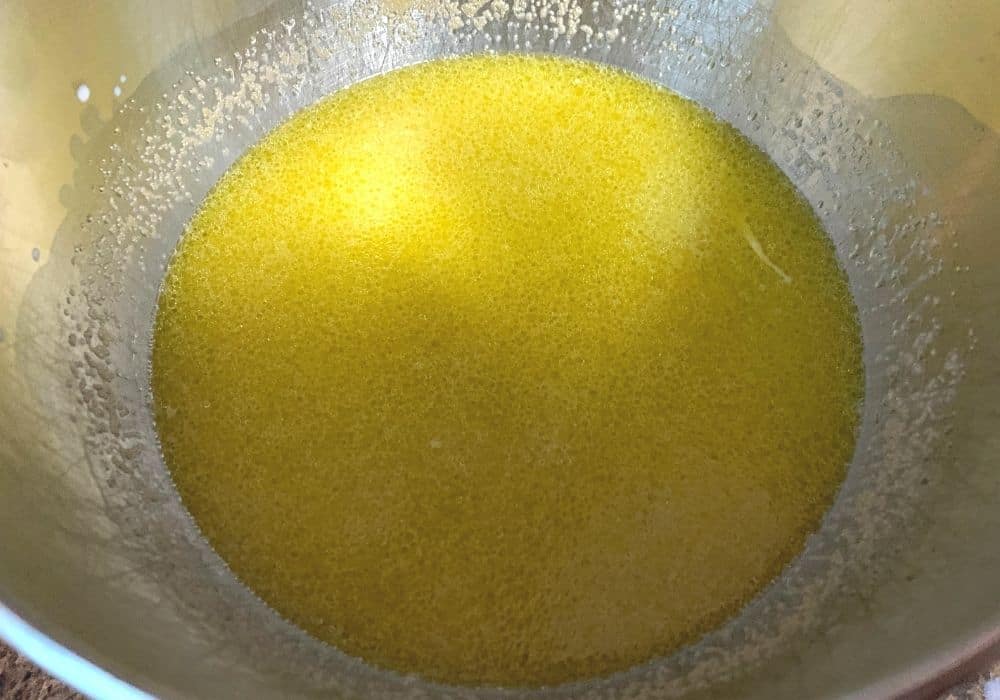 Add dry ingredients. Next, with the mixer on low speed, gradually add the flour and salt. The "dough" will actually be more like the consistency of a cake batter.
Once that's incorporated, add a cup of the shredded cheese to the batter and stir just to combine. I like to use freshly shredded cheese, because it melts better, but you can use packaged shreds if you'd like.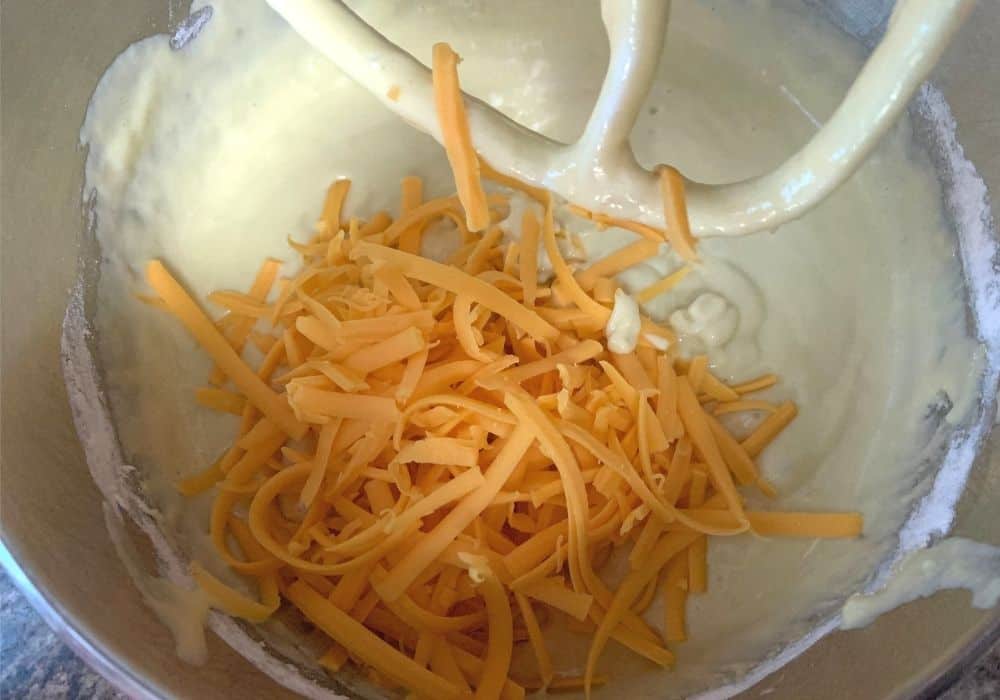 Layer. Last, you'll create the layers of bola de carne. Start by pouring half of the batter into a greased pan. Top that with all of the shredded meat, being careful to spread it evenly so each piece will have meat in it.
Then, you'll top the meat with the rest of the cheese, then pour the remaining bread batter over everything.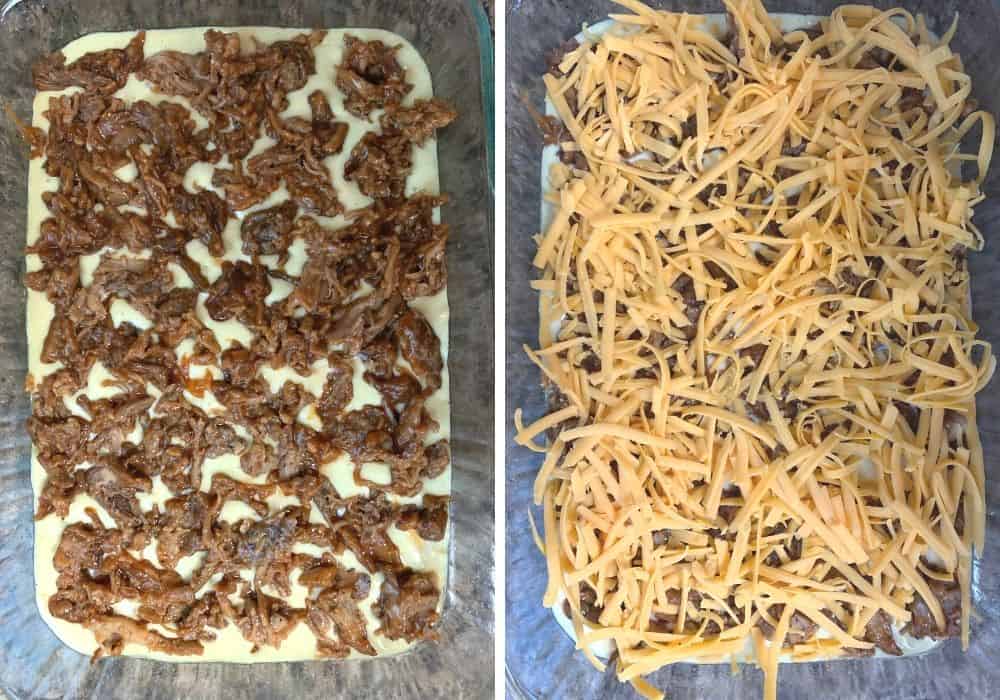 Bake. You'll bake at 375 degrees Fahrenheit for about 45-50 minutes, until it's golden-brown, then let it cool for about 10 minutes before slicing and serving.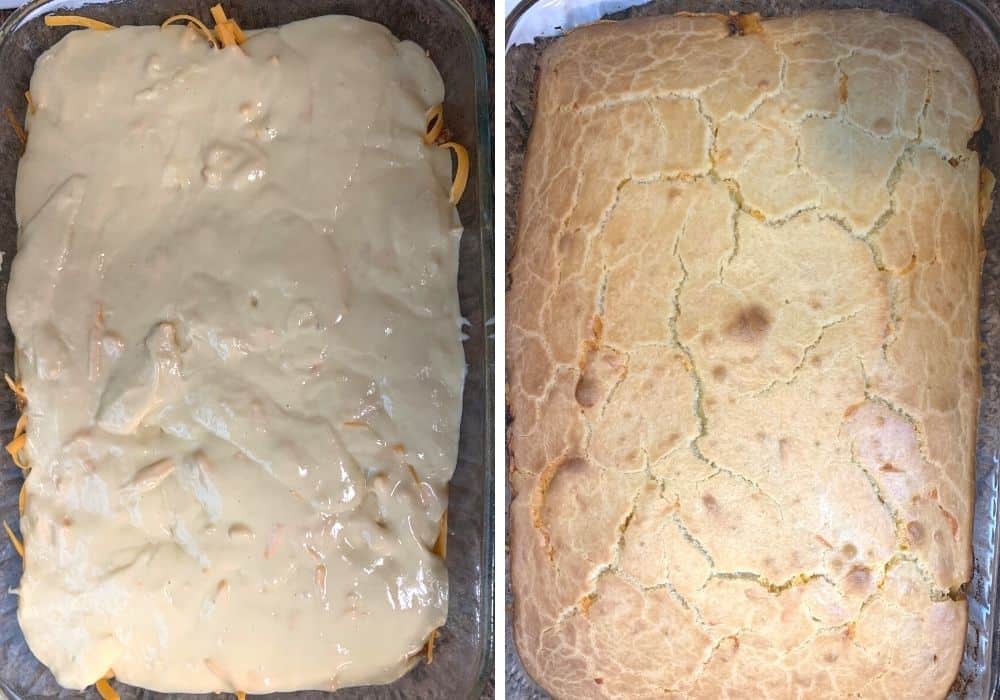 Once it's had a chance to cool for a little bit, you can slice into the bola de carne.
It's a pretty filling dish, so you can adjust the size of the slices according to your guests' appetites.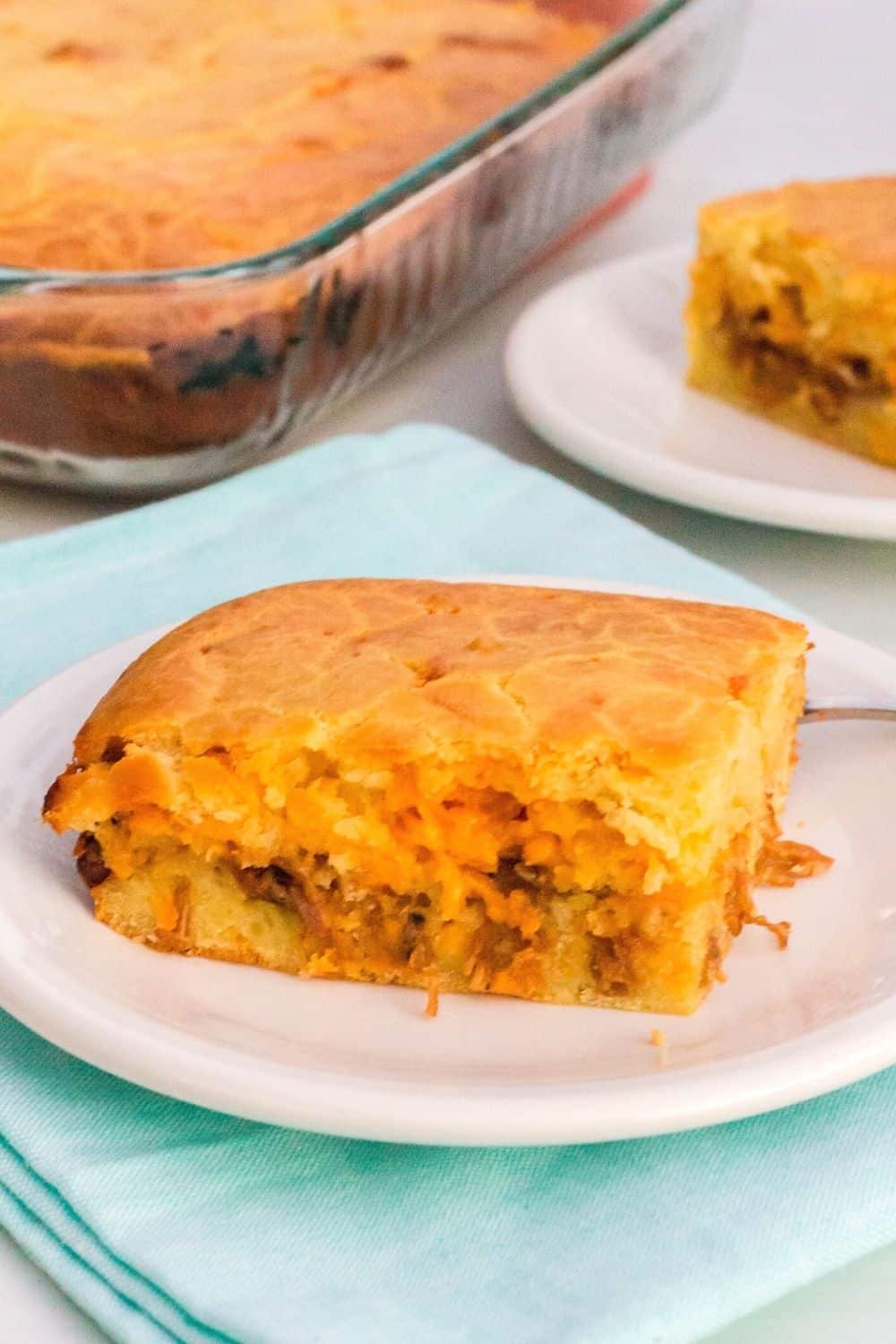 Notes and Adaptations:
Feel free to change up the meat and cheese. I used leftover BBQ pork and shredded cheddar cheese, but use what you have! Many people traditionally use a 2-3 cups pe de torresmo, which is marinated shredded pork. You can also incorporate sliced cured meats instead of shredded meats.
I recommend using a minimum of 2 cups of shredded meat, so you'll have enough to cover the entire layer of batter. You can definitely increase this to 3-4 cups if you want a heartier filling with more meat.
If you're using shredded meat, you can always add sauces or seasonings if desired. The type of shredded pork or beef doesn't really matter much–just make sure it has been seasoned adequately so your bolas de carne aren't bland.
You can also add seasonings to the bread batter if desired, such as garlic powder, onion powder, etc.
Yield: 10-12 Servings
Bola de Carne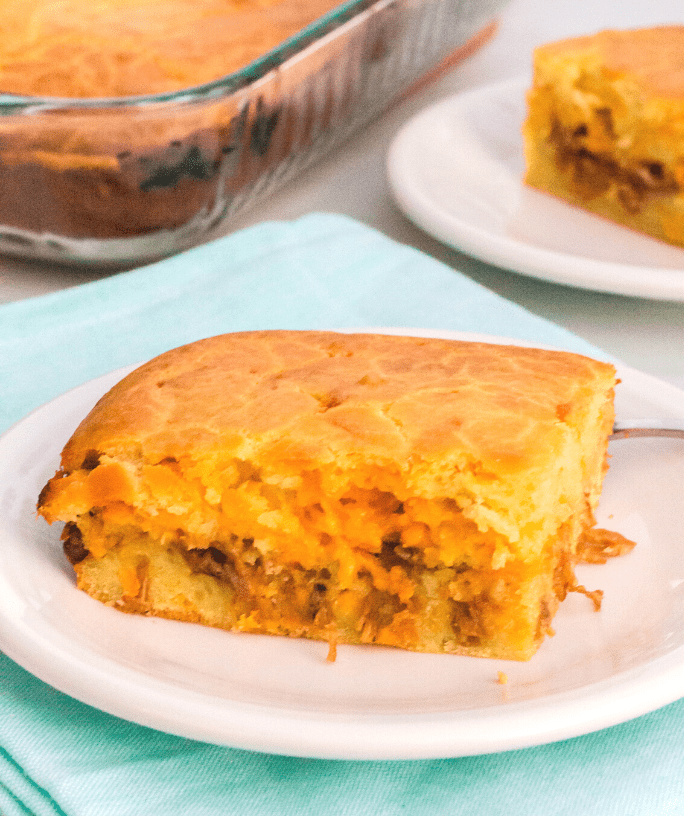 Bola de carne, from traditional Portuguese cuisine, is a delicious baked bread with meat and cheese, making a simple yet filling meal.
Ingredients
2 cups milk
1 1/2 cups olive oil
5 eggs
1 TBSP yeast
4 cups all-purpose flour
1 1/2 tsp salt
2 cups shredded cheddar cheese, divided
2 cups shredded beef or pork
Instructions
Preheat oven to 375F and grease a 9x13" baking dish.
In the bowl of a stand mixer, combine milk, olive oil, eggs, and yeast. Using the paddle attachment, mix on low speed until combined.
With the mixer still on low speed, gradually add the flour and salt, mixing for a couple of minutes to form a smooth batter (it will be more like cake batter than bread dough).
Add 1 cup of shredded cheese, mixing it into the batter just until incorporated.
Pour half of the batter into the prepared pan. Add shredded meat evenly on top of the batter, being careful to cover as much of the batter as possible with the meat (you don't want large sections to not have meat).
Sprinkle the remaining 1 cup of shredded cheese evenly over the meat, then pour the remaining batter over the meat and cheese.
Bake for 45-50 minutes, until golden-brown on top and the bread springs back when gently pressed with a finger.
Let the bread cool for about 10 minutes before slicing and serving.
Notes
Instead of shredded meat and cheese, some people prefer to make bola de carne with sliced deli meats and cheeses. Feel free to try different filling options--there are so many possibilities!
This is a great way to use up leftovers! You can also add BBQ sauce or other seasonings of choice to shredded meats if desired.
Nutrition Information:
Yield:
12
Serving Size:
1
Amount Per Serving:
Calories:

582
Total Fat:

40g
Saturated Fat:

10g
Trans Fat:

0g
Unsaturated Fat:

28g
Cholesterol:

123mg
Sodium:

476mg
Carbohydrates:

35g
Fiber:

1g
Sugar:

2g
Protein:

20g
Nutrition information is automatically calculated and is not guaranteed for accuracy.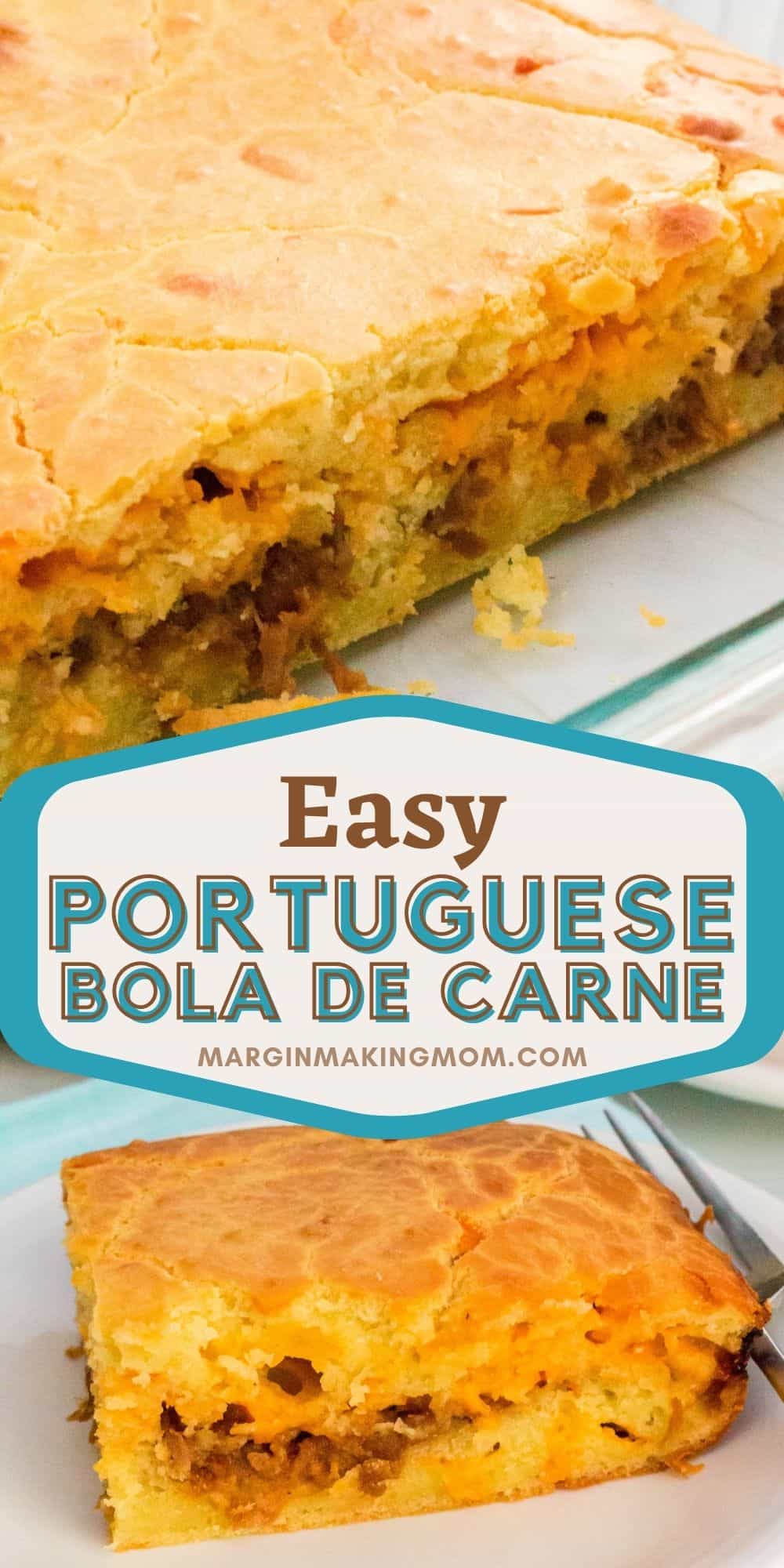 Get the Instant Pot Meal Plan Jumpstart
Join the free community and you'll learn simple ways to easily create tasty food for your family, as well as immediate access to the FREE Instant Pot Meal Plan Jumpstart to help you get a tasty dinner on the table in a flash!
"Thanks for sharing your knowledge and experience in such a friendly and delightful way!!! So far, I'm very impressed with the results...thanks again for your guidance into this new realm of cooking!" -Margaret
Free Resource Library
Enter my
free resource library
for my latest printables and resources! Password is 'IHEARTMARGIN' -- please copy and paste that in at the link above. Thanks for being a subscriber!!