Instant Pot pumpkin macaroni and cheese with sausage is a deliciously creamy and hearty pasta dish that's perfect for fall!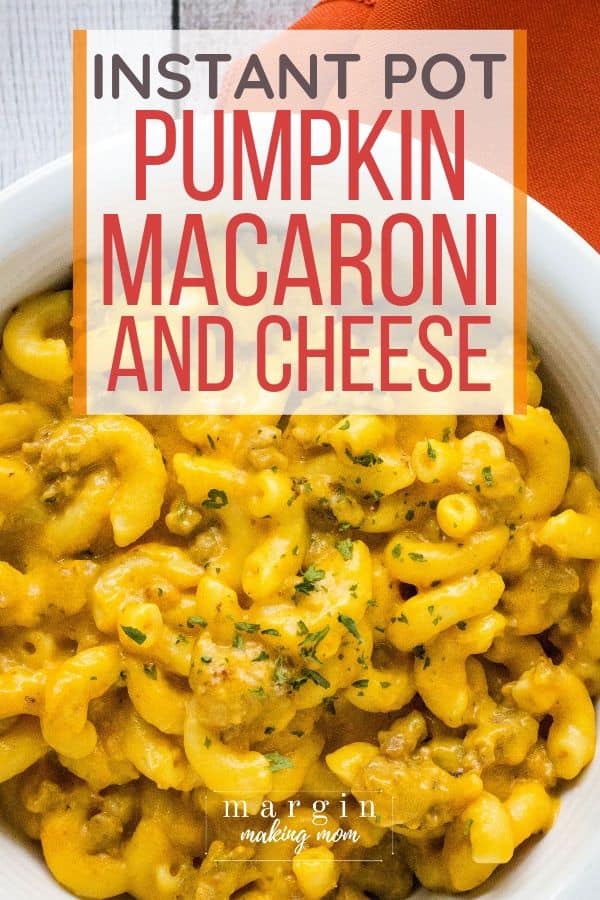 You'll love how easy it is to make this Instant Pot pumpkin macaroni and cheese for a classic comfort food that your family will gobble up!
Note: This post may contain affiliate links for your convenience. If you make a purchase, this site may receive a small commission at no additional cost to you. You can read my full disclosure policy here.
You know how some days, you dread the idea of having to make dinner?
You want something hearty and delicious that your family will enjoy, but don't want to spend a lot of time making it.
This Instant Pot pumpkin macaroni and cheese is exactly what you need!
I love making pasta in the Instant Pot, because it's a mostly hands-off process that doesn't require me to babysit a pot on the stove while my kids run around.
I also have a thing for macaroni and cheese, especially when I have a hankering for comfort food. Meals like Instant Pot cheeseburger macaroni, Instant Pot macaroni and cheese with ham, or easy Instant Pot chili mac are hearty and delicious, and served as inspiration for this pumpkin macaroni and cheese!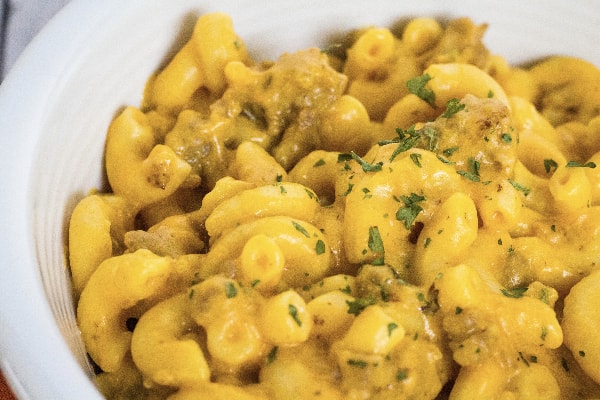 Evaporated milk and shredded cheese bring a richness to the sauce, the pumpkin brings added nutrients and fall-inspired flavor, and the Italian sausage makes the meal even heartier!
This dish is a rich and creamy, flavorful macaroni and cheese dish that's better than a boxed version, but doesn't require a lot of effort on your part!
It's one of the best Instant Pot pumpkin recipes!
How to Make Instant Pot Pumpkin Macaroni and Cheese with Sausage
The process of making macaroni and cheese in the Instant Pot is actually really simple! You can get a full printable recipe below, but I'll walk you through the basic steps here.
To start, you'll brown some ground Italian sausage in the insert pot of the Instant Pot, using the Saute function.
Once the sausage is cooked, drain the excess grease. Use a little bit of water to deglaze the pan and scrape up any browned bits.
Return the sausage to the pot and add the macaroni on top of the sausage. Pour in enough water to completely cover the macaroni (for me, this was 3 cups of water, so I used 3.5 cups total).
Add the pumpkin puree on top of the macaroni and water, but don't stir.
This all cooks for 4 minutes at high pressure, followed by a 5-minute natural release and then a quick release of remaining pressure.
Give everything a good stir, then add in the evaporated milk and shredded cheese, stirring to combine.
Last, you'll add a slurry of flour and water to help thicken everything up. The sauce will continue to thicken as it stands.
Add some salt and pepper to taste, and enjoy!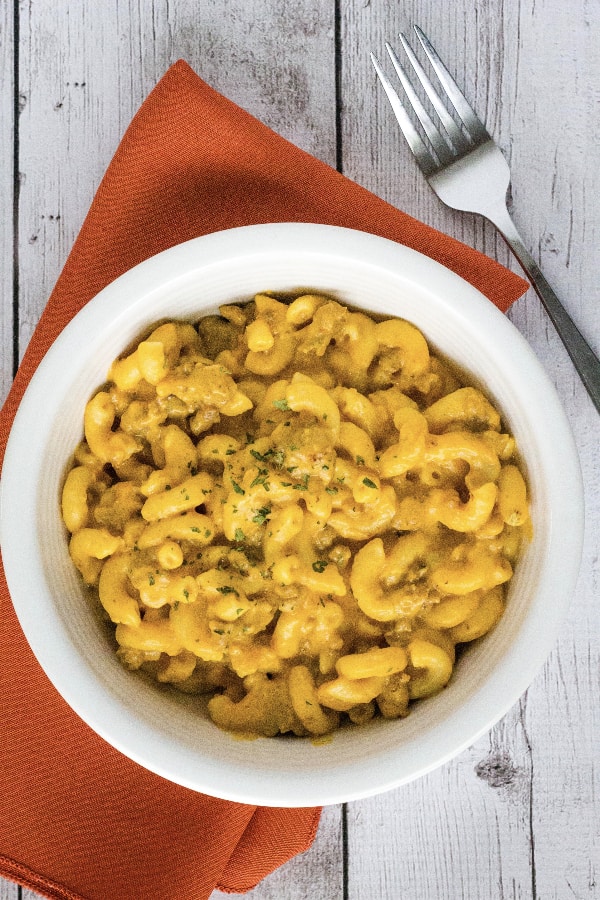 Notes and Adaptations:
Use whatever variety of sausage you prefer! I used mild Italian sausage, but you could choose a spicier version, turkey sausage, or leave the sausage out all together and go meatless if you prefer a vegetarian version. If you leave out the sausage, you may want to add some additional seasonings, since the sausage does bring some flavor to the dish.
I used sharp cheddar cheese, but you can use different varieties if you prefer.
Leftovers can be frozen for later! Scoop leftovers into a foil baking dish and freeze. Simply thaw and reheat in the oven to serve.
Recommended Equipment:
Instant Pot (I have the DUO60 model) or other electric pressure cooker