These soft and chewy snickerdoodle cookies are a traditional favorite!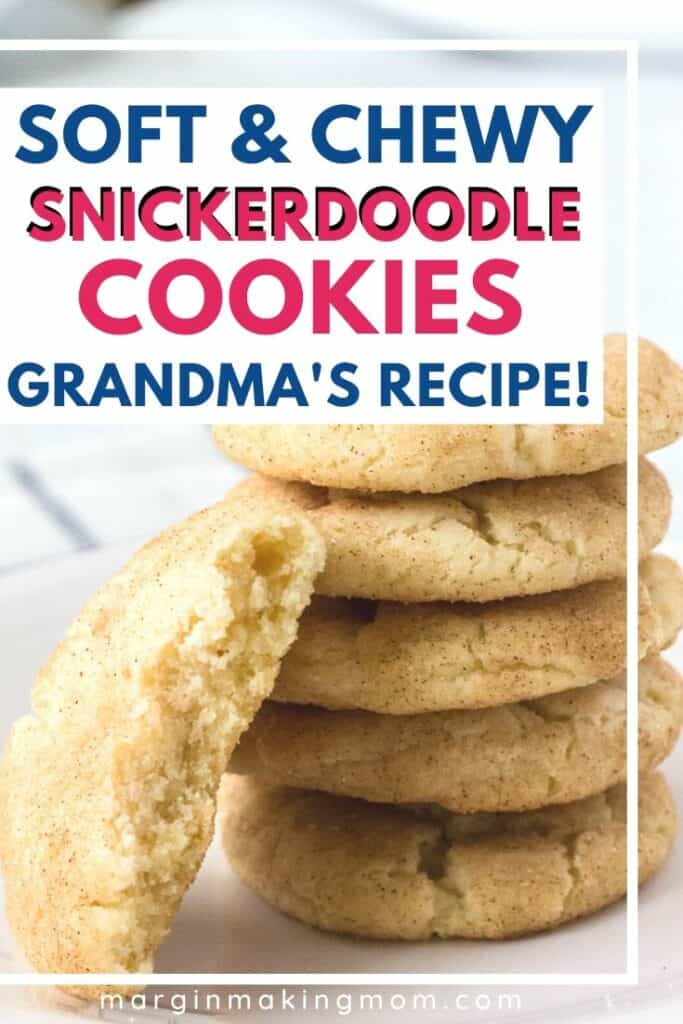 Your family is sure to love these soft and chewy snickerdoodles! Simple sweetness paired with subtle cinnamon makes these the perfect treat.
Note: This post may contain affiliate links for your convenience. If you make a purchase, this site may receive a small commission at no additional cost to you. You can read my full disclosure policy here.
When I was a kid, the churches I grew up in would often have a fellowship event following the Sunday evening service. These events were known as "Afterglows," and everyone would bring snacks, finger foods, and dessert treats to enjoy together.
Around 6th or 7th grade, I began occasionally helping my mom by making a dessert of some type to bring to the Afterglows. The desserts were never anything fancy–usually some type of brownies, no-bake cheesecake, or cookies. Brown-eyed Susans and snickerdoodles were among my specialties.
During these years, I uncovered my love for baking. It was more than just helping out around the house, it was actually fun. I enjoyed the processes of sifting, stirring, and shaping ingredients.
But I was surprised one evening when one of the church members asked me a question.
Snickerdoodles by Request
"Can I put in a special order? I'd like to buy some of these from you," asked Frenchie.
Frenchie was a church member whose real name was Joe, he had a sweet tooth, and he loved the desserts I brought. He was constantly raving about the cookies that I made, particularly the snickerdoodles.
To this day, I don't know if he really loved them, or if he was just encouraging an entrepreneurial spirit in me, but his kind words and willingness to invest in my hobby helped to build my confidence in the kitchen.
Nonetheless, he put in his order for some snickerdoodles and I've been making them ever since.
I've even branched out and started making pumpkin snickerdoodles, apple butter snickerdoodles, and chocolate snickerdoodles!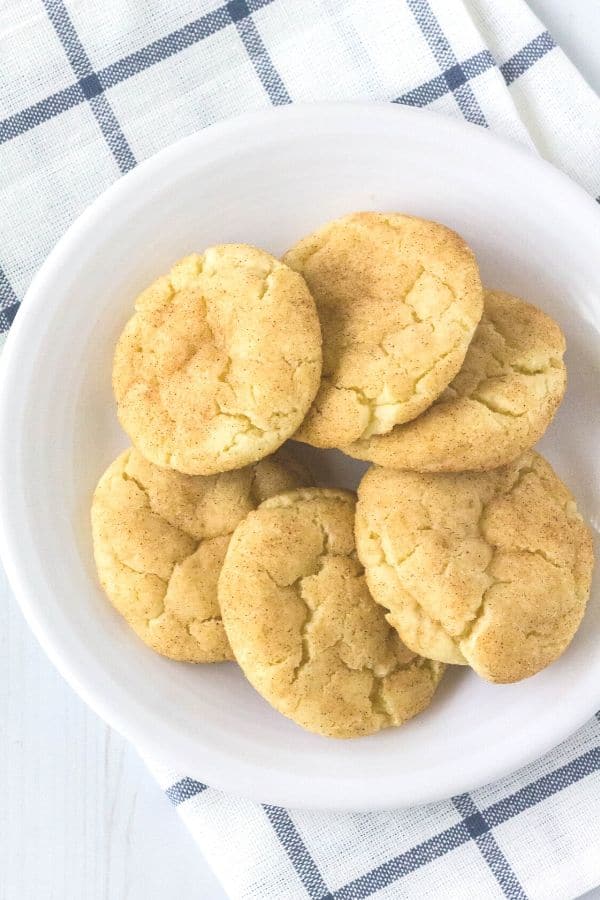 Grandma's Snickerdoodle Recipe
I've used a few different recipes over the years, but nowadays I prefer an old handwritten recipe that has stood the test of time.
If you've seen my recipe for Grandma Wilhelm's pumpkin bread, you'll know that I received a box of recipes that originally belonged to my husband's grandmother.
This particular snickerdoodle recipe was found in that treasure trove, and it's spot-on.
My husband grew up eating snickerdoodles as well, and since they're one of his favorite cookies, I guess it's a good thing I had a little experience making them before we met. 😉
How to Make Soft and Chewy Snickerdoodles
If you've never had a snickerdoodle before, it's sort of like a sugar cookie rolled in cinnamon sugar. When it bakes, a pretty crackly pattern forms in the top of the cookie.
Ingredients You'll Need:
Vegetable shortening
Sugar
Eggs
Flour
Cream of Tartar
Baking Soda
Salt
Cinnamon Sugar
How to Make These Cookies:
Mix the dough. I use my stand mixer to make the cookie dough. First, you'll cream the shortening and sugar together, then add the eggs and mix to combine.
Add the dry ingredients gradually, mixing just until combined.
Roll the dough. Heaping tablespoonfuls of dough are rolled into balls roughly the size of a ping pong ball. The balls are then rolled into a mixture of cinnamon and sugar.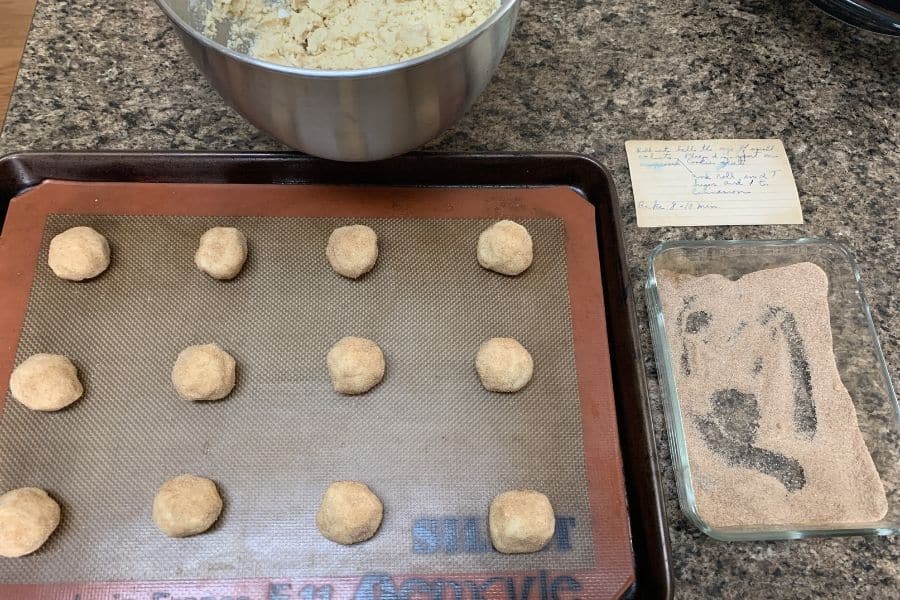 Once the dough is placed into the baking sheet, I use the bottom of a glass to press them slightly flatter.
Many people leave them as-is and don't flatten them, but I prefer the texture and consistency of the flatter cookies.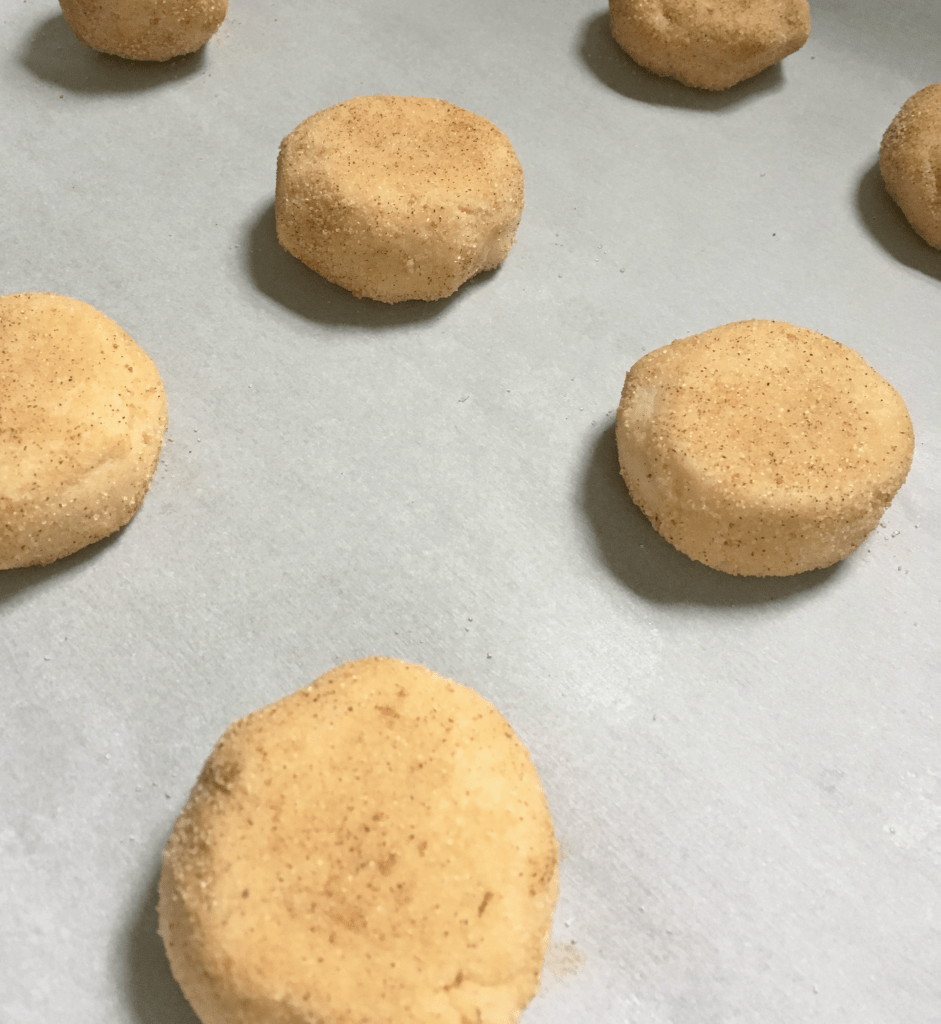 Bake. As with most cookies I make, I underbake them ever-so-slightly, which results in a soft, chewy cookie with crisp edges. Basically, perfection.
If you prefer your cookies to be crispier, simply bake for a couple more minutes.
When they're initially removed from the oven, the cookies will look like they aren't *quite* fully baked, as you can see in the picture below.
They're also a little bit puffier at this point. But as they cool, they reach that "just right" texture and thickness.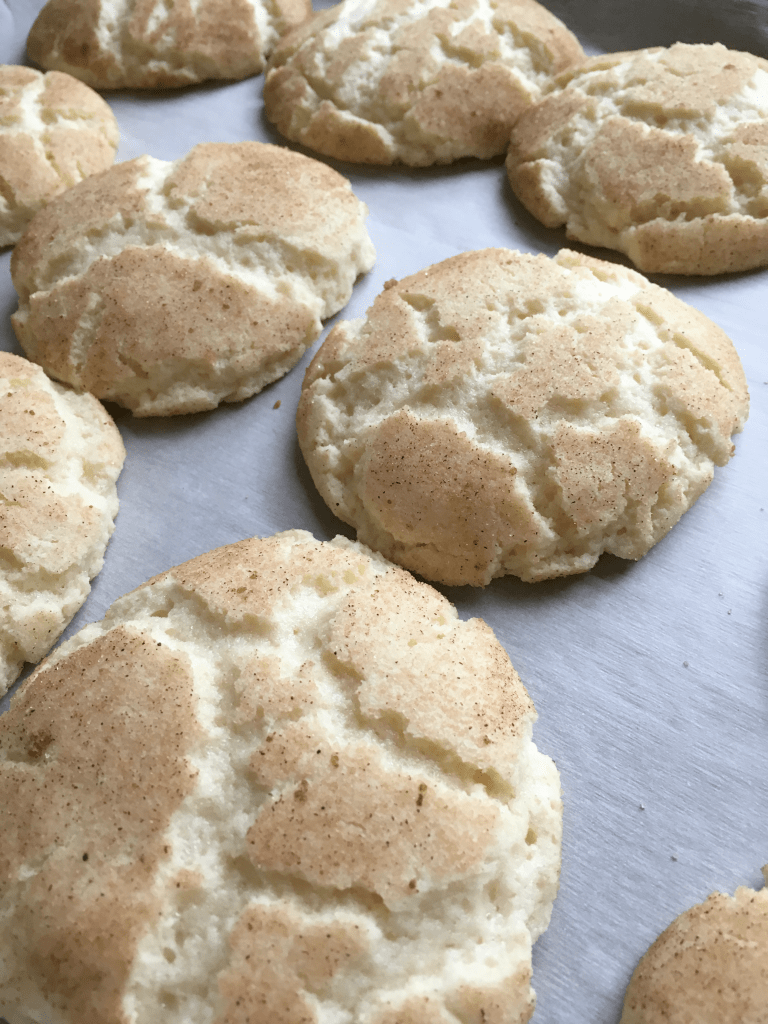 You Might Also Enjoy these Delicious Cookie Recipes:
These easy snickerdoodles really are a classic cookie that you can't go wrong with.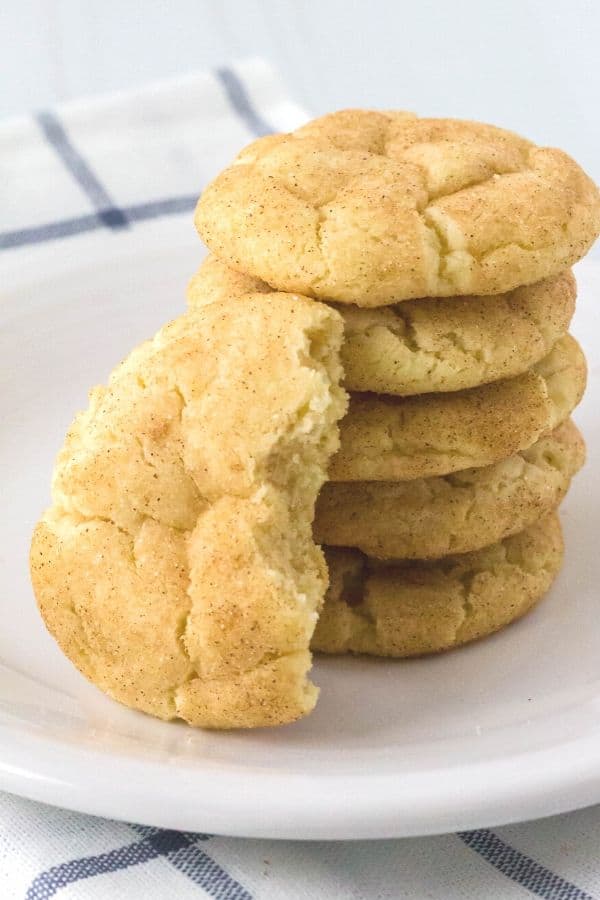 They're not-too-sweet and the hint of cinnamon is a subtle change that sets these apart.
Plus, the crackly tops and sugar sparkles on top means they're pretty, too. Perfect for gifting or bringing to a get-together!
And who knows? People might start hitting you up for special orders, too. 🙂
Recommended Equipment:
Yield: Approximately 2 dozen cookies
Soft and Chewy Snickerdoodles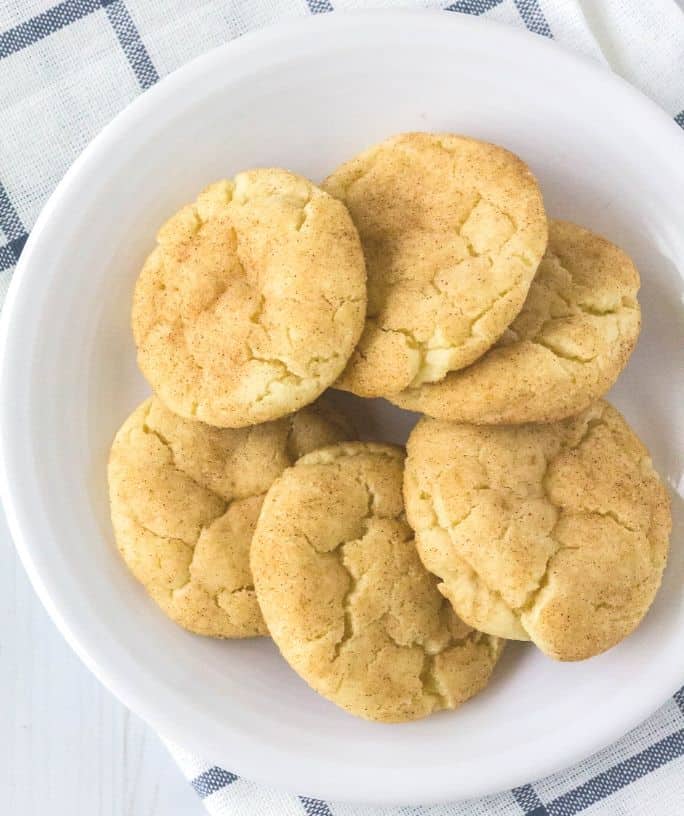 Soft and chewy snickerdoodles are a classic cookie, sparkling with cinnamon and sugar!
Ingredients
1 cup shortening
1 1/2 cups sugar
2 eggs
2 3/4 cups all-purpose flour
2 tsp cream of tartar
1 tsp baking soda
1/2 tsp salt
For Rolling:
Combine together in a small bowl: 2 Tbs sugar and 1 tsp cinnamon
Instructions
Preheat oven to 400 degrees.
Cream together shortening and sugar until well-combined (I use a stand mixer, but you can use a hand mixer as well).
Add eggs, one at a time, mixing well after each addition.
In a medium bowl, sift flour, cream of tartar, baking soda, and salt together.
Gradually add dry ingredients to the wet ingredients, mixing just until combined.
Roll dough into balls about the size of ping pong balls or small walnuts. Then roll each ball of dough in the mixture of sugar and cinnamon to coat.
Place dough balls about 2 inches apart on a parchment-lined baking sheet.
Bake 8-10 minutes, until edges are very slightly golden brown and centers are still soft (8 minutes will result in softer, chewier cookies and 10 minutes will result in crispier cookies).
Nutrition Information:
Yield:
24
Serving Size:
1
Amount Per Serving:
Calories:

188
Total Fat:

9g
Saturated Fat:

4g
Trans Fat:

0g
Unsaturated Fat:

5g
Cholesterol:

20mg
Sodium:

107mg
Carbohydrates:

25g
Fiber:

0g
Sugar:

14g
Protein:

2g
Nutrition information is automatically calculated and is not guaranteed for accuracy.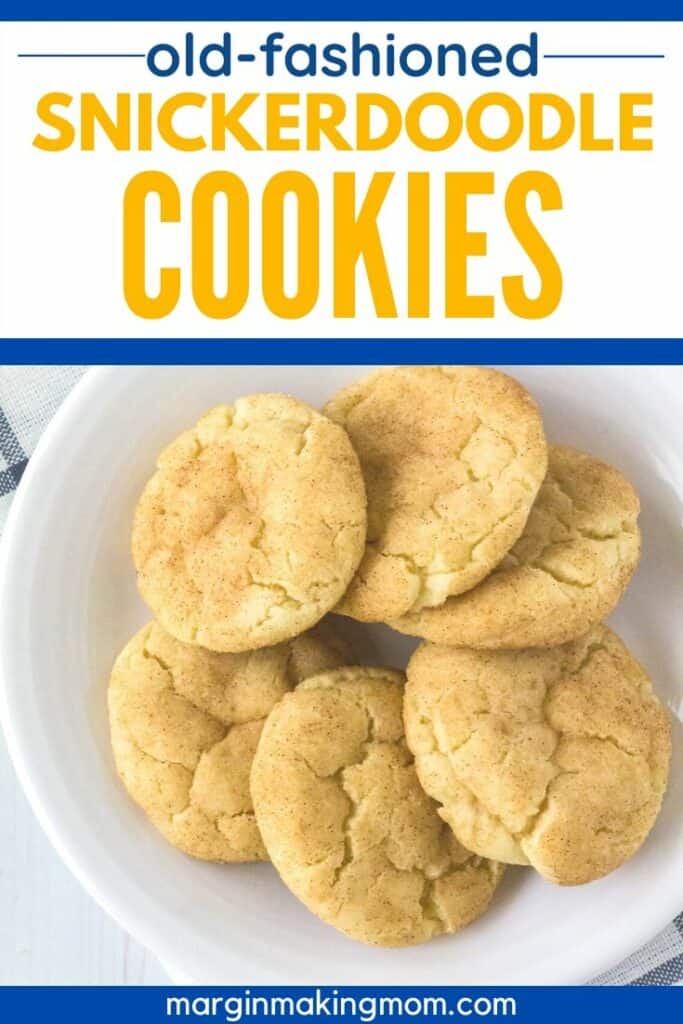 Get the Instant Pot Meal Plan Jumpstart
Join the free community and you'll learn simple ways to easily create tasty food for your family, as well as immediate access to the FREE Instant Pot Meal Plan Jumpstart to help you get a tasty dinner on the table in a flash!
"Thanks for sharing your knowledge and experience in such a friendly and delightful way!!! So far, I'm very impressed with the results...thanks again for your guidance into this new realm of cooking!" -Margaret
Free Resource Library
Enter my
free resource library
for my latest printables and resources! Password is 'IHEARTMARGIN' -- please copy and paste that in at the link above. Thanks for being a subscriber!!