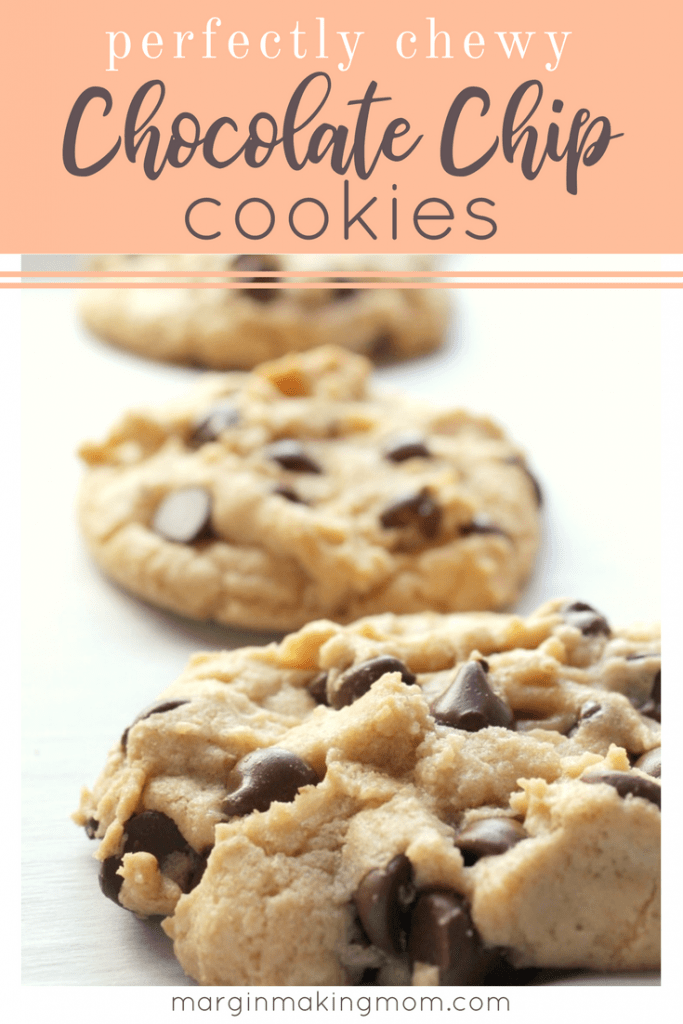 These perfectly chewy chocolate chip cookies will knock your socks off! They are delightfully soft, chock full of chips, and have a deep flavor from the brown sugar and melted butter.
Note: This post may contain affiliate links for your convenience. You can read my full disclosure policy here.
I know there some strong opinions as far as chocolate chip cookies are concerned. Some folks prefer them crispy, some chewy, some cake-like. Some like them flat, some puffy. I mean, there's an entire science behind chocolate chip cookies and how they turn out. Personally, I love cookies that are mostly chewy but with a tad bit of crispiness around the edges. I prefer them on the puffier side, but not cakelike.
I've tried SO many chocolate chip cookie recipes over the years. I grew up on the Nestle Tollhouse recipe, and let's be honest–those are pretty good. But they're not my favorite anymore.
I really think everyone should have a good go-to chocolate chip cookie recipe. One that can be made on a whim, anytime you want a little treat. One that can be whipped up as an offering of comfort food to friends, family, and neighbors.
Honestly, after finding this recipe, I don't even try other chocolate chip cookie recipes anymore. There simply isn't a reason to. These are the perfectly chewy chocolate chip cookies of my dreams. They puff up slightly, the golden edges are just a little crispy, and the cookies are delightfully soft and chewy. They really are similar to what you would find in your favorite bakery.
More Soft and Chewy Cookie Recipes: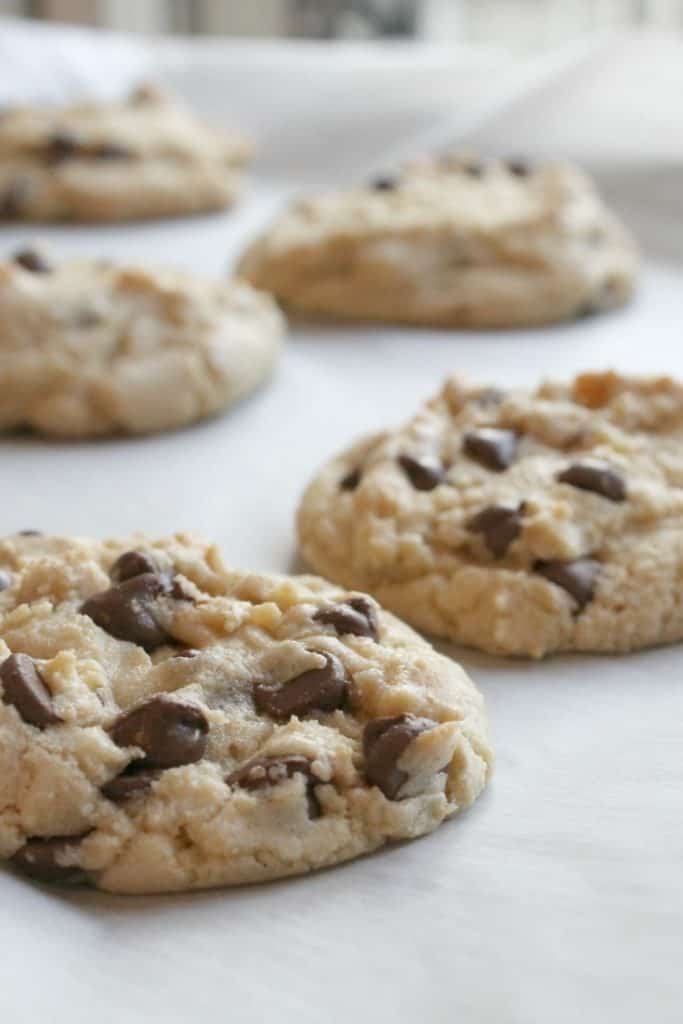 The technique of forming the cookies is a little different than what you may have done in the past. It's the same technique I use for my bakery style oatmeal raisin cookies (you can see some photos in that post if you need a better visual).
Once the dough is mixed, use a half-cup measuring cup to scoop out a scant 1/2 cup of dough. Roll the dough in your hands to form a ball, Then, pull the ball apart into two halves. You'll place each half on the baking sheet with the craggy, torn edges facing up. The following is a picture of the oatmeal raisin cookies, but it gives you an idea of how they should look.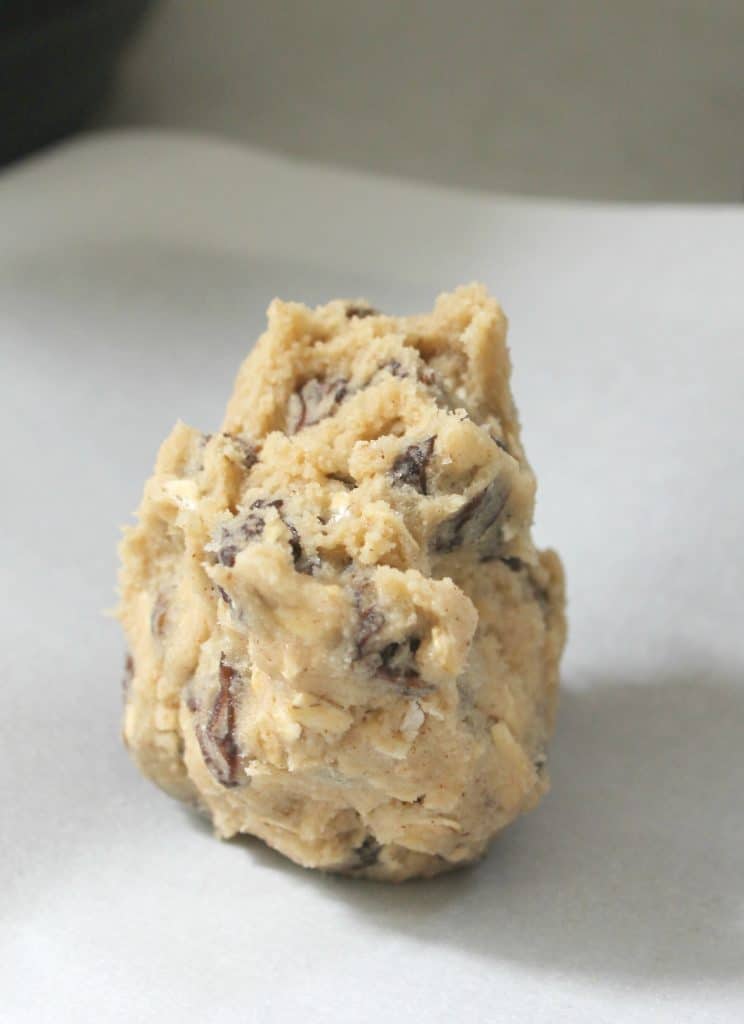 If desired, you can freeze the torn, shaped dough for later. Just shape the dough as usual and place it onto the baking sheet, then put the sheet in the freezer. Once they're frozen, put the balls of dough into a zip-top bag. Later, you can bake them from frozen by baking them for a few minutes longer. Let's be honest–frozen homemade cookie dough is not a bad problem to have.
One important key to creating perfectly chewy chocolate chip cookies is to avoid overbaking them. The edges and craggy tips should be just starting to turn golden brown. As you can see below, the center of the cookie will still look a little gooey and not quite done, but that's ok. They will continue to cook slightly while they're cooling on the baking sheet for a few minutes.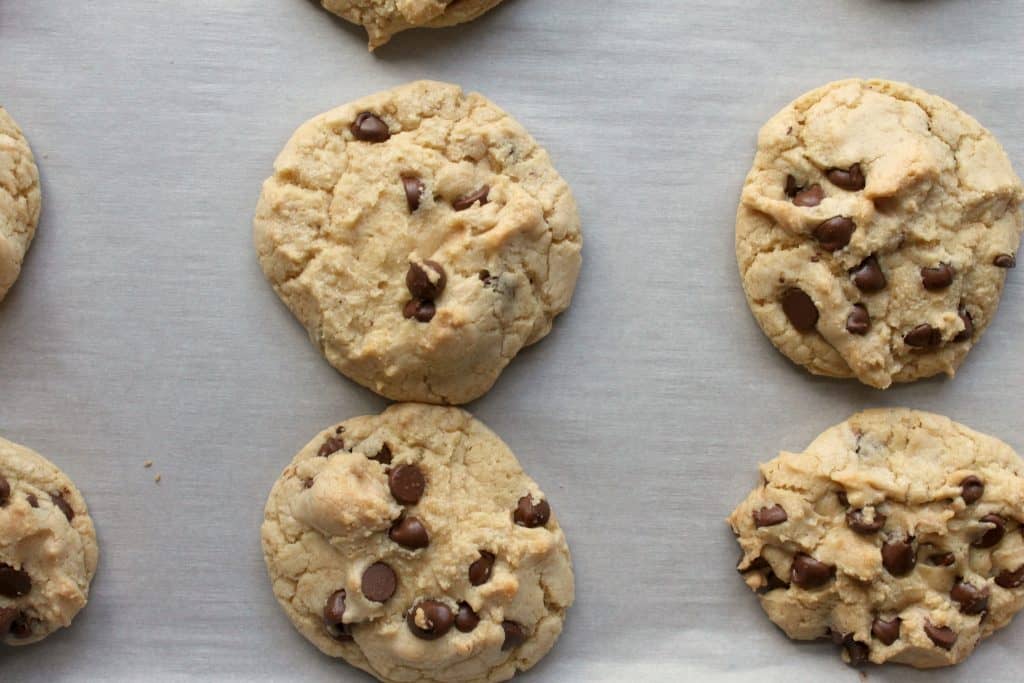 Allow them to cool for a few moments on the baking sheet, until you can easily move them to a cooling rack without them falling apart. They are completely dreamy when warm, but they hold their shape better when they've had some time to cool. After they're completely cool, the center will be set but still soft. When they're warm, you'll have soft, slightly gooey centers of melted goodness.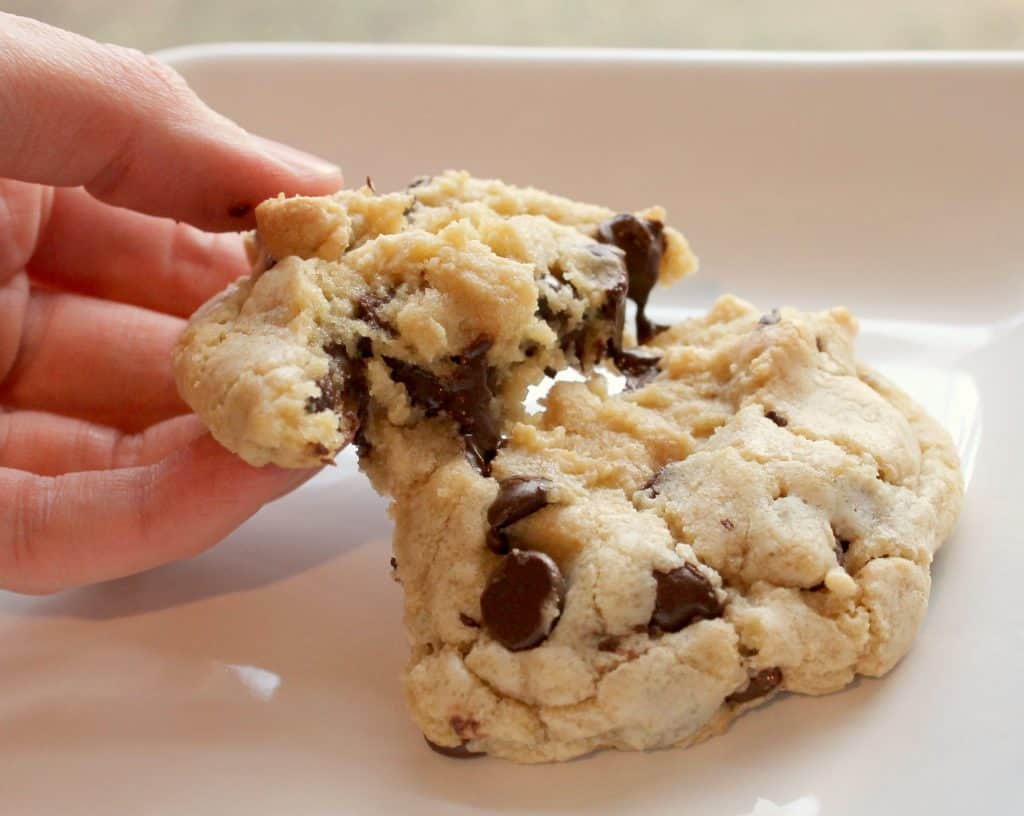 I know, I know. You can't unsee these pictures. Don't hate me. I'm just sharing the love here. Now go make yourself some perfectly chewy chocolate chip cookies pronto!! I mean, really. Add this recipe to your repertoire–you'll be glad you did!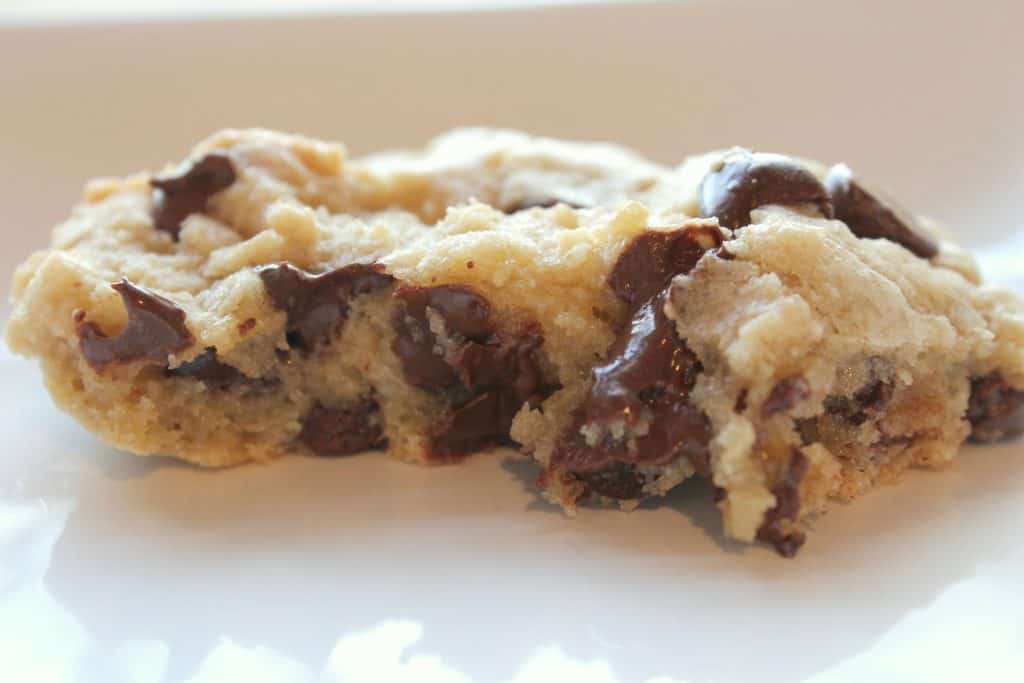 Recommended Equipment:
Yield: 18 cookies
How to Make Perfectly Chewy Chocolate Chip Cookies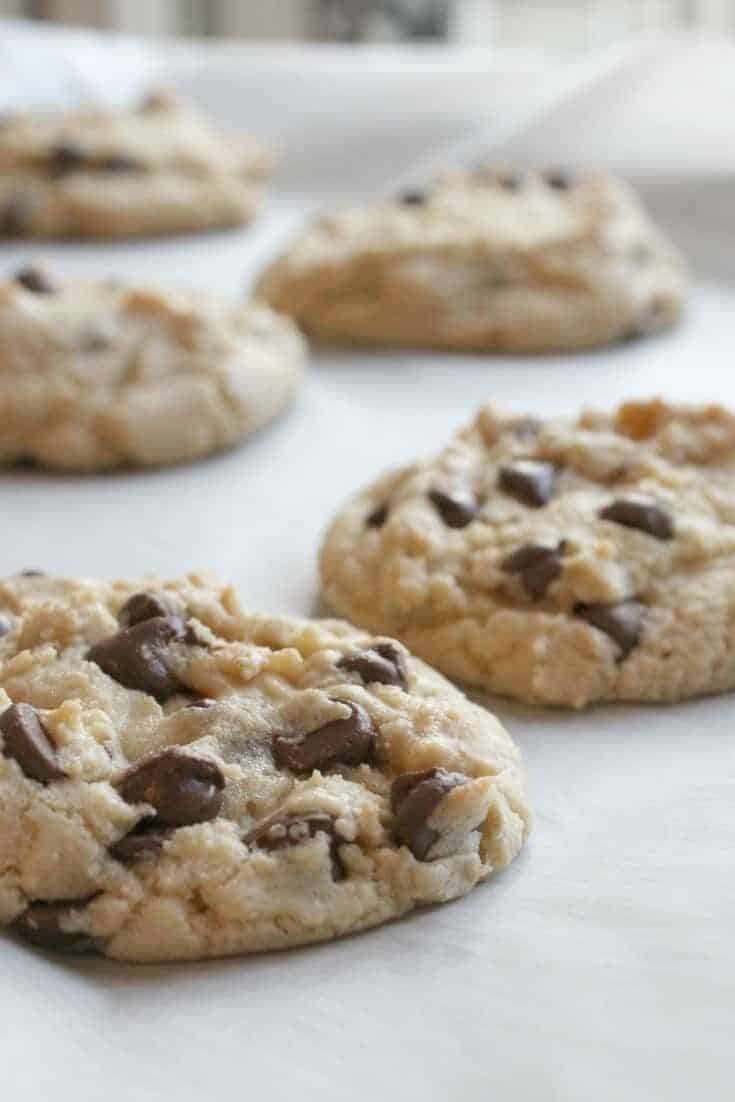 These soft and chewy chocolate chip cookies are comfort food perfection!

Prep Time 10 minutes

Cook Time 16 minutes

Total Time 26 minutes
Ingredients
2 1/4 cups all-purpose flour
1/2 tsp baking soda
1/2 tsp salt
12 Tbs (1 1/2 sticks) unsalted butter, melted and cooled slightly
1 cup brown sugar
1/2 cup granulated sugar
1 egg plus 1 egg yolk
1 tsp vanilla extract
1 1/2 cups chocolate chips of choice (I use semi-sweet)
Instructions
Place oven racks in the upper and lower-middle positions. Preheat oven to 325. Line two baking sheets with parchment paper or a silicone mat.
Combine flour, baking soda, and salt in a mixing bowl and set aside.
In the bowl of a stand mixer, combine both sugars and melted butter. Mix on medium speed until well combined.
Add in egg, yolk, and vanilla, mixing well to combine.
Reduce mixer speed to low and gradually add in flour mixture, beating only until combined.
Stir in chocolate chips.
Using a 1/2 cup scoop or measuring cup, scoop out a scant 1/2 cup of dough.
Roll the dough in your hands to form a ball, then pull the ball apart into two halves.
Place on baking sheet with torn, craggy edges facing up.
Bake, switching positions of the baking sheets halfway through, until the edges are golden but the centers are still soft, about 14-16 minutes. Avoid overbaking.
Allow to cool on the baking sheet for a few minutes, until they can be transferred to a cooling rack without falling apart.
Notes
Very slightly adapted from Annie's Eats via Baking Illustrated
Nutrition Information:
Yield:
18
Serving Size:
1
Amount Per Serving: Calories: 262Total Fat: 13gSaturated Fat: 8gTrans Fat: 0gUnsaturated Fat: 4gCholesterol: 41mgSodium: 170mgCarbohydrates: 37gFiber: 1gSugar: 23gProtein: 3g

Nutrition information is automatically calculated and is not guaranteed for accuracy
Save
Save