It's easy to make elderberry syrup in the Instant Pot with this simple recipe!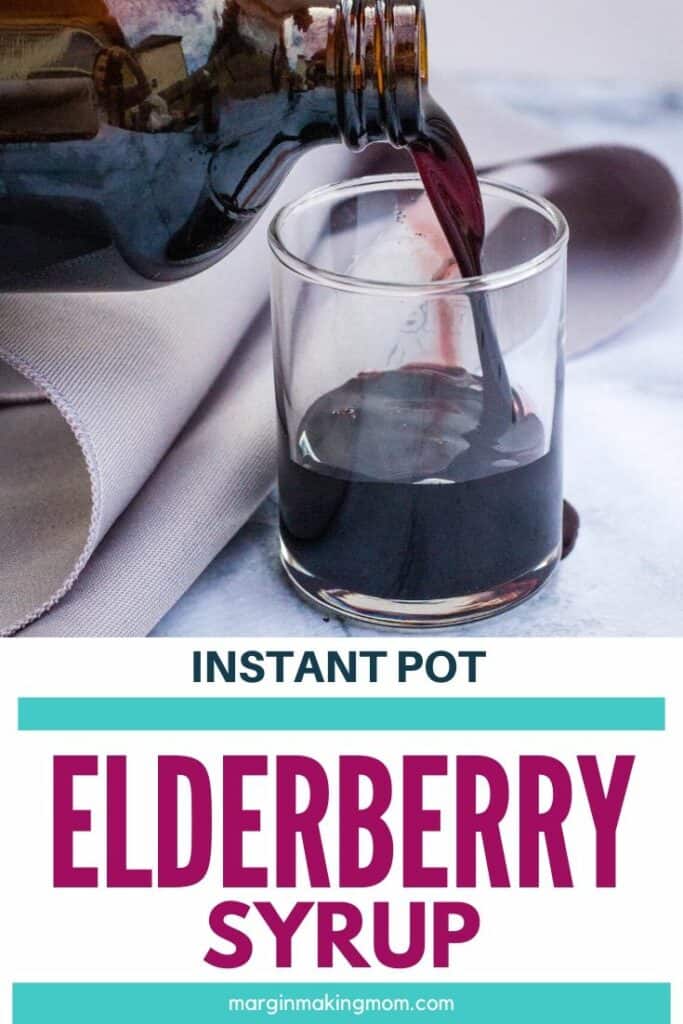 Making your own Instant Pot elderberry syrup is a great way to save some money without a lot of effort!
Note: This post may contain affiliate links for your convenience. If you make a purchase, this site may receive a small commission at no additional cost to you. You can read my full disclosure policy here.
Elderberry syrup is known for its health profile, being filled with antioxidants and nutrients such as anthocyanins and vitamin C.
There are many kinds of elderberry plants, but the most commonly used in elderberry syrup is Sambucus nigra, the European elder.
But if you've ever bought elderberry syrup in the store, you know it's not cheap! It can be quite costly over time, especially if multiple people in your family are using it.
Because of its cost, I decided to try making my own elderberry syrup in my beloved Instant Pot.
This DIY elderberry syrup is actually very easy, and much less expensive!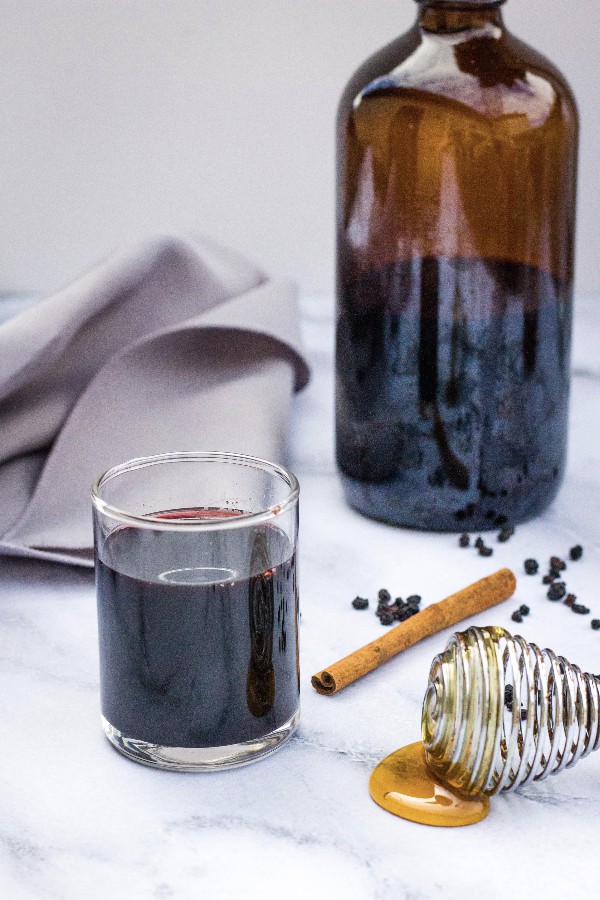 How to Make Elderberry Syrup in the Instant Pot
You'll start by adding some dried elderberries to the insert pot, along with some water, a cinnamon stick, and a little bit of ginger and cloves.
Cook at high pressure for 7 minutes, followed by either a natural pressure release–it's up to you and how much time you have on your hands. I usually do a natural release.
Once the pressure has released and the valve has dropped, carefully remove the lid.
Position a fine mesh sieve over a mixing bowl. Pour the mixture through the sieve, collecting the juice in the bowl. Discard the berries and cinnamon stick.
Allow the juice to fully cool, then stir in some raw honey for sweetness.
Transfer it to a glass jar or bottle and keep it refrigerated.
You can also make elderberry gummies with your elderberry syrup! I bought these silicone gummy molds and mixed the syrup with gelatin and hot water to make the gummies.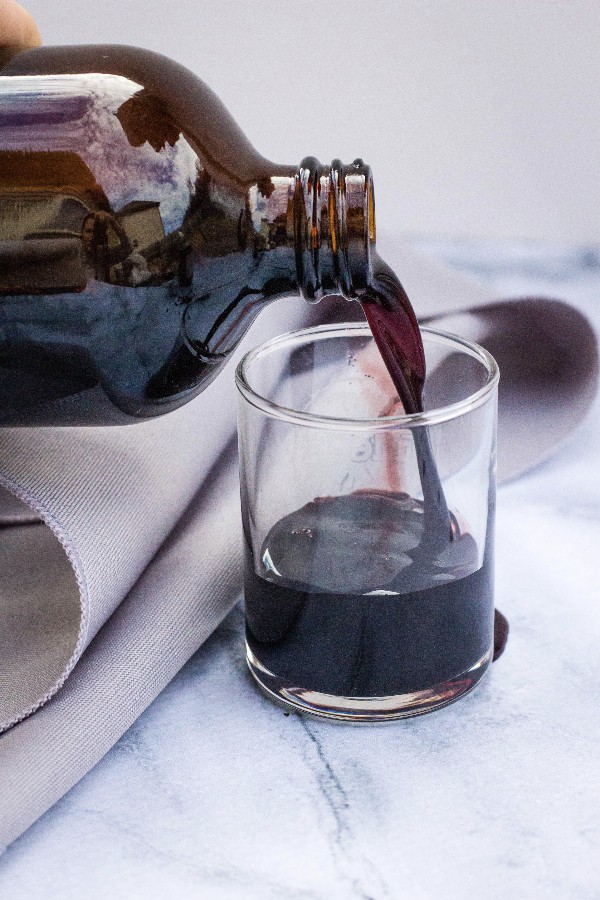 Tweak the Elderberry Syrup Recipe to Your Tastes
As written, I think this recipe makes a pretty tasty elderberry syrup–I could easily drink this like any other fruit juice (and it is the consistency of juice, not thick like syrup)! But I realize everyone has their own personal preferences.
Aside from the berries and water, the other ingredients are easily adaptable to your tastes!
For instance, my kids aren't big on the flavor of cloves, so I only include a small amount in the syrup recipe.
Some people like to add lemon peel or vanilla extract to their elderberry syrup for additional flavors, but I just keep it simple. Feel free to make additions if you prefer!
I like to use about 1/2 cup of honey, because I prefer it to be sweeter. But you could dial it back to 1/4 cup or leave the honey out all together if preferred!
You can also double the recipe if you prefer to make a larger batch at one time!
Friendly nurse reminder: As always, you should consult with your physician before taking any nutritional supplements. 🙂 While there are some research studies that show promising effects of elderberry syrup, those studies are small and more larger-scale research is needed.
Yield: About 2 cups
Instant Pot Elderberry Syrup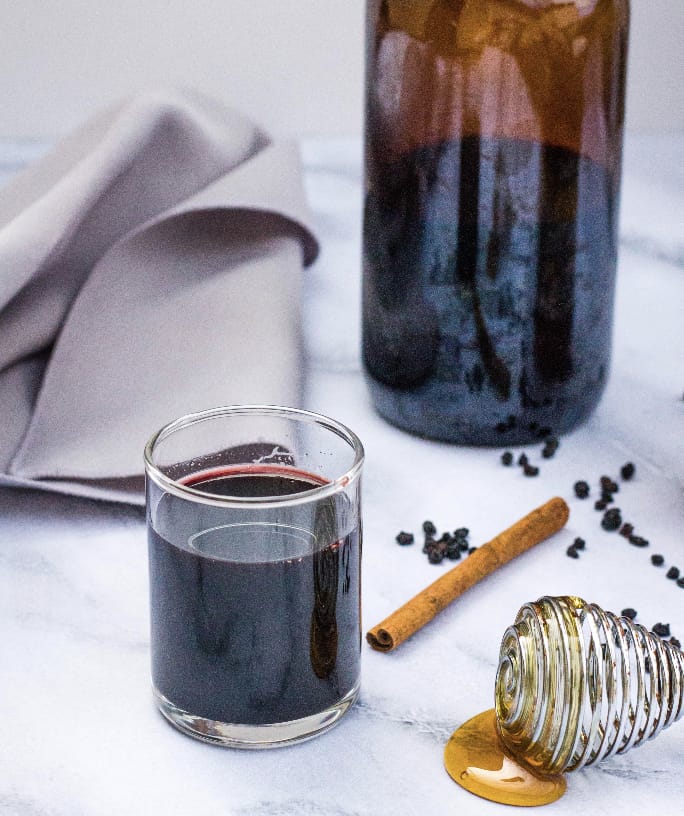 Homemade elderberry syrup is much less expensive than what you'd buy in the store, and it's super easy to make in the Instant Pot!
Additional Time
15 minutes
Ingredients
2 cups water
1/2 cup dried elderberries
1 cinnamon stick
1/4 tsp ground ginger
1/8-1/4 tsp ground cloves
1/4-1/2 cup raw honey (optional, to taste)
Instructions
In the insert pot of the Instant Pot, combine all ingredients except for the honey.
Close the lid and set the vent to the sealed position. Select a 7 minute cook time at high pressure, using the Manual/Pressure Cook button.
When the cook time is complete, you can perform a quick release or natural release of pressure (I usually just do a natural release).
Pour the mixture through a fine-mesh seive to separate the berries and cinnamon stick from the juice, collecting the juice in a bowl or large measuring cup. Allow to cool completely.
Once cool, stir in the honey until well-combined. Pour into a storage container, bottle, or jar and refrigerate.
Nutrition Information:
Yield:
32
Serving Size:
1
Amount Per Serving:
Calories:

24
Total Fat:

0g
Saturated Fat:

0g
Trans Fat:

0g
Unsaturated Fat:

0g
Cholesterol:

0mg
Sodium:

1mg
Carbohydrates:

7g
Fiber:

0g
Sugar:

7g
Protein:

0g
Nutrition information is automatically calculated and is not guaranteed for accuracy.