Easy Pineapple Snack Cake is rich and buttery and loaded with tropical pineapple flavor.
This moist and decadent Old-fashioned Pineapple Snack Cake is easy to make on a whim and lovely enough to serve to company.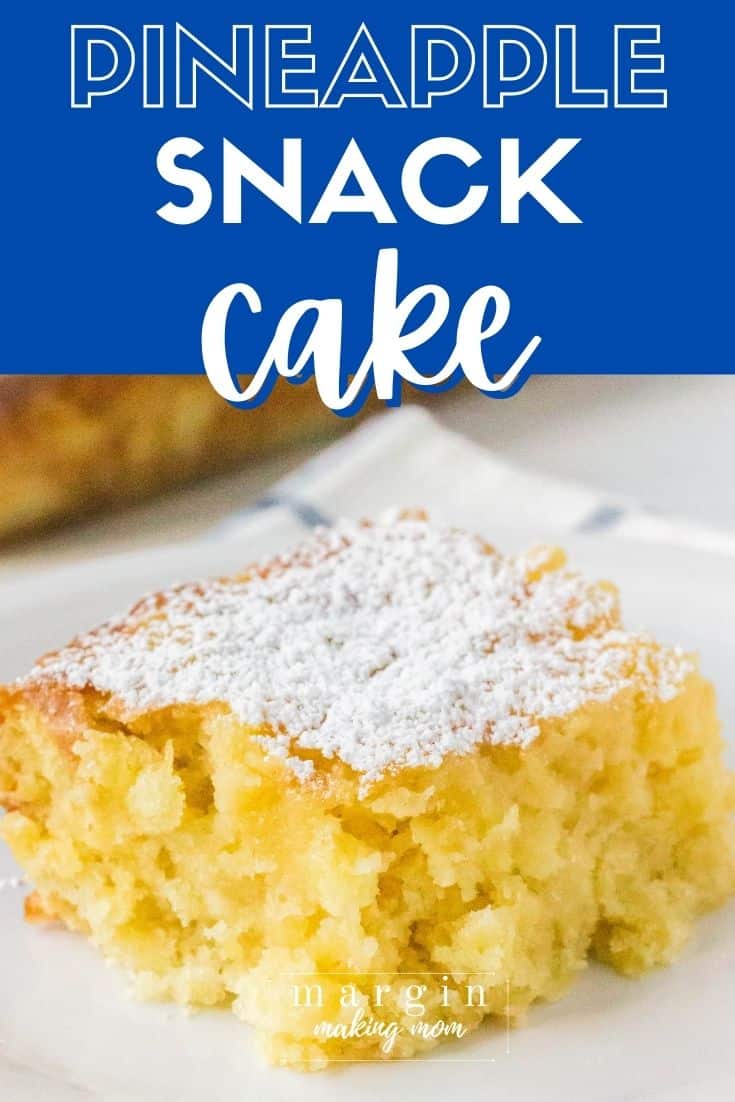 Note: This post may contain affiliate links for your convenience. If you make a purchase, this site may receive a small commission at no additional cost to you. You can read my full disclosure policy here.
I love old-fashioned cakes because they are simple and typically use ingredients that you have on hand.
Growing up, preacher cake was one of my favorite treats at church picnics and pot lucks, but it's a slightly more complicated recipe.
Pineapple snack cake, on the other hand, still has that tropical flavor from crushed pineapple, but is simple and unassuming.
It doesn't even need frosting–just a sprinkle of powdered sugar will suffice.
Making a Cake with Canned Pineapple
It's always shocking to me when I come across someone who doesn't like pineapple. I've heard different excuses, but most often, people don't like the texture, or the thought of warm pineapple isn't appealing.
Well, as is the case with many retro recipes, our grandmothers and great-grandmothers knew what they were doing.
So if you think you don't like pineapple in cake, you may want to give this old-fashioned pineapple cake a try.
This easy pineapple cake recipe has a lovely tropical flavor, and it's perfect for any occasion. You could even serve this cake for breakfast. After all, it's loaded with fruit, so it must be healthy, right?? 😉
More Pineapple Recipes to Try: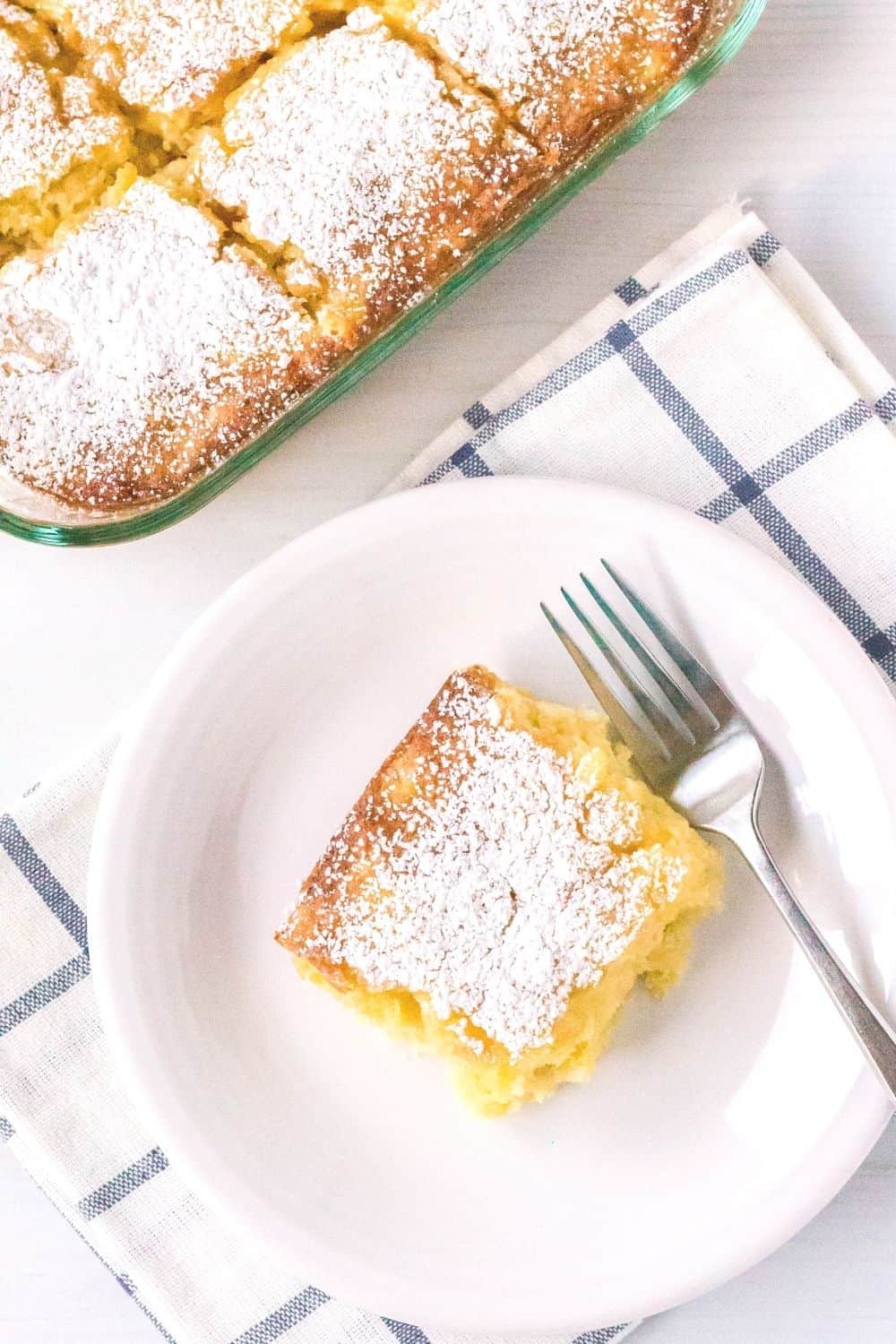 Fresh vs. Canned Pineapple
These pineapple cake bars depend on the pineapple for sweetness, moisture, and flavor, so you may be wondering if it is better to use fresh or canned pineapple.
It's really a personal choice, but since the pineapple will be cooked anyway, I usually select canned pineapple b because that's easiest.
Canned pineapple is super convenient, although it does have fewer vitamins and minerals than fresh pineapple. This is in part because the canning process requires the pineapple to be heated.
When I'm using pineapple in an application where it won't be cooked, the extra vitamin C and the fresh flavor of raw pineapple is important.
When making cakes and other desserts, canned is king!
How to Make Crushed Pineapple from Fresh Pineapple
If you have leftover fresh pineapple that needs to be used, it's easy to make crushed pineapple.
Toss 1 cup of cubed fresh pineapple into a blender. Process for 30 seconds using the "chop" setting and pour into a bowl.
Repeat until you have enough pineapple for your recipe.
How to Make Pineapple Snack Cake
It's really simple to make this easy pineapple cake recipe.
Ingredients You'll Need:
Granulated Sugar
Butter
Eggs
Vanilla Extract
All-purpose Flour
Baking Soda
Salt
Crushed Pineapple
Powdered Sugar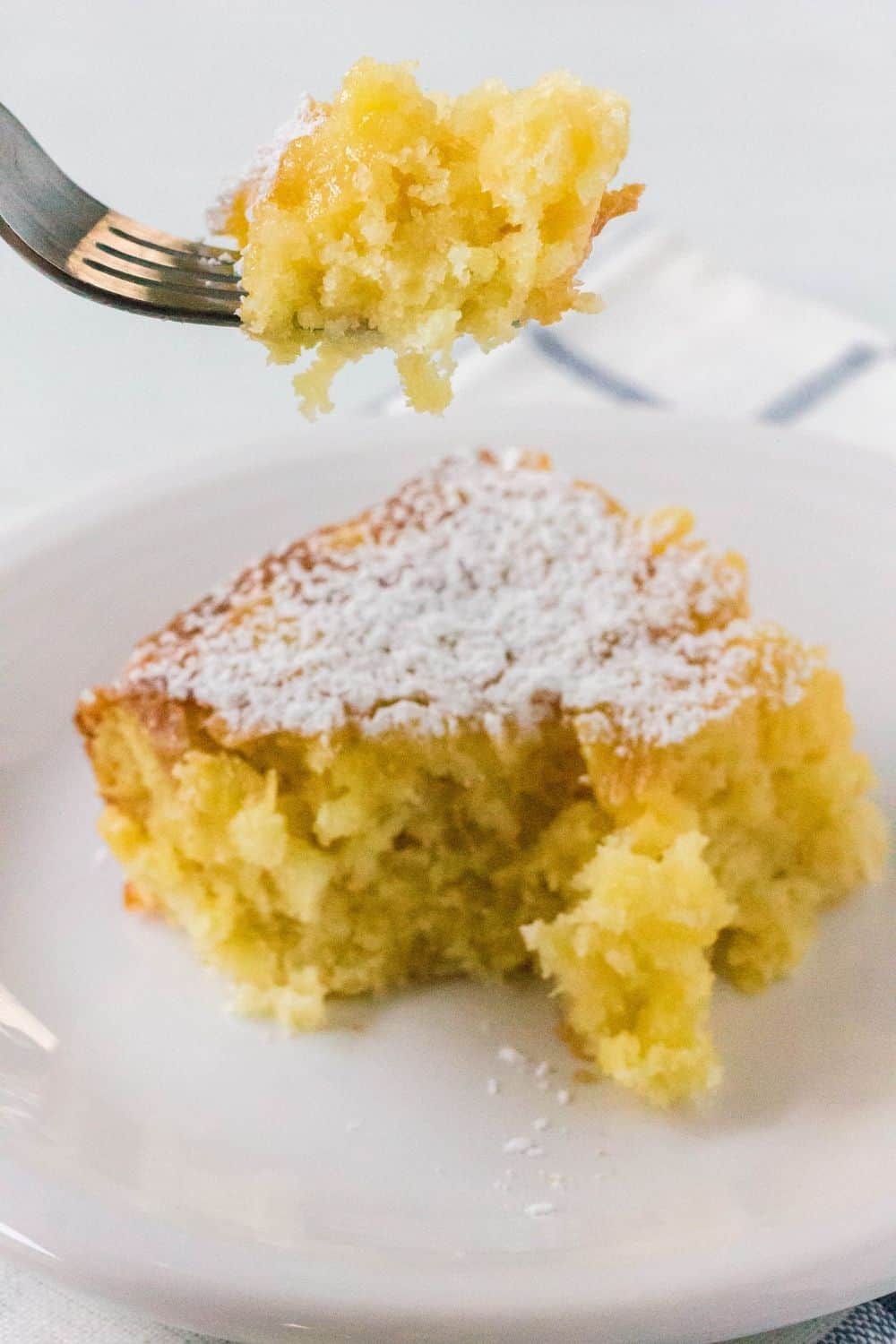 How to Make It:
(Full printable recipe is available below)
Mix the wet ingredients. First, you'll use the paddle attachment on a stand mixer to cream the butter and sugar until it is light and fluffy.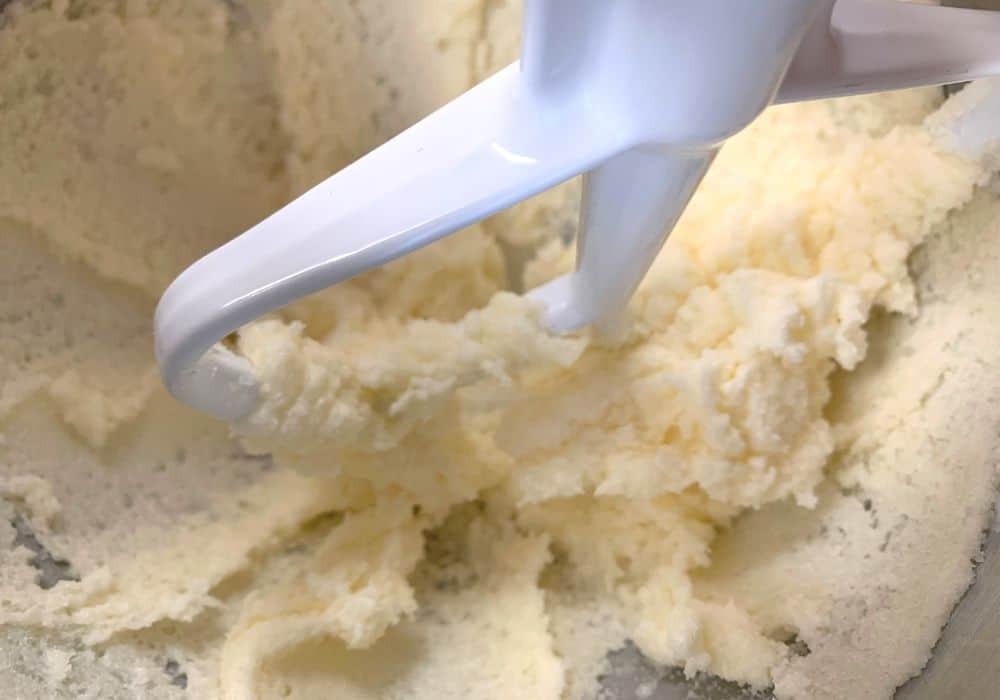 Continue beating and add in the eggs and vanilla.
Add the dry ingredients. Next, you'll gradually add the dry ingredients into the wet, mixing until just combined.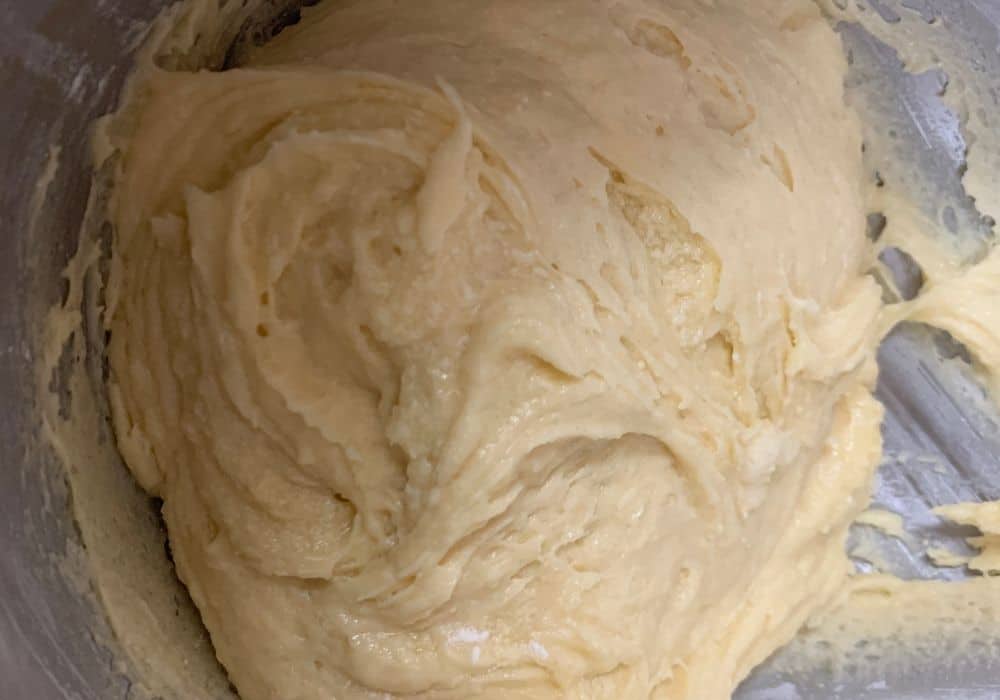 Then you'll add the crushed pineapple to the batter, mixing it to make sure it's incorporated into the batter.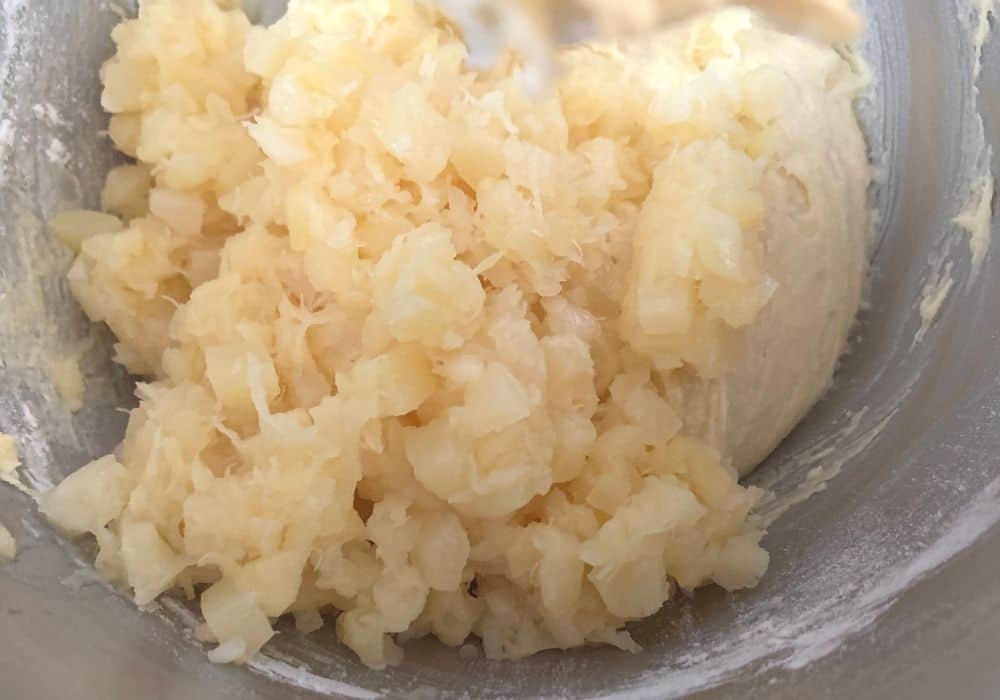 Bake. Last, you'll pour the batter into the cake pan and bake for 30-32 minutes.
Allow to cool, then sprinkle with powdered sugar before serving.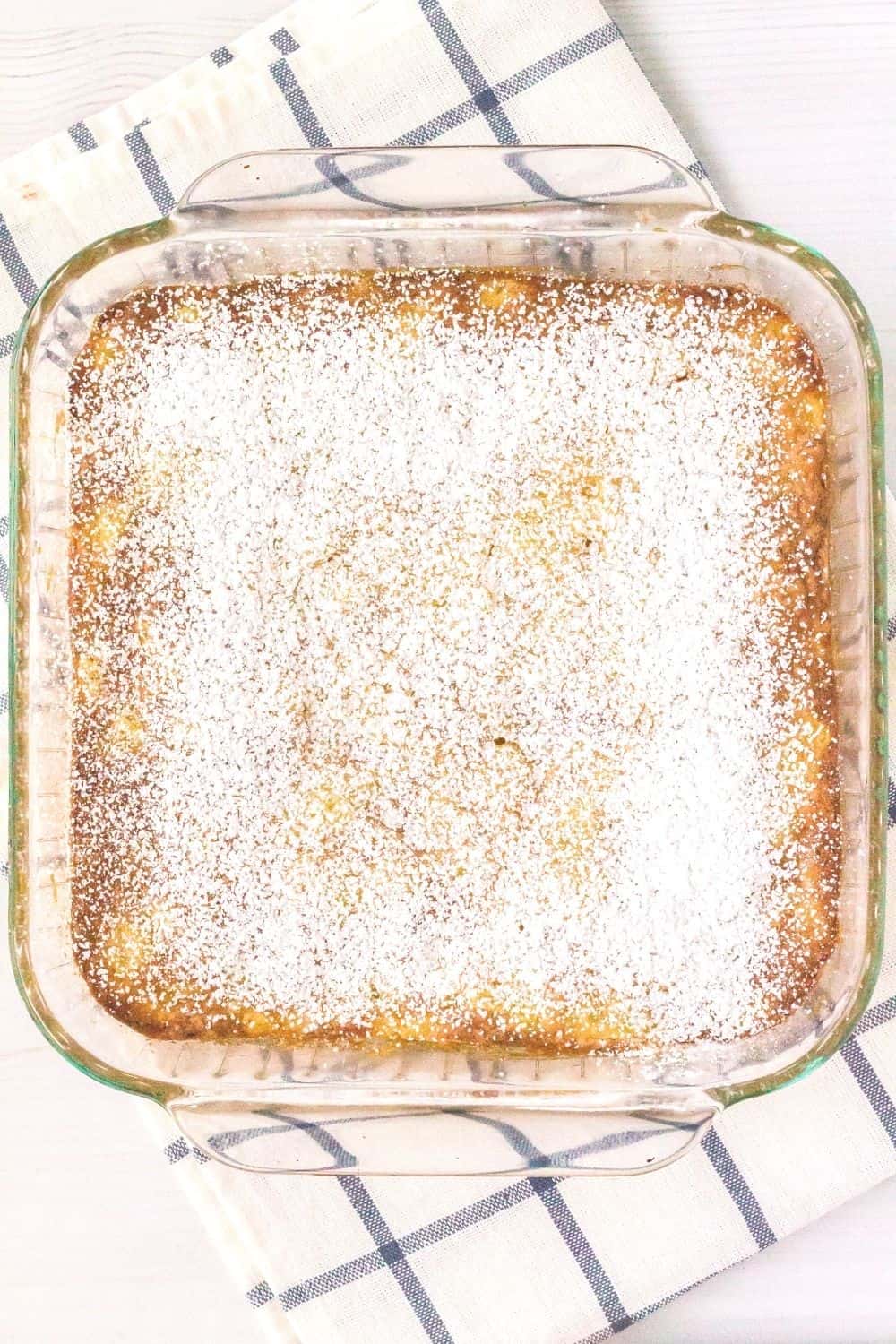 Notes and Adaptations:
Be sure to drain your crushed pineapple well. I pour mine into a fine-mesh sieve and use a wooden spoon to press out excess juice.
A sugar duster makes it easier to sprinkle with powdered sugar. If you have a fine-mesh sieve, you can also use it to dust the top with powdered sugar.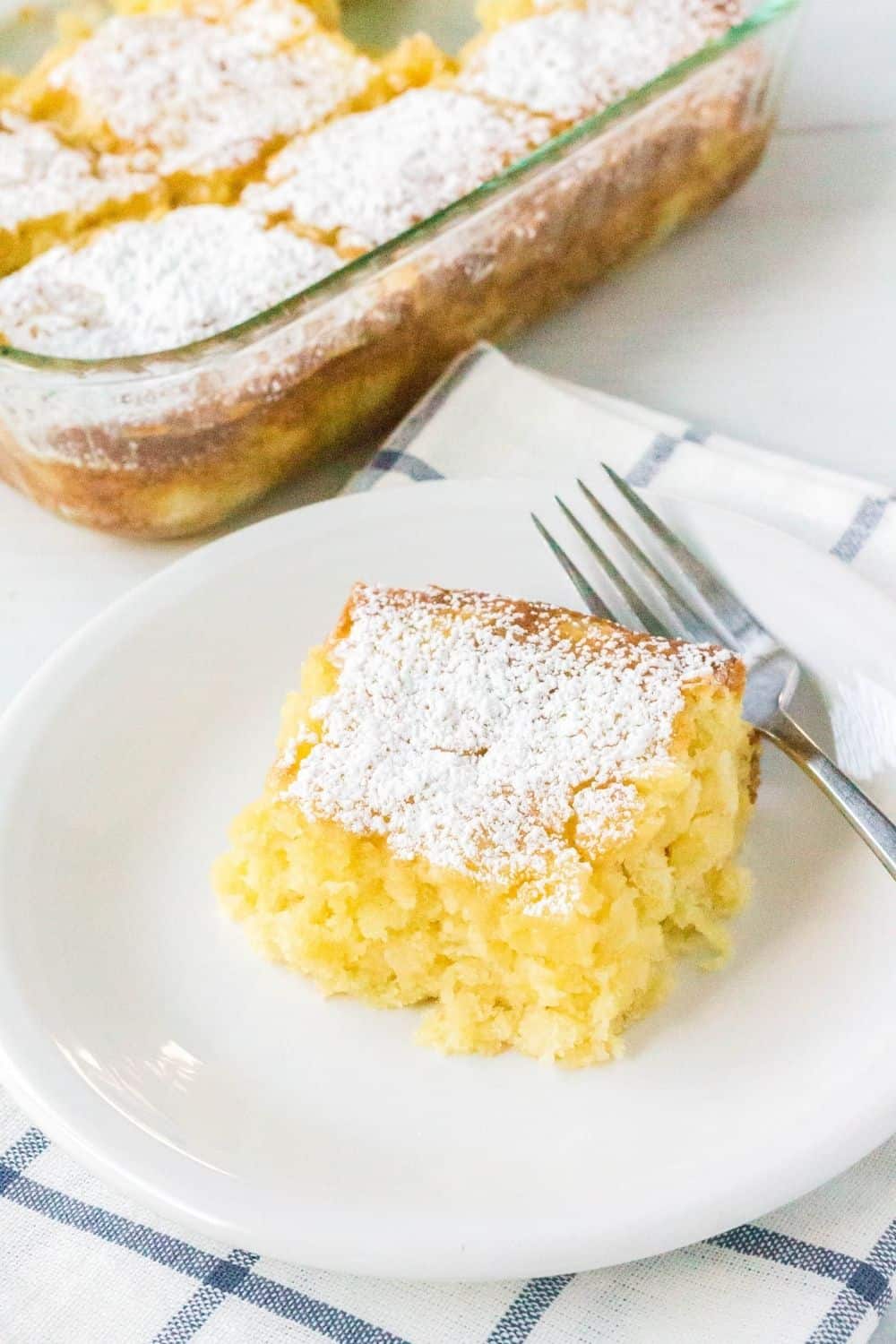 Recommended Equipment:
Yield: 12 Servings
Old-Fashioned Pineapple Cake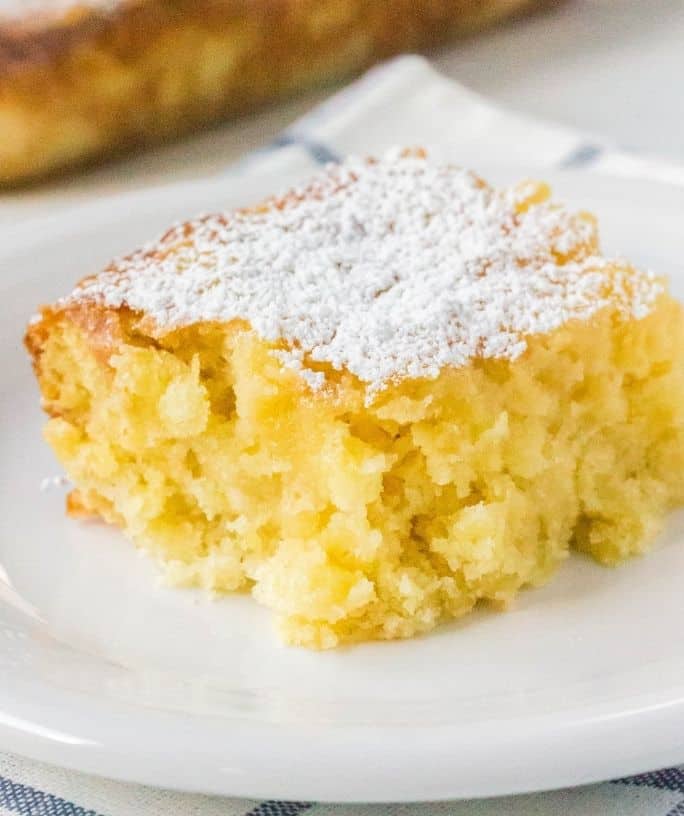 This old-fashioned pineapple cake is as simple as it gets! Dust with powdered sugar or top with a dollop of Cool Whip!
Ingredients
1 cup granulated sugar
1/2 cup butter, softened to room temperature
2 eggs
1 tsp vanilla extract
1 cup all-purpose flour
1/4 tsp baking soda
1/4 tsp salt
20-oz can crushed pineapple, well-drained
powdered sugar for dusting
Instructions
Preheat oven to 350F and grease a 9x9" or 8x8" baking pan.
In the bowl of a stand mixer fitted with a paddle attachment, cream together sugar and butter until light and fluffy.
Add eggs and vanilla extract, beating to combine.
In a separate mixing bowl, whisk together flour, baking soda, and salt.
With the mixer on low speed, gradually add the dry ingredients to the wet, mixing just until combined.
Add crushed pineapple, stirring just until combined. Do not overmix.
Soread batter into prepared pan. Bake for 30-32 minutes until golden-brown and top springs back when gently pressed. The cake may still be slightly soft in the very center, which is okay.
Remove fron oven. Cool completely, then sprinkle powdered sugar on top before serving.
Notes
Be sure to drain your pineapple well. I pour mine into a fine-mesh seive and use a wooden spoon to press out excess juice.
Nutrition Information:
Yield:
12
Serving Size:
1
Amount Per Serving:
Calories:

250
Total Fat:

9g
Saturated Fat:

5g
Trans Fat:

0g
Unsaturated Fat:

3g
Cholesterol:

51mg
Sodium:

148mg
Carbohydrates:

42g
Fiber:

1g
Sugar:

33g
Protein:

2g
Nutrition information is automatically calculated and is not guaranteed for accuracy.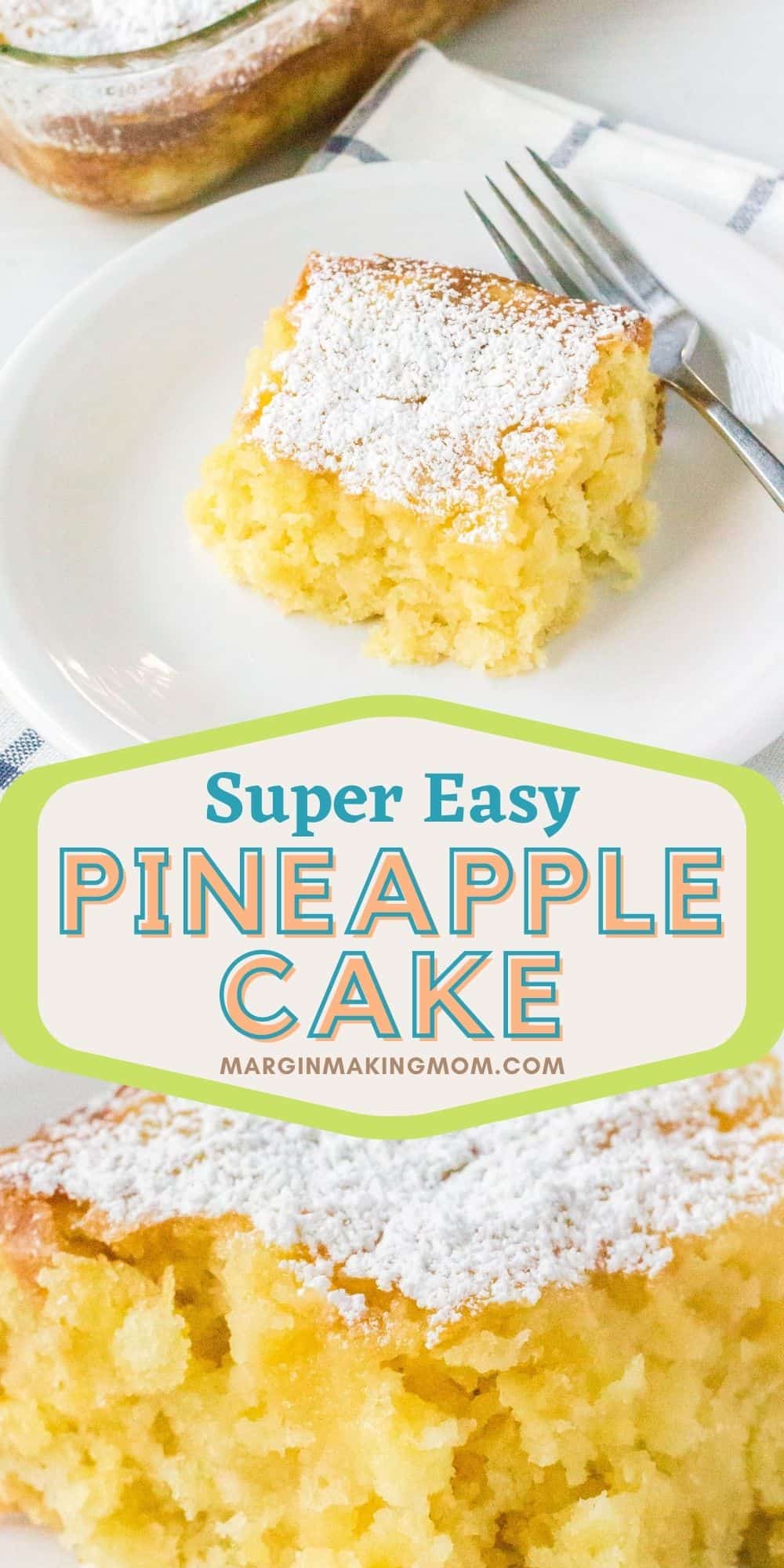 Get the Instant Pot Meal Plan Jumpstart
Join the free community and you'll learn simple ways to easily create tasty food for your family, as well as immediate access to the FREE Instant Pot Meal Plan Jumpstart to help you get a tasty dinner on the table in a flash!
"Thanks for sharing your knowledge and experience in such a friendly and delightful way!!! So far, I'm very impressed with the results...thanks again for your guidance into this new realm of cooking!" -Margaret
Free Resource Library
Enter my
free resource library
for my latest printables and resources! Password is 'IHEARTMARGIN' -- please copy and paste that in at the link above. Thanks for being a subscriber!!