Whether you have student loans, credit card bills, or other debt, these proven ways to pay off debt fast will help you reach your goal of debt freedom!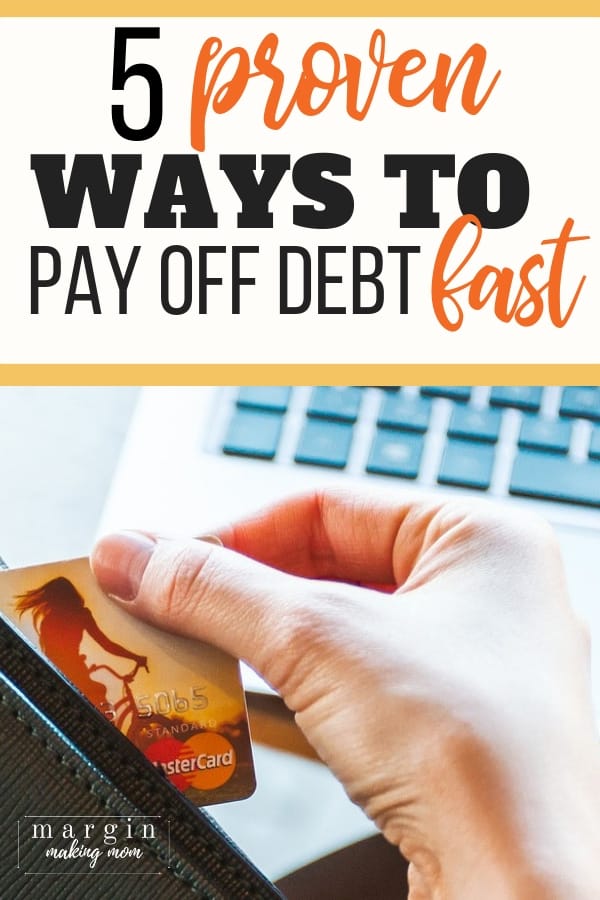 I'm happy to share this post from Ashley with Budgets Made Easy. She was able to pay off $45,000 in 17 months using these proven debt pay off tips. She now teaches people how to pay off debt fast like she did. Welcome, Ashley!
Note: This post may contain affiliate links for your convenience. You can read my full disclosure policy here.
There are a lot of tips out there for paying off debt fast. I am even going to give you 5 tips here but you know what it all really boils down to?
Just paying off your debt! Seriously, you just have to do it. Stop making just the minimum payments and get it paid off!
You do not have to pay on debt the rest of your life. You really don't. Yes, you can pay for a car in cash. You can buy a house with a down payment. You can go on a vacation without using credit cards.
I had debt just like you.
I was able to pay off $45,000 in 17 months with a plan and focus on my goal. I never liked debt but never really believed I could be completely debt-free. Debt is normal, so I didn't think about not having it at all.
Then my husband was laid off from his stable job right after we had our second child and finished renovating our house. I was stressed and upset but we had enough savings and a severance package to stay afloat a couple of months. Luckily my husband found a job within a couple of weeks.
The even bigger shock came the following year when we found out that the 401k loan we'd taken out for our home renovation was now taxable income. When my husband lost his job, we had 90 days to pay back over $20,000. Well, we couldn't pay it back at that time, so it became taxable income.
I then had to put what we owed to the IRS on a zero-interest credit card. When I started having to pay on that credit card, I realized we didn't have a plan to pay it off before interest would accrue. That sent me looking for debt pay off plans.
I found Dave Ramsey's The Total Money Makeover and was hooked! We got started on a zero-based budget and got our money working for us instead of slowly disappearing every month.
We used the debt snowball method, which is paying off the smallest balance first then moving to the next smallest balance.
My student loans were our biggest debt at $25,000! I figured out how much in interest I was paying every day and it was almost $5 a DAY! This helped motivate me to pay it off very fast. I was able to pay off that $25,000 in just 10 months!
These are the strategies that we used to pay off our debt quickly.
5 Tips to Pay Off Debt Fast!
Once you decide that debt is not for you, you will be so motivated to pay it off fast that you will likely find extra money everywhere.
1. Make A Budget
A budget is the start of any financial plan. It doesn't matter what it is, start with a budget. When you decide you want to pay off debt fast, you want to do a zero-based budget. Basically, that means assigning every dollar a job.
Your budget is a goal for your money. You want every dollar going toward your bigger goals, like paying off debt, saving for retirement, saving for Disney, whatever it is.
How is a zero-based budget different?
A zero-based budget means that every dollar serves a purpose. So, instead of having x amount left after paying bills and expenses, you have $0 dollars left on paper. You want every dollar going toward your goals.
Can I have fun on a budget?
This doesn't mean that you will not be able to have fun or anything like that. You actually get to have fun without the guilt! You just budget fun money. Then you get to have fun without the stress of using a credit card or wondering how you are going to pay for it later.
A budget is all about prioritizing your money. That is all it is. It doesn't have to be scary or super restrictive. You just decide at the end of the month what is a priority for you and what isn't.
Check out Budgeting for Beginners: A Step-by-Step Guide for step-by-step directions on doing your budget.
Also it's worth mentioning that if you want to be debt-free, you have to STOP using debt. If you keep using a credit card, you will never get out of debt.
2. Find Ways to Save Money
You don't want to take 10 years to pay off your debt. That is way too long and you will get burned out quickly. To stay motivated you want to do it as fast as possible.
This means you will need to find ways to save money and quickly.
You may have to give up luxuries and decide what is worth waiting for in order to achieve your goal. You may have to decide what is a want and what is a need. Is it worth giving some of those things up temporarily while you pay off the past?
Your budget, saving money, and paying off debt is all about prioritizing your money. You only have so much money each month. You have to decide at the beginning of the month what is a priority and what is not.
If you want to save money, then set yourself a goal of saving X amount that month. Write it down so you will be more likely to achieve it. Then start looking for ways to cut things in your budget. Do you need cable? Do you need to get your hair done this month?
Evaluate your insurance policies and shop around for the best prices. Can you lower your phone bill? Do you really need unlimited data? Evaluate how much data you have been actually using and see if you can lower it.
For more ideas to save money check out 100 little ways to save money everyday.
3. Stay Motivated
Staying motivated is probably going to be the hardest thing to do. I would look up debt success stories and read them everyday. I would also listen to podcasts, like Dave Ramsey's, in the car constantly. My kids would yell in the car, "I don't want to listen to Dave Ramsey!" That's how much I listened to him!
I also made visuals so I could SEE the progress I was making. I am a very visual person, so that helped me a lot. I loved being able to mark off every time we paid some more off.
Use a debt payoff calculator to see how quickly you can pay it off. Adjust it for different extra payments too and see the difference.
Write your goals down. Studies have shown that you are 1.5 times more likely to achieve your goals when you write them down.
When you can see how much quicker you can pay it off by giving up a few things, like TV or going to the salon, you will be even more motivated.
Related:
Find an accountability partner. You should be working on this with your spouse, but if you don't have one, join some like minded Facebook groups or tell your friends what your goals are. When you start telling people, it holds you accountable.
4. Find Extra Money
If you are motivated enough, you will find extra money. That may mean selling everything or working extra jobs. Either way, find some extra money and put it toward you debt.
You can find extra money by using savings apps such as the Walmart Savings Catcher, iBotta, eBates, Swagbucks and several other apps that let you earn money back while shopping. You can also do surveys online.
You can also find legit online jobs like VIPKID or REv.
I teach with VIPKID and I LOVE it! I make around $21/hr with all the bonuses they give you. You also get paid for referrals! They provide the lesson plan and you teach one kid for 25 minutes.
That's it–it's fun and easy. Plus you get to make your own schedule and teach when you want. I teach late at night and early mornings, depending on the days, while my kids are asleep.
There are lots of ways to make extra money if you are motivated enough to look!
You can even find free things on Craigslist and resell them for a profit. I have also heard stories of people going to nice areas and dumpster diving and finding things to resell on Craigslist.
5. Use the Debt Snowball Method

There are a couple of debt pay off methods but the most efficient method is the debt snowball. In reality, if you do it as fast as you can, it will all be paid off about the same time no matter which method you use.
The problem is that with other methods, you lose steam fast and it's hard to stay motivated.
With the debt snowball, you get small wins quickly and it helps you keep going. If it takes you 5 years to be debt-free, you will may be less likely to finish.
What is a debt snowball?
The debt snowball method is when you list all your debts (except your mortgage) from smallest to lowest BALANCE. You then put all extra money toward the debt with the smallest balance. You will pay some off very quickly, which helps motivate you. This is why is works. You want to focus on ONE thing at a time.
Do not pay extra on any other debt. Only pay the minimums except for the smallest balance. You will be able to free up money quickly doing this. Once one is paid, all that extra and that minimum payment go to the next debt.
Your Plan to Pay Off Debt Fast

If you want to pay off your debt fast, just do it. There aren't any magic wands that make it all disappear. Get to work, save money, make money, do your budget and make a giant debt snowball.
Find some ways to stay motivated, whether it's visuals, podcasts, or Facebook groups.
Determine why you want to be debt-free and go make it happen. Your why needs to be a big one to keep you motivated, so figure it out early.
I would love to hear about your journey to being debt free! Leave a comment below to tell me where you are on your journey.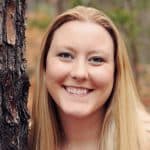 Ashley is the owner of Budgets Made Easy. She helps people budget their money so they can pay off their debt. She has written two ebooks; 200 easy ways to save money and The Ultimate Budget Workbook. You can join her free budgeting group for extra support.