From fresh to frozen and even with canned beans, learn how to cook green beans in the Instant Pot in a variety of delicious ways.
Instant Pot green bean recipes are the perfect side dish for serving alongside your favorite main dishes.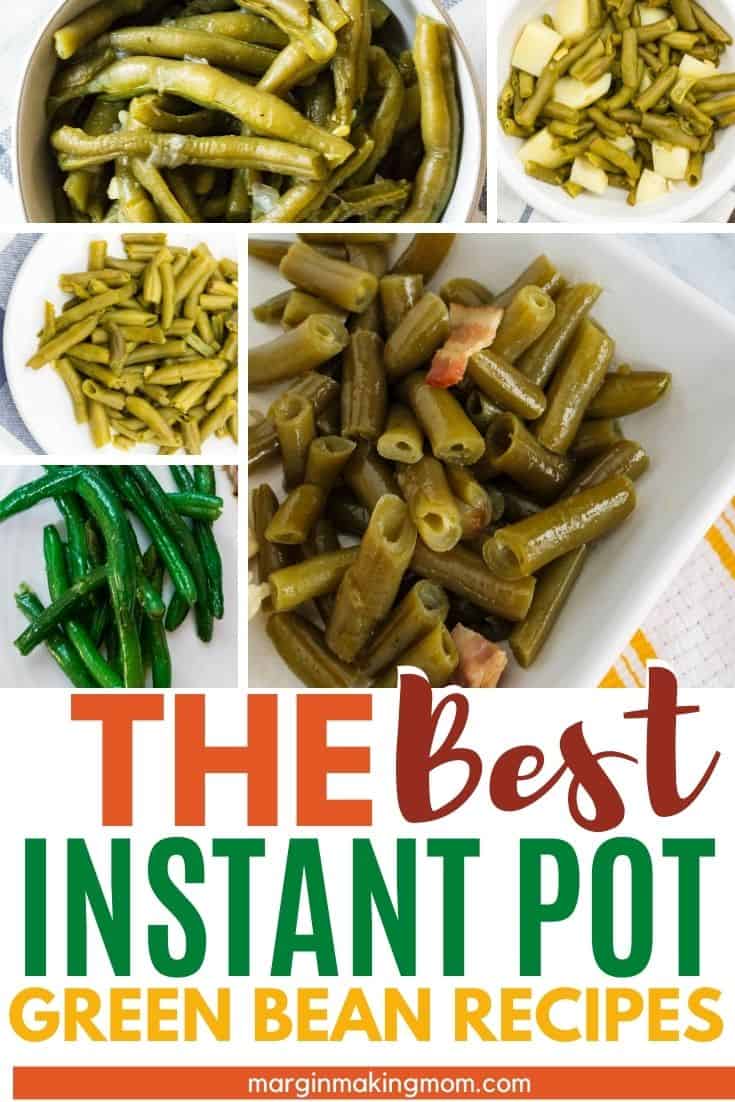 Note: This post may contain affiliate links for your convenience. If you make a purchase, this site may receive a small commission at no additional cost to you. You can read my full disclosure policy here.
Growing up, green beans were one of the most commonly-served side dishes in our home.
Sometimes my mom would use frozen green beans, sometimes we'd get fresh green beans and sit on the porch snapping off the ends, and sometimes I'd pop open a can of green beans and eat them cold.
Even as an adult, green beans are probably the vegetable I serve most often. Learning how to cook them in the Instant Pot is a great time-saver, too!
Instant Pot green beans can be prepared quickly and easily, and the seasoning possibilities are almost limitless, making them an easy and versatile side dish to serve all year round.
Cooking Green Beans in the Instant Pot
If you are like me, deciding what to serve with the main dish is sometimes more of a challenge than planning the rest of the meal. I love vegetables, but I want to do more than just open up a can and heat it in the microwave.
The Instant Pot is an incredible tool that allows me to make tasty sides and pressure cooker green beans are a favorite.
Instant Pot string beans, whether fresh, frozen or canned, can be made into a variety of flavorful side dishes that can be served with all of your favorite meals.
Once you learn how to cook green beans in the Instant Pot, I'm sure you'll be making a variety of homemade green bean recipes once a week or more.
Pressure Cooker Green Beans Recipes
Cooking green beans in the Instant Pot is such an easy way to enjoy this tasty vegetable.
I keep green beans on my lists of the best Instant Pot Thanksgiving Recipes, as well as the best Instant Pot Easter recipes, because no turkey or ham is complete without this classic veggie, in my opinion!
Green beans are just so versatile, and these recipes are great whether you are using fresh, frozen or canned green beans.
You are going to love these Instant Pot Green Bean recipes–whether you're enjoying them for a holiday dinner, or a regular ol' weeknight.
Instant Pot Green Bean Recipes
These delicious recipes for green beans cook quickly in the Instant Pot, yet are full of flavor!
Tips For How To Cook Green Beans In The Instant Pot
Green beans cook pretty quickly in the pressure cooker but extending the time, such as with these southern-style green beans, allows all of the flavors to come together.
Don't have a pressure cooker? Most Instant Pot green bean recipes can be cooked in a slow cooker for 4-6 hours.
Instant Pot fresh green beans will be softer the longer they are cooked. You'll want to steam the green beans if you prefer them to be crisp.
Canned green beans can be boring as-is, but it's super easy to dress them up with some seasonings.
These recipes are perfect for Thanksgiving, Christmas, Easter or simply for serving with your weeknight dinner.
More Instant Pot Recipe Ideas:
Get the Instant Pot Meal Plan Jumpstart
Join the free community and you'll learn simple ways to easily create tasty food for your family, as well as immediate access to the FREE Instant Pot Meal Plan Jumpstart to help you get a tasty dinner on the table in a flash!
"Thanks for sharing your knowledge and experience in such a friendly and delightful way!!! So far, I'm very impressed with the results...thanks again for your guidance into this new realm of cooking!" -Margaret
Free Resource Library
Enter my
free resource library
for my latest printables and resources! Password is 'IHEARTMARGIN' -- please copy and paste that in at the link above. Thanks for being a subscriber!!