Glazed lemon cookies with pistachios are easy to make and lovely enough for a celebration.
Iced lemon pistachio cookies are topped with crunchy pistachios for a wonderful explosion of flavor and texture. These won't last long on the plate.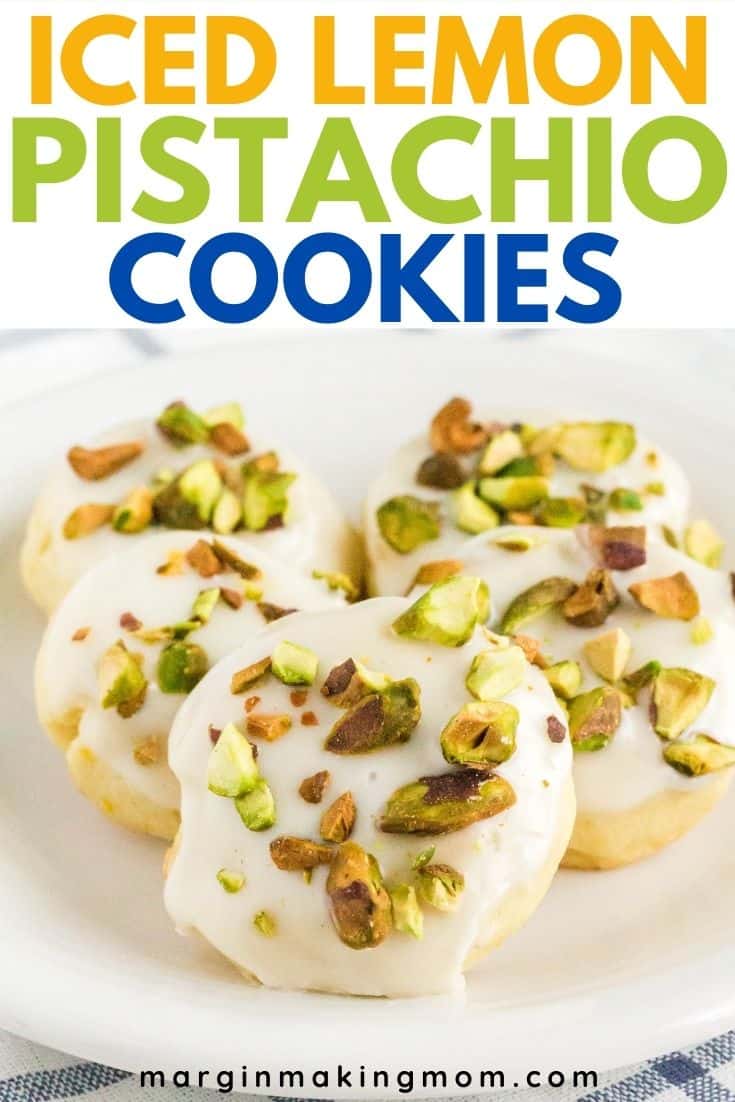 Note: This post may contain affiliate links for your convenience. If you make a purchase, this site may receive a small commission at no additional cost to you. You can read my full disclosure policy here.
I have always enjoyed attending wedding and bridal showers.
Of course, celebrating the new couple or the new family is important, but it's almost guaranteed that there will be cookies. And cookies are pretty important too!
I love how celebrations encourage people to go beyond the norm when it comes to the cookies and cupcakes that are served.
Some of the best pistachio desserts I've tasted were served at a party and iced lemon cookies are always a big hit. Anything with sprinkles, nuts or other decorations always goes over well.
These lemon pistachio cookies have that fancy, celebration look to them and are perfect for serving at a party. But today, I'm just enjoying a delicious cookie.
Best of all? This pistachio lemon cookie recipe is incredibly easy to make. The sweet and tangy flavor of lemon paired with the crunch of the pistachios is worth celebrating just for the sake of making cookies.
They're similar to my pistachio lemon bars, only in a lovely cookie form!
More Lemon and Pistachio Recipes to Try: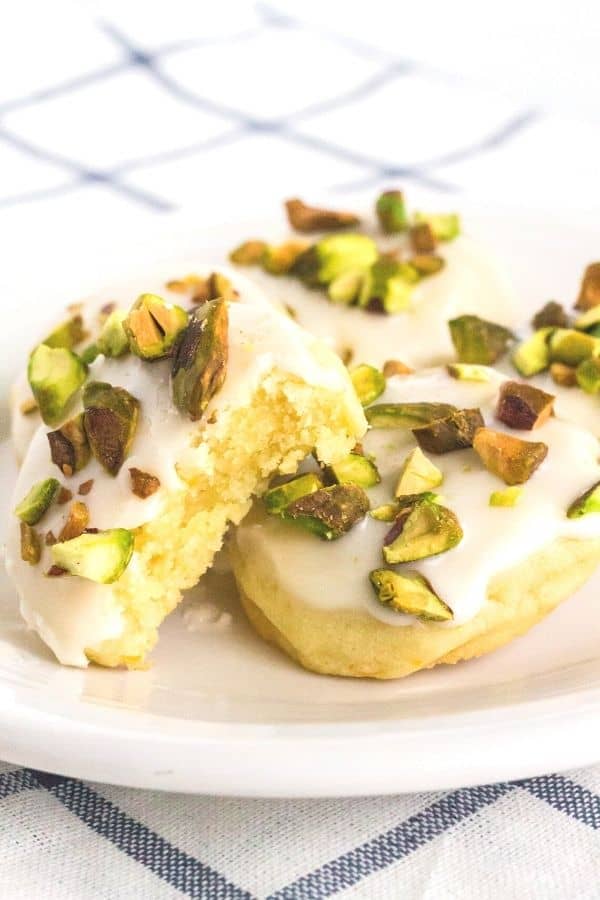 Lemon and Pistachio For the Win
Lemon and pistachios are the stars of these tasty cookies.
By using both the juice and the zest of the lemons, we have infused this pistachio lemon cookie recipe with the luscious sweet-tart flavor of fresh lemons.
The pistachios add a lovely crunch factor and the saltiness helps to balance the lemon flavor.
Pair this cookie with a cup of coffee or hot tea and pamper yourself any day of the year.
How to Make Lemon Pistachio Cookies
It's really easy to make these iced lemon cookies.
Ingredients You'll Need:
Granulated sugar
Lemon zest
Unsalted butter
Egg
Vanilla extract
Almond extract
All-purpose flour
Baking powder
Salt
Powdered sugar
Fresh lemon juice
Chopped pistachios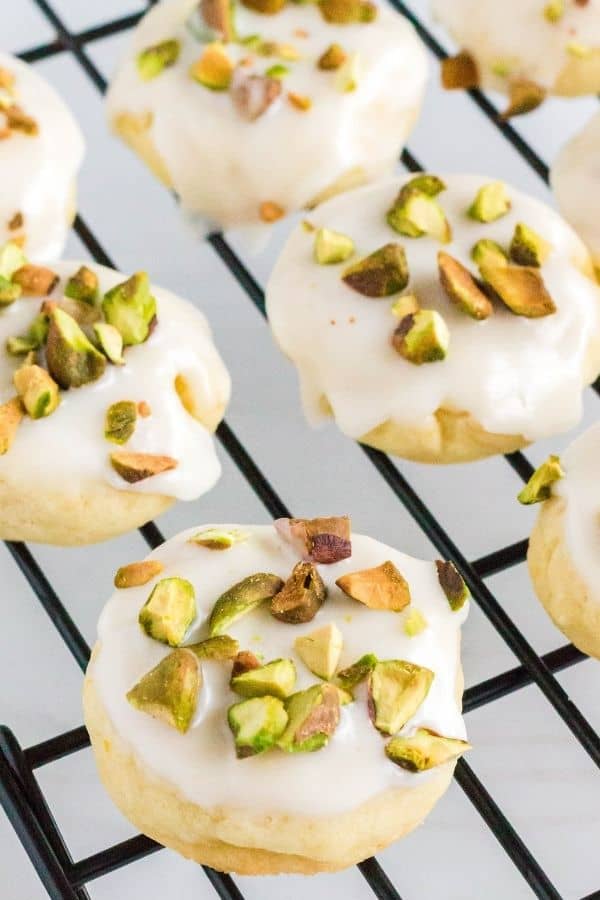 How to Make It:
(Full printable recipe is available below)
Make the Dough. First, you'll combine granulated sugar and lemon zest. Rub it with your fingers until fragrant, then combine with butter in a stand mixer. Add the remaining wet ingredients and then add the dry ingredients, mixing until a soft dough forms.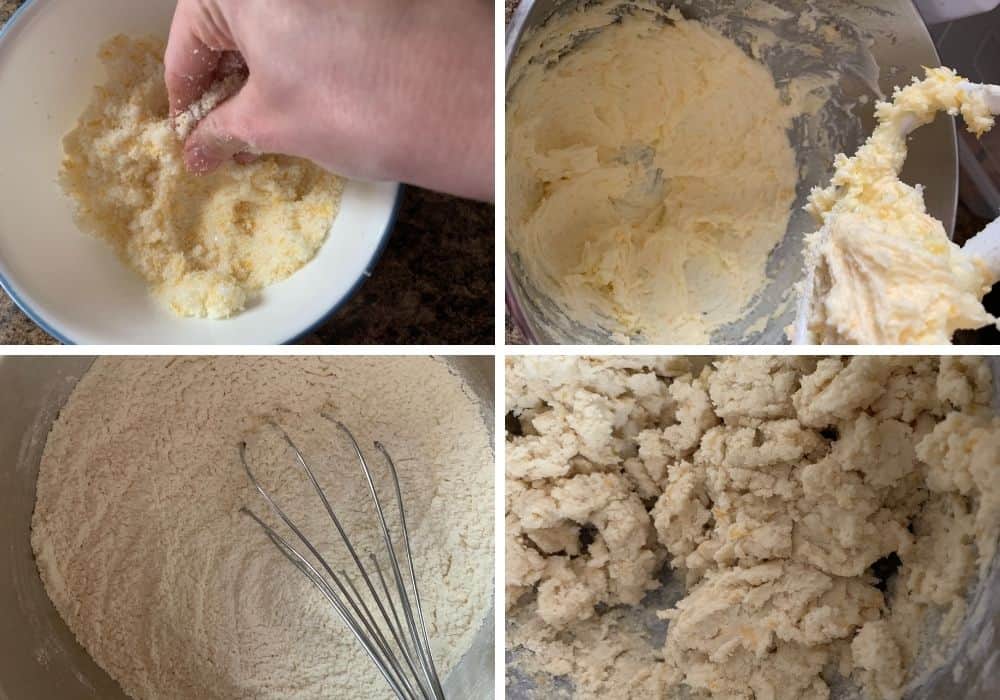 Shape and Bake. Next, you'll use a small cookie scoop to scoop out tablespoons of dough. Place on a baking sheet and flatten slightly with the bottom of a glass. Bake 12-14 minutes and then cool.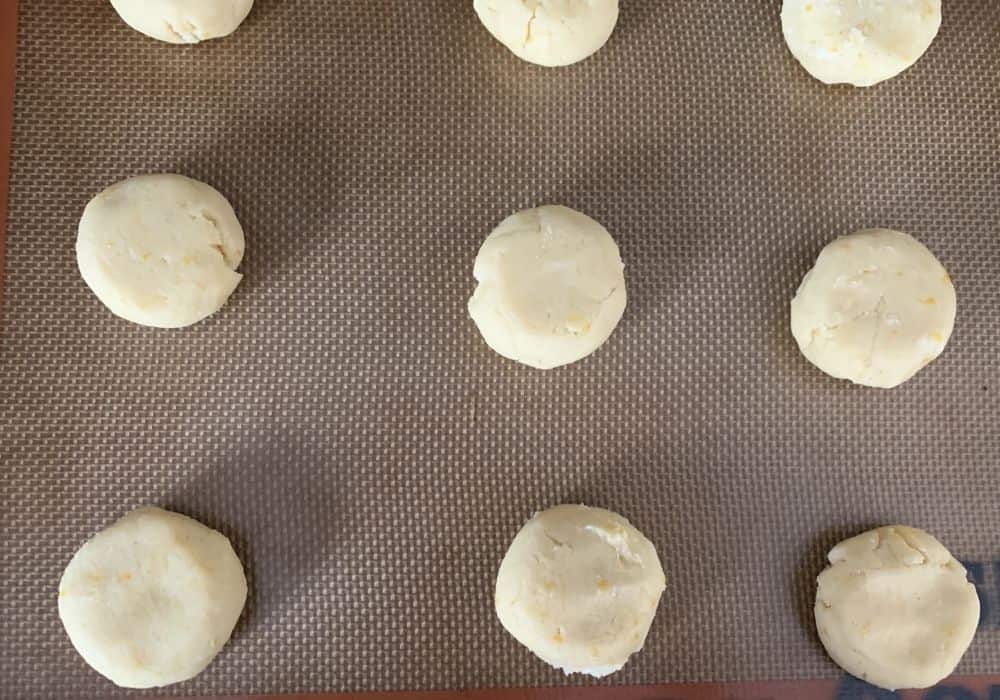 Ice and Eat. Last, you'll prepare the icing by combining powdered sugar and lemon juice (this is similar to what I use on my pineapple cookies).
Ice the cookies (I turn them upside down and dip the tops in the glaze) and then sprinkle with chopped pistachios before serving.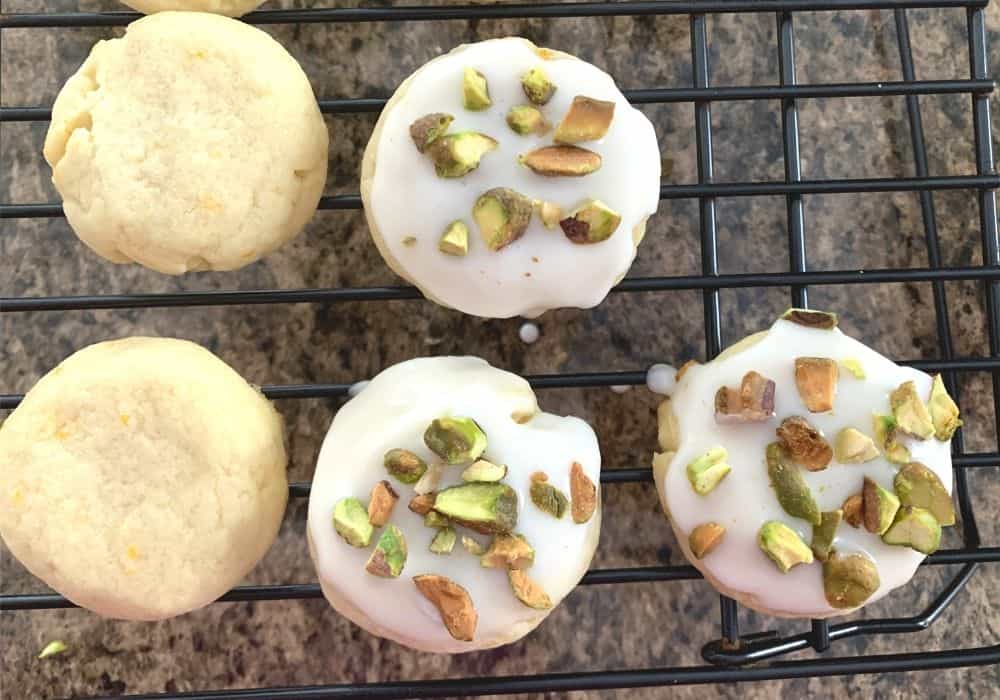 Notes and Adaptations:
Try using different citrus flavors in place of the lemon. Lime, orange and grapefruit would all be lovely adaptations.
If you prefer, use a food processor to chop the pistachios into smaller pieces before sprinkling over the cookies. I liked leaving them a little chunky, but you can certainly chop them more finely.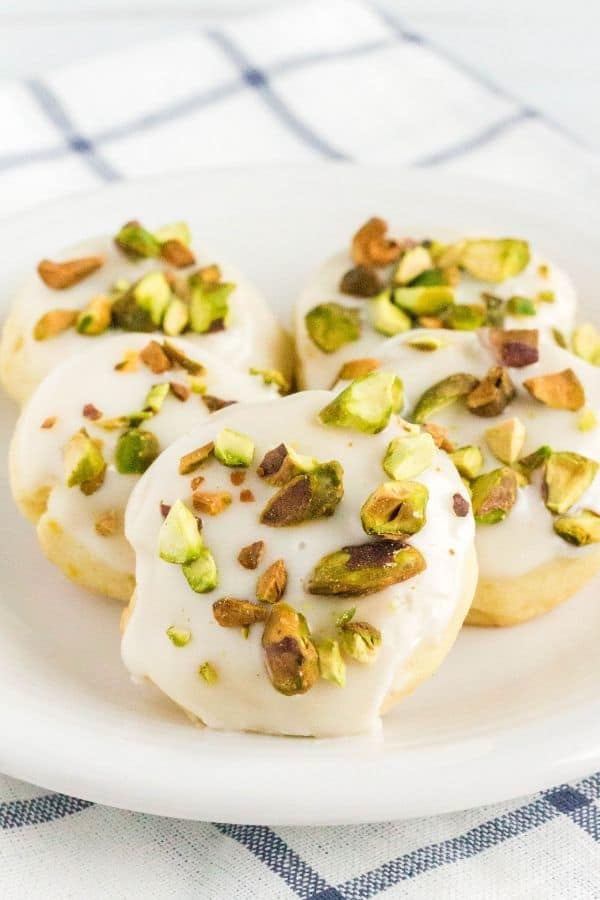 Recommended Equipment: