Add flavor to your weeknight dinner plans with these Instant Pot cream of chicken recipes. They are comforting, rich, creamy and easy to make.
Save this list of easy Instant Pot recipes that use cream of chicken soup for those nights when you need a quick and hearty meal.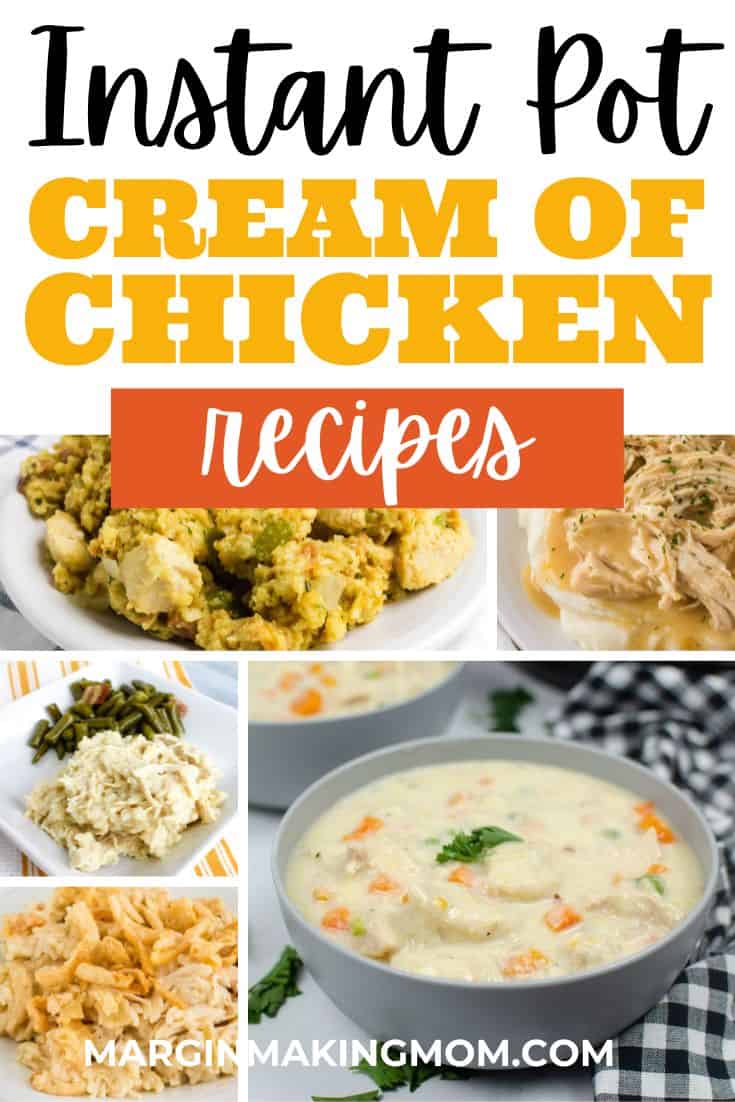 Note: This post may contain affiliate links for your convenience. If you make a purchase, this site may receive a small commission at no additional cost to you. You can read my full disclosure policy here.
The Instant Pot is my favorite kitchen tool for creating flavorful meals that my family loves. In just a few minutes, we can enjoy a hearty and healthy dinner.
We've all noticed the rise in prices at the grocery store. Even things that used to be considered low cost foods, like chicken and eggs, are priced higher than ever.
I'm seeking ways to be more frugal in my kitchen.
That means making meals I know my family will love, using ingredients wisely, and mixing my own ingredients, such as my easy homemade cream of chicken soup or homemade gluten free cream of chicken soup.
Cream soups are perfect for thickening recipes and add flavor, texture and creaminess.
I'm not a big fan of store-bought cream soups, so I like to make my own, but you can certainly use canned cream soups in any of these recipes.
Making dinner should be about making what you love and making cooking easy on yourself.
Cooking Instant Pot chicken with cream of chicken soup is a great way to do just that!
Easy Instant Pot Chicken Recipes
These tried and true Instant Pot recipes use both chicken and cream of chicken soup to create meals that taste incredible and will satisfy your bellies.
Whether you're looking for chicken and rice casserole, creamy chicken soup, or chicken and dumplings, we have delicious options to suit everyone's preferences.
Save this list so you can reference it time and again. There are a variety of recipes to choose from so you can keep things fresh and exciting.
Instant Pot Chicken Recipes Using Cream of Chicken Soup
These hearty and delicious Instant Pot chicken recipes make use of cream of chicken soup, whether homemade or from the can, for easy meals your family will love.
Tips for Making Easy Instant Pot Chicken Recipes
Chicken is frugal and loaded with protein, so it's perfect for adding nutrients and flavor to your favorite recipe.
Follow these tips to ensure your recipes turn out perfectly every time.
Sauteeing Chicken
Many recipes call for the chicken to be sauteed in advance. Use the saute function on your instant pot and follow any recommendations for deglazing the pan.
Deglazing is important because it helps to prevent the Burn error on the Instant Pot.
If the recipe doesn't tell you to Saute, you don't need to!
Adding Cooked Chicken
I am a big fan of grocery store rotisserie chicken. I often pick one up for a quick weeknight dinner. The leftovers can be added to many recipes, including many of these.
It's simple and convenient, and can save you time. You can even reheat the whole rotisserie chicken in the Instant Pot if needed!
Using Frozen Chicken
Whether you can use frozen chicken or not will depend on the recipe.
Often it's possible to use frozen chicken, and most recipes will give alternate instructions if substituting frozen chicken is possible.
Cooking frozen chicken in the Instant Pot does take a little bit longer, so keep that in mind.
More Delicious Instant Pot Chicken Recipes
If you're looking for some more Instant Pot chicken ideas, be sure to check these out!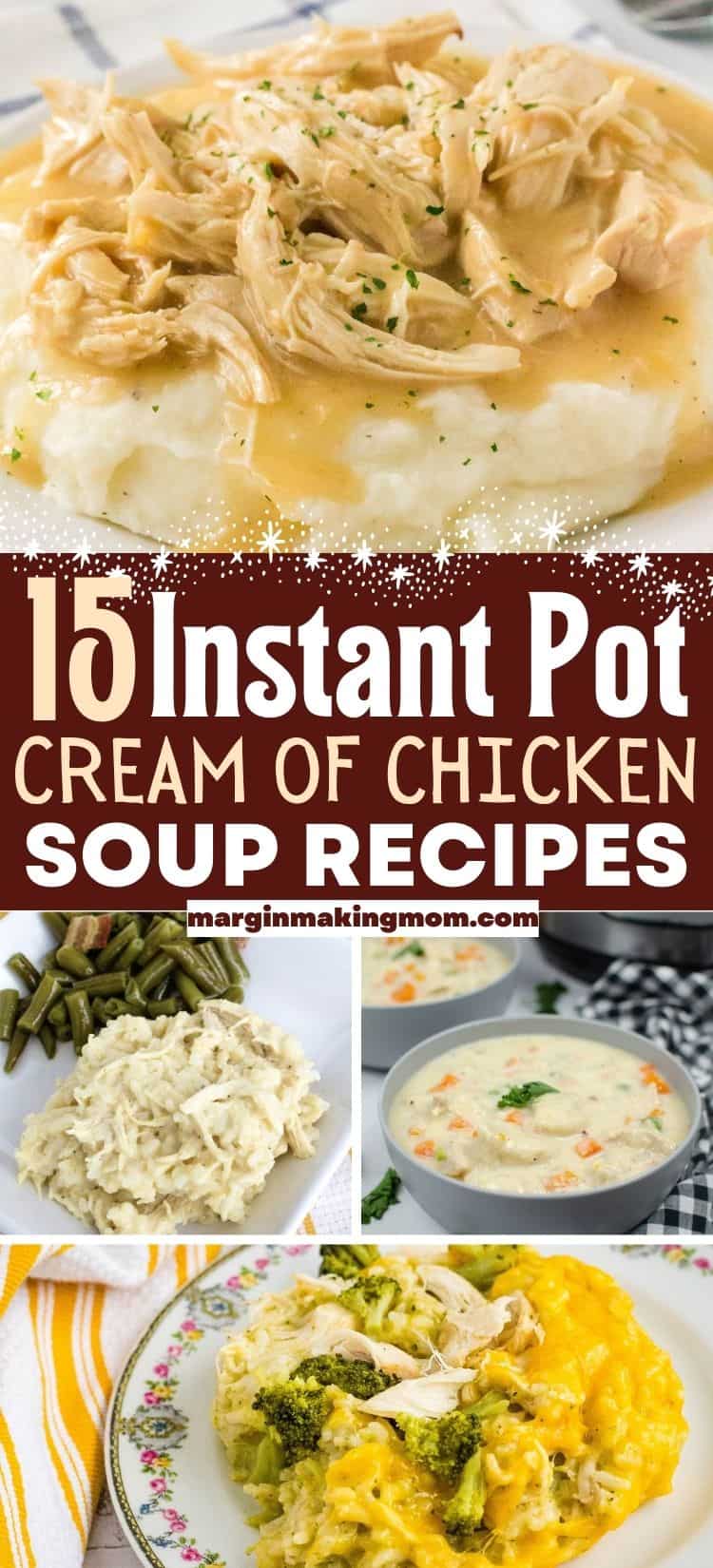 Get the Instant Pot Meal Plan Jumpstart
Join the free community and you'll learn simple ways to easily create tasty food for your family, as well as immediate access to the FREE Instant Pot Meal Plan Jumpstart to help you get a tasty dinner on the table in a flash!
"Thanks for sharing your knowledge and experience in such a friendly and delightful way!!! So far, I'm very impressed with the results...thanks again for your guidance into this new realm of cooking!" -Margaret
Free Resource Library
Enter my
free resource library
for my latest printables and resources! Password is 'IHEARTMARGIN' -- please copy and paste that in at the link above. Thanks for being a subscriber!!